Top 10 Luxury Ski Chalets
Ski Line offer some of the world's most luxury ski chalets available to rent. The word luxury is often an overused word; we regularly see ski chalets we think rate as midrange being referred to as luxury on other web sites. At Ski Line, we decided to introduce two levels of luxury, our luxury chalets which are very special chalets offering levels of comfort not available through the main stream tour operators such as Crystal ski and Inghams and other similar chalet tour operators.
Our super luxury chalets which are the kind of ski chalets that appear in the high glossy upmarket magazines. These chalets are booked by clients who expect and are prepared to pay for a higher level of service. Prices for our super-luxury chalets vary between £2-5,000 per person per week.
Our Luxury chalets are offered as packages with flights and transfers included, many of these will be available with private nannies and food will often be prepared by a trained chef and will be of good restaurant standard. Prices will, of course, vary from chalet to chalet but guests can expect to pay, £1200 to £2400 per person, per week, based on a mid-season date.  Luxury Chalets are normally booked exclusively by one group for their sole use.  Prices will include flights transfers, which is based on full chalet board, to include either cooked or continental style breakfast, afternoon tea and cakes, coffee and soup. Six nights a week a five-course evening meal with good quality wine.  One night a week chalet staff will have a night off, which is an opportunity for you to sample one of the local restaurants.
SEE ALL OF OUR LUXURY SKI CHALET HOLIDAYS
Sleeps 12– Prices starting from £1,022pp on independent travel
At an altitude of 1450m, Chalet Narnia is situated in a gorgeous tranquil location among snow-laden pine trees, opposite an area of woodland, known to St Anton locals as 'Narnia'. Just a 10-minute walk from the centre of town, this chalet is in a great and easily-accessible location. A driver service is also offered to further enhance the luxury feel of your stay with a 4×4 luxury people-carrier.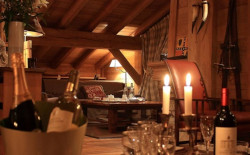 2. Chalet Bel Sol, Val d'Isere
Sleeps 8 – Prices starting from £869pp Including flights & transfers
Situated in the very heart of Val d'Isere and just a stone's throw from the piste, Bel Sol enjoys arguably the best location in resort. Bel Sol is handsomely designed with the living area and dining accommodation on the upper level with impressive vaulted ceilings. Two separate lounge areas with plasma screen TV offer generous space for relaxing in absolute comfort. The two terraces provide stunning views of la face piste and the resort′s ice rink.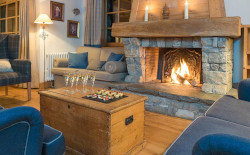 3. Chalet Madrisah, Val d'Isere
Sleeps 8 – Prices starting from £809pp Including flights & transfers
We tried to fuse the ambience of an old stone village with every present-day comfort. To the smooth stone fireplaces, weathered oak floors and seasoned timbers, we added a veneer of cool contemporary styling including marble bathrooms, handmade squashy sofas, antique furniture, goose down duvets and original art. There is a glorious open fireplace, towering central staircase and an enchanting dining area with terrace.
Sleeps 12– Prices starting from £3,240pp on independent travel
Chalet 1597 is so-called because that's the year the building was built, making the chalet one of the oldest in our portfolio. No expense has been spared in creating this wonderful mountain home.  The chalet is equipped with all the features you'd expect from a chalet of this standard and includes a sauna and spa, dedicated cinema room, wine cellar and the food will be exceptional. Located in a position that allows to ski back to the chalet via an off-piste route and reaching the lifts within 3-minute drive make this a great choice for a luxurious chalet stay in Lech, Austria's premier ski resort.
5. Chalet Cristal A&B, Val d'Isere
Sleeps 12 & 8+2– Prices starting from £778pp on independent travel
These two chalets are slightly different from our fully catered chalets in that are offered on B&B only, however, chefs can be arranged if required at additional costs.  This arrangement seems to suit many of our clients as the choices for fine dining are endless in Val d'Isere.  Each chalet can either be booked on its own or combined to accommodate groups of up to 22 (to include children)  each chalet is furnished to an exceptional standard and the views from either lounge across the resort are very impressive.
Sleeps 10 – Prices starting from £869pp Including flights & transfers
This chalet, a spectacular farmhouse conversion, is bursting with character and boasts a fabulous location in the very heart of Val d'Isere's cobbled old town. Sleeping 10 guests this is a great choice for larger groups.
Sleeps 10 – Prices starting from £1,161pp Including flights & transfers
Chalet Jacques is furnished to a high standard in a traditional chalet style with a mix of natural stone and rich wood. The extensive open-plan living and dining area features a striking central fireplace, surrounded by comfortable, built-in plush seating. There is also a balcony from which you can enjoy the stunning views over the Vallée de Bozel. The luxurious wellness facilities; a sauna and an outdoor hot tub on the terrace, will be a welcome haven after an exhilarating day on the slopes.
8. Chalet Grande Corniche, Les Gets
Sleeps 12(+4 ) – Prices starting from £1,885pp Including flights & transfers
Newly built to a high standard, chalet Grande Corniche is an impressive chalet with luxury living in mind.  The six bedrooms are all ensuite, plasma TVs and enjoy wonderful views across the slopes. The chalet has its own glass sauna offering spectacular views and conversation pit. There is a snooker room and a grand piano.  The sister chalet (Petit Corniche) that can be booked for an additional £4000, is ideal for extra guests, our own nanny or security staff.  A Perfect chalet in the ever-popular ski resort of Les Gets.
9. Club Med Val d'Isere 5 trident space
Sleeps 60+ – Prices starting from £1,142pp on independent travel
Club Med is best known for its all-inclusive skiing holidays, but some of its hotels offer 5* space. These include 25 upgraded rooms which are larger and better appointed all with Balconies, 6 are family rooms.  The private decking area with hot tub, exclusively for 5 trident guests. A private dining room where champagne breakfasts are served.  Room service and a Concierge service. The skiing in Val d'Isere is wonderful for but complete beginners.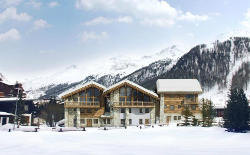 10. Chalet Shar Pei, Val d'Isere
Sleeps 10 – Prices starting from £3,122pp on independent travel
Enjoying one of the best locations in Val d'Isere, close to the slopes, Chalet Shar Pei is a new, luxury chalet with an indoor swimming pool and hammam. With a large top floor balcony, the chalet has stunning views of the mountains and resort. Sleeps 8+2.