7 nights
Independent Travel
Les Deux-Alpes Ski Resort Guide
Why Ski in Les Deux-Alpes?
This popular resort has long been a favourite with Ski Line's clients – especially with those who enjoy a vibrant nightlife. The village of Deux Alpes is long and narrow and sits at a height 1650m – from here the ski range climbs to 3570m providing over 225km of piste which will keep the most avid Powder Hound or Knuckle-Grinder busy. The lifts that service this area are all to be found along the village floor so they are very convenient for easy access. Apart from a great skier's resort, it is a bit of a snowboarders paradise with its snow-park complete with airbag, which hosts various competitions each season.
Ski Line has catered ski chalets, and ski hotels for our clients to choose from. All have been hand-picked, serve excellent food and offer good, comfortable accommodation. We also have a large number of self-catered apartments to choose from which give a more value for money option and of course the increasingly popular all-inclusive Club Med option.
Your Les Deux Alpes lift pass includes two days of cover in the nearby ski resort of Alpe d'Huez with an option of a helicopter flight (€65 return) or, if you prefer a less adventurous return trip there are buses which normally depart on Wednesdays and Thursdays. We advise early booking in the resort. Also included is one day's skiing in Serre Chevalier, which is an hour's drive away. If you haven't skied here since 2015, the resort has made some major improvements to the homeward runs, pre 2015 the choice was a busy green or an often mogulled black, so the new blue run has transformed this and feedback from our clients suggests it is a very welcome improvement.
On busy peak weeks, it is a good idea to hit the slopes early as, delays at some lifts can build up, not surprising with up to 35,000 visitors making this their winter holiday base.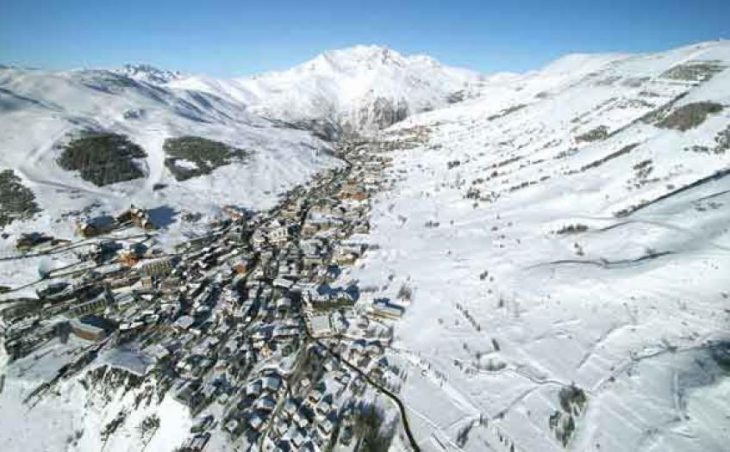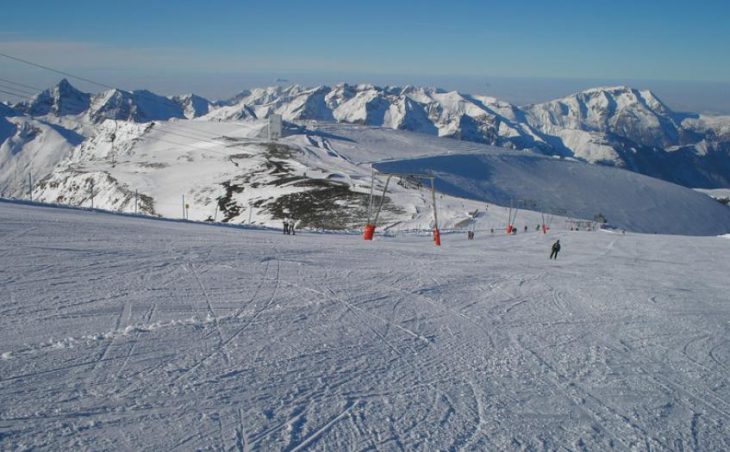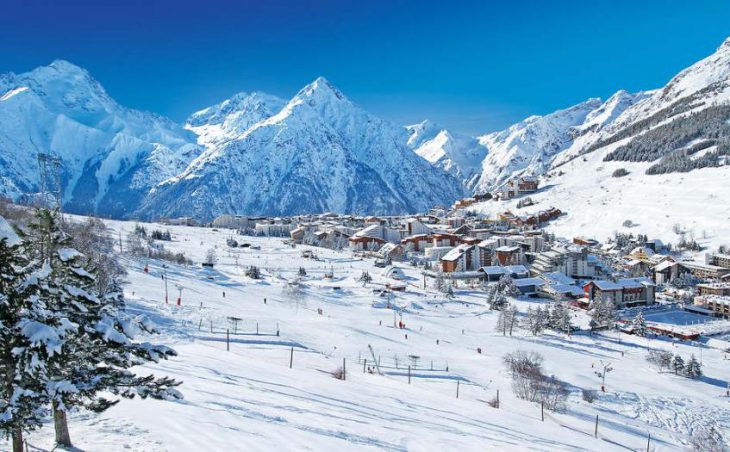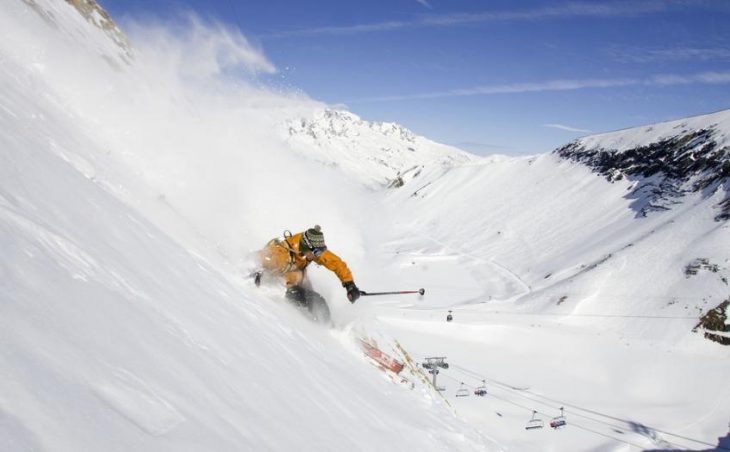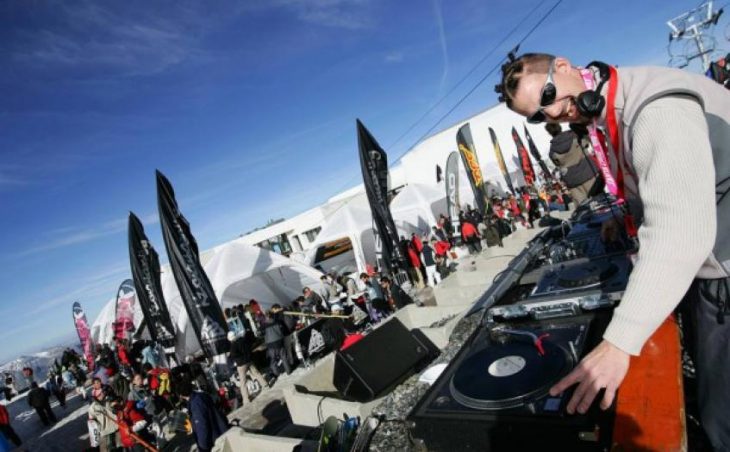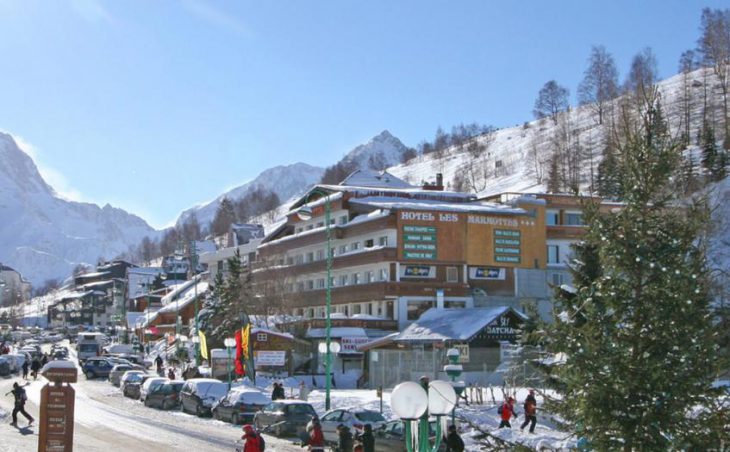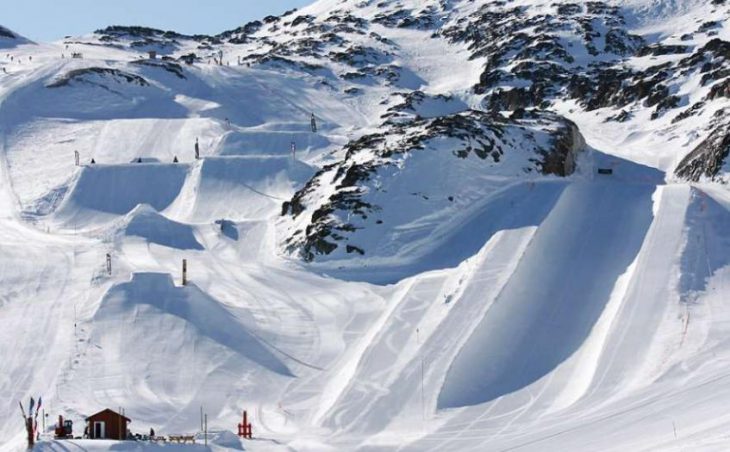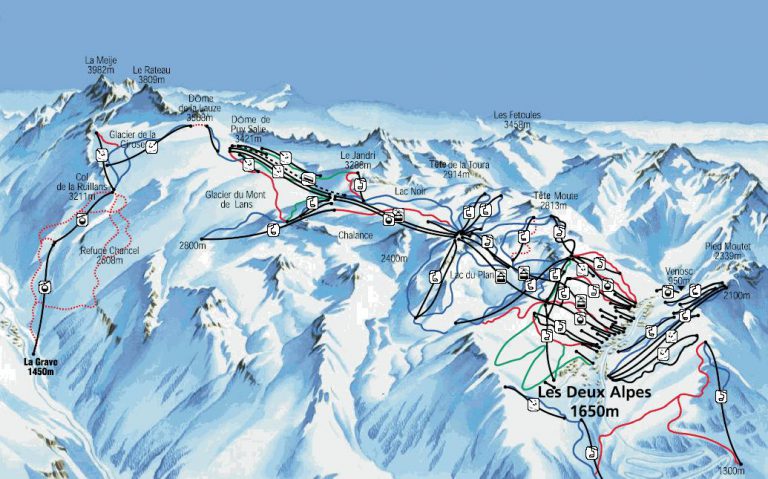 Upper Piste

depth

Lower Piste

depth

Weekly

Snowfall
0 cm
100 cm
200 cm
300 cm
400 cm
Based on weekly average snowfall data November 2000 - April 2018
Pistes
Total Runs


98

Km of Piste


225km
Altitudes
Resort Altitude


1650m

Highest Piste


3568m
Expert Ratings
Beginners Skiing In Les Deux Alpes
Les Deux Alpes is a great resort for beginners. The nursery slopes are to be found just above the village and are serviced by 7 free lifts and where gentle green runs are perfect for putting into practice what you have learnt. Once you have gained confidence on these slopes, it is possible to ski from the very top of the mountain down to the village on gentle greens and cruising blues – a real delight for first time skiers who in many resorts would have to settle for small bite-sized pieces of appropriate ski areas and would rarely get the chance to ski from top to bottom.
Intermediate Skiing In Les Deux Alpes
Less confident intermediate skiers visiting Les Deux Alpes will love the quality of the snow and gentle runs from the top of the Mountain. More confident intermediates may find the variety of runs to be limited, and some of the blues might be reds in other resorts. However, if you are not a fevered piste basher you will find plenty to keep you satisfied all week.
Advanced Skiing In Les Deux Alpes
Although there are quite a few black runs to ride, none of them is very long so it's the off-piste skiing on offer here which will appeal especially the famous La Grave run which really should only be tackled with a guide. The Chalance run is another popular choice, but it is important to check the avalanche risk before tackling it. The Bellecombe Chair Lift takes you to some quite varied skiing – all of it shady so pretty snow sure.
Ski Chalets In Les Deux Alpes
Along with our ever-popular catered ski chalets in Les Deux Alpes we have included Club Med's all-inclusive resort at, our clients love the all-inclusive nature of Club Med skiing holidays and the value for money they offer. Both forms of accommodation are very popular with Ski Line's customers. Several of our chalets offer hot tubs and some are located right on the piste for ski convenience.
Ski Hotels In Les Deux Alpes
Ski Line has a good selection of reasonably priced, comfortable hotels for you to peruse. Les Deux Alpes has never styled itself as being as swanky as it's neighbours, but it has plenty to offer by way of charm and comfort. As with our chalets, some of our hotels feature hot tubs and some are literally on the Piste ready for you to point your skis downhill on leaving!
Ski Apartments In Les Deux Alpes
There are plenty of self-catered apartments to choose from in Les Deux Alpes and although most of these do not come with a Luxury tag, they most certainly offer comfort and convenience at attractive and reasonable prices.
It is worth remembering that at Skiline our prices and availability are updated throughout the day so our site is a good place to find great discounted ski holidays and ski deals.
All Inclusive Hotel Holidays In Les Deux Alpes
Ski Line are delighted to be able to offer accommodation in the excellent Club Med hotel in Les Deux Alpes.
Snowboarding In Les Deux Alpes
Les Deux Alpes is very much a snowboarder and freestyler friendly resort. It now has Les 2 Alpes Freestyle Land at 2,600m which includes the snowpark on the glacier with a halfpipe and superpipe, and a family park. The resort has invested heavily in its Terrain Park to be found at La Toura and runs the full 1km length of the lift. There is also a children's park situated in Les Cretes and a half-pipe on the Glacier.
Off-Piste Skiing In Les Deux Alpes
Apart from the off-piste options above, there is the very exciting option of engaging a guide to take you by hike or snowcat off the glacier. This will give you the chance to explore to your heart's content the lengthy and sometimes very challenging off-piste runs that lead from the 3,568m Dome de la Lauze down to the village of La Grave.
Restaurants In Les Deux Alpes
This family-friendly resort doesn't disappoint on the refuelling front – starting with basic pasta and pizza, moving on to tartiflette, fondues and other Savoyard favourites all the way through to Michelin-starred cooking, there really is something for everyone. Even dyed in the wool self-caterers are likely to be tempted out at least once during their skiing week to sample what is on offer. A couple that are worth a mention are… Chalet La Toura to be found at 2,600m and near the Jandri Express mid-station. Hungry skiers and boarders will be pleased to find great pizzas and salads at very reasonable prices. Off the mountain and up in price head for Le P'Tit Polyte. This ever-popular restaurant operates under the watchful eye of Michelin-starred chef Mathew Hegarty. Le P'Tit Polyte is the place to go for a gastronomic treat at a not too ridiculous price. The imaginative menu introduces some unusual pairings – crayfish with pomegranate, apple and wasabi, or foie gras with almonds and cherry stone cream. Go on, treat yourself – you know you want to!
Après Ski In Les Deux Alpes
Here at Ski Line we use one word to describe the Après ski and that is – Perfect! Les Deux Alpes is most definitely a ski resort for party animals and has a well-earned reputation for having some of the most vibrant nightlife of any ski resort in France. Partying begins in the afternoon on and off the slopes, and then continues into the wee hours at one of the 30 plus bars in town. Some worthy of a mention are Smithy's Tavern which is always lively and very popular with the youthful set, The Secret Bar hosts live bands, and for those of a more mature status, the Tribeca is always entertaining and fun. The main nightclub is Avalanche which parties from dusk till dawn!
Activities Off Piste In Les Deux Alpes
Les Deux Alpes offers both an indoor and outdoor pool and there is a wellness centre which has a sauna, steam room and hot tubs. Snowcats are available to take you up to and across the glacier which has great views across the Southern Alps and dog sledging is also an option. There's a large outdoor ice rink which holds weekly dodgem sessions which are always fun for all the family.