Santa's Aurora | Itinerary

My action-packed break has everything you could wish for included in your holiday price. Husky-sled rides, reindeer sleigh rides and snowmobiles which parents can drive themselves, plus a Wilderness dinner and fantastic accommodation.
Welcome
After flying across the Arctic Circle you will be greeted at Ivalo Airport by my friendly helpers who are eagerly awaiting your arrival. One or more of my cheeky elves are often at the airport as well to greet you, a great first photo opportunity, but they do like to create mischief and mayhem.
A short 25-minute coach transfer to the hotel and my helpers will join you on the coach and get you all excited with some festive songs to make the journey even quicker. Keep an eye out on the journey to see if you can spot any of my reindeer or maybe an elf in the woods close by.
Arrive at your beautiful accommodation, the Star Arctic and collect your thermal suits and equipment from the downstairs room at the hotel.
Spend some time settling into your accommodation & meet my helpful representatives who will give you all the information you need to have the complete Lapland Experience. For the rest of the afternoon, you can play in the snow or perhaps try some tobogganing.
Your first evening starts with my Wilderness Dinner and Aurora Hunt by Huskies. It's a short coach ride to the Wilderness Centre for dinner in the lodge, some fun in the snow outside and an exciting husky ride. The children can enjoy the thrilling ride from the comfort of the sled whilst all the grownups have the opportunity to drive the husky sled themselves.
This hotel is in the ideal location to watch out for the Northern Lights due to its prime position at the top of the fell, far away from any light pollution and boasting some stunning views of Saariselkä below.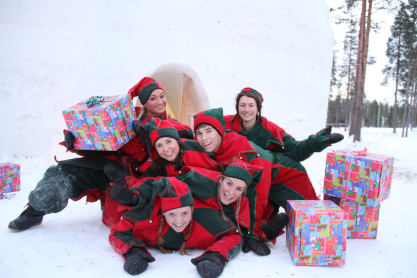 ---
Adventure Day
This extra day on my 4-day breaks only will normally be your second day and gives you the chance to start building up the excitement, with your choice of my fantastic Additional Adventures.
Try a sensational daytime Snowmobile Safari, where parents take it in turns to drive the snowmobile and children will be towed in a special sled by the guide, or the evening snowmobile option, with my popular Northern Lights Adventure. Perhaps enjoy a few hours downhill skiing, or Saariselkä's toboggan run. Animal lovers may prefer to go for an extra Reindeer Sleigh Ride – always a popular option with the children.
Once back at the Star Arctic enjoy your half board dinner with the excitement for tomorrow's Big Day mounting.
---
Search for Santa
With a host of great adventures awaiting you today, this is sure to be the most memorable day of your Lapland break. Wrap up warm and pack some snacks, you will be outside in the true wilderness of Lapland with some fantastic camera moments for the whole family. My helpers will pick you up and take you to my Arctic Circle Centre where you can enjoy all the following activities at some point during the day for the ultimate Christmas Adventure.
My Elves and Igloo Fantasia is hidden away in the woods and once there, join in the fun and games with my Elves in their Igloo Wonderland before visiting my Artistic Igloo and admiring the magnificent ice sculptures and maybe enjoying a drink in my ice bar.*
My Reindeer Centre is full of exciting reindeer based activities. Join in the fun and play some Crazy Reindeer Golf or try your hand at Reindeer Lasso and feed one of my reindeer friends.
Lunch is also included, to 'recharge your batteries' for the afternoon. This will be a simple and warming 2-course meal, with plenty of hot berry juice, squash, tea and coffee also available.
A host of Snow and Ice Fun Activities are provided for you to enjoy, such as ice-fishing, snow-hockey, kick-sledding (a crazy Finnish cross between a scooter and a toboggan!), tandem skiing, mini-skidoo rides for the children, and my favourite – tobogganing.
See your children's faces light up with wonder, as you fulfil your family's Search for Santa, and meet me in an Exclusive Private Family Meeting in my hideaway log-cabin home, with my elves on hand to make you welcome and ensure there is magic in the air!
Refreshments are included too, and are available throughout the day, for those times when a few minutes warming up round a crackling log fire is welcomed.
Finally, back 'home' in your hotel, finish the day with your Star Arctic dinner while you re-live every unforgettable moment of your biggest ever Christmas adventure!
* local charge for drinks applies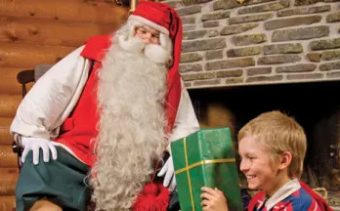 ---
Grand Finale
Fun-time again, with the chance to thrill to another big adventure and high-octane thrills with my trip by snowmobile to my reindeer farm. Parents share a snowmobile with one driving and one riding pillion and children travel is a large sleigh behind the group leader.
Visit the farm, meet the reindeer and enjoy a reindeer sleigh ride before returning to the hotel by snowmobile.
My helpful team will collect you from your doorstep by coach for the short ride to the airport to catch your flight home, to a chorus of fond farewells!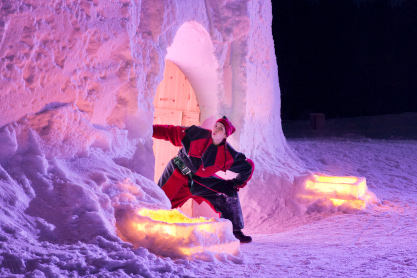 ---
Additional Extras
We are also able to book additional extras on to your holidays such as:
Northern Lights Adventure
Rudolph's Reindeer Run
Husky Heaven
Family Snowmobile Safari
Adult Snowmobile Safari
Lapland Downhill Skiing
Snow-shoeing
Cross-Country Skiing
Aurora Hunt by Snowmobile
Please speak with us for more information on these additional extras.
ADDITIONAL EXTRAS – FIND OUT MORE
---
See our selection of Santa's Aurora Lapland Holidays & Santa Trips below