18th May 2017
China
****
Prices start from £1,844pp
Please call us for a detailed quote
Contemplate this vast collection of contemporary sculpture
A majestic, beautifully preserved site, the most beautiful spot in the whole of China: the River Li, terraced rice fields, mysterious caves and karst mountains.
A vast park with over 100 contemporary sculptures by international artists, ranked as the leading modern art collection in Asia.
Two contemporary hotels, with spacious rooms from 30 to 122 sqm (325 to 1,315 sq ft) located round the Welcome Centre in the HOMA building, which offers a host of services (Reception, Club Med boutique*, Discovery centre, art gallery, Wifi).
A range of Zen activities including Spa treatments, Tai Chi Chuan and art workshops, Mah-jong and a library. Alternately, you may prefer the sensations of the flying trapeze, trampoline, rock climbing or caving: there are a number of exceptional cultural excursions in this splendid part of China.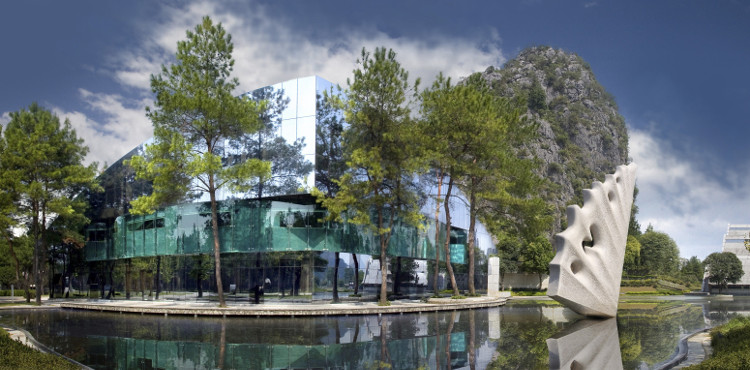 Bars
Moon Bar
Located in the HOMA building, the Moon Bar has a quiet lounge area and a stunning, tree-lined outdoor terrace. Stop off for a refreshing cup of tea or a glass of good wine. Champagne and cigars are available at extra cost.
Main bar, the "Atelier"
For lively entertainment in the centre of the Resort, take the family, loved ones, friends or partner for a game of Mah-jong or pool. And once the kids are in bed, try your talents at karaoke, and enjoy fine wines into the early hours.
Poolside bar
With pretty views over the Resort and gardens, the Poolside bar is the place to cool off in tranquil surroundings during pool opening hours. Sip a refreshing Mojito and choose from a selection of snacks.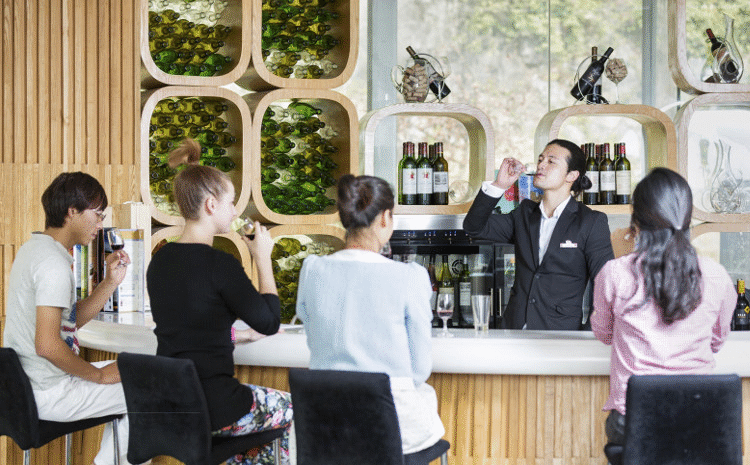 Restaurants
The Lotus
The Lotus restaurant has a setting as beautiful as the flower it is named after. Experience the Zen feel of Chinese dining, complete with traditional turning table tops. Sample delicious local Chinese dishes and western cuisine. Located in the HOMA building, booking is required, at Reception.
Main restaurant, "the Atelier"
Located in The Atelier, this air-conditioned restaurant serves a colourful and tantalising array of freshly prepared dishes. Discover Chinese cuisine, with a choice of Sichuanese, Cantonese and Hainan regional dishes. The terrace provides a tranquil setting with a magical view of the grounds and mountains beyond. If you prefer to eat indoors, the three themed dining rooms provide a choice of fascinating decor for an intimate and relaxed dinner with family or friends.
The Noodle Bar
Who would have thought there was so much to learn about the humble noodle! You'll never look at a noodle in the same way again after discovering the huge variety from all regions of China available at the Noodle Bar. Located in the great ambience of The Courtyard, the restaurant is open throughout the day, for an authentic and memorable Chinese dining experience.
The Rooftop restaurant
Located on the third floor of the Atelier, The Rooftop Restaurant has fantastic views over the sculpture park and majestic mountains beyond. With a traditional Mongolian barbecue as its centrepiece, the restaurant provides another unique and exquisite dining experience at Guilin. Make mornings memorable with the late breakfast option, dine on divinely roasted meat at the Mongolian barbecue, or enjoy a Chinese fondue.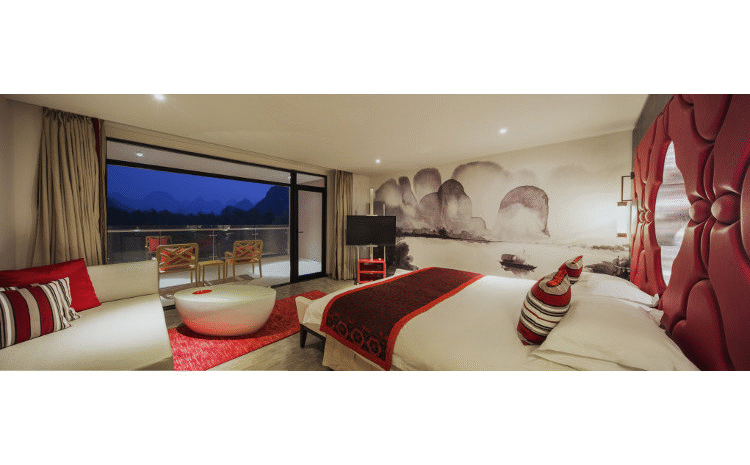 Accommodations
In a majestic and beautifully preserved site, two contemporary style hotels with rooms (1) for a restful and warm ambience. In the HOMA hotel, each room has its own style.
(1) Rooms in the HOMA building are available from 12 years old.
Club
Room with warm, restful, contemporary decor.
Services
Surface 26 m² – 43 m²
Guests 1 – 3 persons
Air-conditioning
Asian triple electrical plugs / 220 Volts
Bathroom
Hair dryer
Ironing kit
Security safe(s)
Telephone
Television(s)
Deluxe
A beautifully light, spacious and comfortable room.
Services
Surface 42 m² – 50 m²
Guests 1 – 4 persons
Bathrobe
Bottle of water
Drycleaning service at extra cost
Guest amenities
Slippers
Turndown service
Your luggage delivered to and picked up from your room
Air-conditioning
Asian triple electrical plugs / 220 Volts
Bathroom
CD player
Hair dryer
Ironing kit
Minibar
Security safe(s)
Telephone
Television(s)
Suite
A highly elegant Suite, for relaxing in luxury, with a whole range of services.
Services
Surface 70 m² – 80 m²
Guests 1 – 4 persons
Bathrobe
Bottle of water
Drycleaning service at extra cost
Guest amenities
Housekeeping in your Suite scheduled at the time of your choice
Inclusive of room service for continental breakfast
Slippers
Turndown service
Your luggage delivered to and picked up from your Suite
Air-conditioning
Asian triple electrical plugs / 220 Volts
Bathroom
CD player
DVD player
Expresso machine
Hair dryer
Ironing kit
MP3 player
Minibar
Security safe(s)
Telephone
Television(s)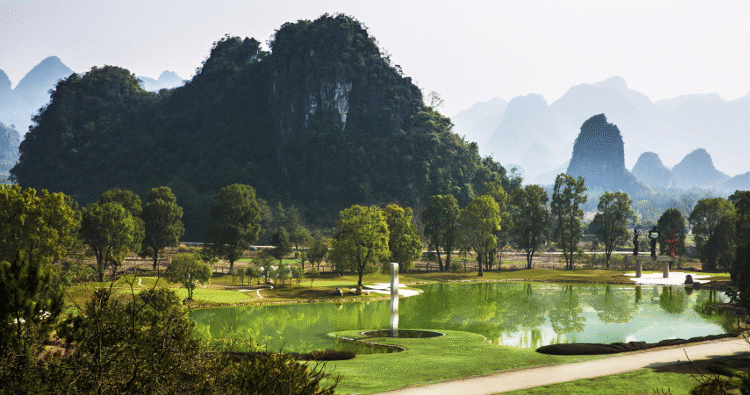 CHINA
China in brief
Surface area: 9,707,000 sq km
Capital: Beijing
Official language: Mandarin, Cantonese
Currency: the Yuan.
Make the most of your stay at the Club Med Resort of Guilin to discover the natural beauty and fascinating culture of the region.
China has a huge variety of landscapes and cities, towns and villages with a wealth of monuments, ancient architecture, palaces, imperial gardens and temples, magnificent buildings and parks.
Guilin is renowned for the beauty of its landscapes and the wealth of its culture.
Located closeby:
The city of Guilin is 45 km from Club Med.
The landscapes of Guilin are among the most beautiful in China. The enchanting beauty of its karstic landscapes give their characteristic shape to the banks of the River Li, attracting millions of visitors from China and around the world. The city gets its name from the osmanthus, a local tree that gives pretty red or white flowers from June to July. Guilin means "the osmanthus forest". Travel time: a 45-minute drive
Yangshuo is 60 km from Club Med.
The western world discovered this town thanks to the backpackers who would stop over on their travels through China. It is now a thriving destination for shopping and tourists, with music playing on every street corner and terrace cafés. The surrounding area is beautiful and well worth exploring. Travel time: a one-hour drive.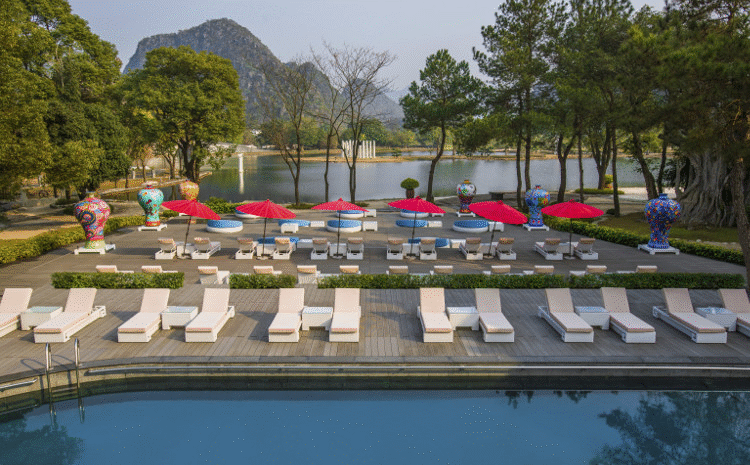 Kids
With the benefit of over 40 years' Club Med experience behind it, our Resort proposes innovative clubs for children and teenagers:
Dedicated areas specifically designed for their needs, and equipment designed with a view to comfort and safety. Design inspired by the local environment with its flora and fauna: at Guilin, the children (aged 2 to 10) discover the River Li and the local fishing techniques, traditions and folklore, to introduce them to the pleasures of living in harmony with nature, and satisfy their curiosity.
G.O®s with a passion for their job(1)
Numerous activities for all ages: sport, creative activities and games for the different age groups
Opening hours that allow parents to make the most of their stay, and respect the children's desires and sleeping patterns
For information: the children's clubs are open all week.
(1)In France, G.O®s with a BAFA (State diploma for youth group leaders) or childcare qualification, depending on the age of the children; in other countries, an equivalent local diploma or relevant experience.
Petit Club Med® (2 to 3 years) – Not Included
To be sure your children's holiday experience is as unique as yours, we've devised a Club Med tailored just for them!
Run by experienced G.O®s, Petit Club Med® proposes a host of different activities for all age groups – creative, artistic, active and fun.
The children explore and discover talents and friendships in an environment made to measure.
At Petit Club Med®, our G.O®s cater to their needs all day long, with a children's lunch menu and specially devised evening activities.
Nappies and baby milk are not provided by Petit Club Med®.
Places are limited, so we advise you to book early!
From 8.30 am to 5 pm and from 7.30 pm to 8.30 pm, every day
Mini Club Med® (from 4 to 10) – Included
We've thought of everything possible to ensure your children have a unique, adventure-packed holiday, with discovery, sports and activities for each age group:
Sport: Little Circus (a fun approach to circus activities), trampoline, archery, cycling, poney riding*, etc
Making things: cookery lessons, nature activities, art and crafts (painting)
Expression: dance, preparing and taking part in shows, crazy signs
Play: group games and activities
Lunch and tea
Evening: after dinner with their friends, the children enjoy specially devised evening activities
* At extra cost
From 8.30 am to 5.00 pm and from 6.30 pm to 8.30 pm, every day
Junior Club Med (11 to 17) – Included
Teenagers can meet up and take part in the activities that interest them most, in the company of their G.O®:
Sports activities: archery, table tennis, mountain biking, trampoline, flying trapeze, volleyball, rock climbing, etc
Creative and artistic activities: cookery lessons, dance, shows, crazy signs
Evening: entertainment, films, shows
Every Day
BABYSITTING – Not Included
From 4 months to 7 years
To enjoy a moment of total freedom, take advantage of the baby sitting service.
For information: we provide a list of baby sitting services on request, but Club Med has no responsibility for the service provided.
CLUB MED BABY WELCOME® (FROM BIRTH TO 23 MONTHS) – Included
Until 23 months
We've done everything in our power to ensure the comfort and well-being of babies and parents.
Personal welcome, baby-care material available in your room and/or in the baby feeding and equipment room (cot, changing mat, baby bath, high chair on request, bottle-warmer), sweet and savoury baby foods, baby corner equipped to prepare babies' meals, high chairs and/or booster cushions in the restaurant.
Spare pushchairs are also available if required.
PYJAMAS CLUB® – Not Included
From 4 months to 7 years
The Pyjamas Club® is a group babysitting service (no specific activities). It enables parents to leave their children with a team of experienced and qualified G.O®s in a dedicated area with all the necessary comforts (beds, couches, video area, etc).
BABY CORNER – Included
From 4 to 23 months
This baby corner proposes sweet and savoury baby foods and the equipment necessary for preparing babies' meals.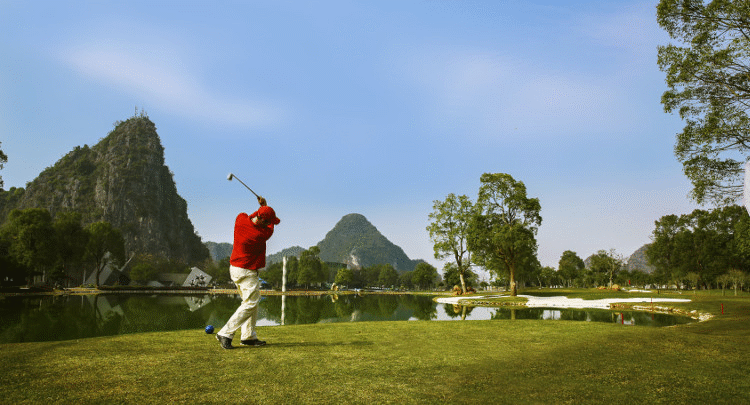 Activities
SPORTS SCHOOLS – Included
The largest Sports School in the world is all yours! Exceptional sports and group lessons for all levels of skill. Beginners and experienced sportsmen enjoy state-of-the-art equipment and exclusive, fun teaching from G.O®s trained in their discipline. Indulge yourself to the extreme and discover new emotions.
Flying Trapeze School
Fitness School
Tennis School (free access in winter)
Climbing Academy
SPORTS – Included
Badminton
Basketball
Table tennis
Archery School
Volleyball (summer only)
Yoga
Cardio and weights room
Walking & Hiking School
Cycling/Mountain biking School
Guided tour of the park
SPORTS – Not Included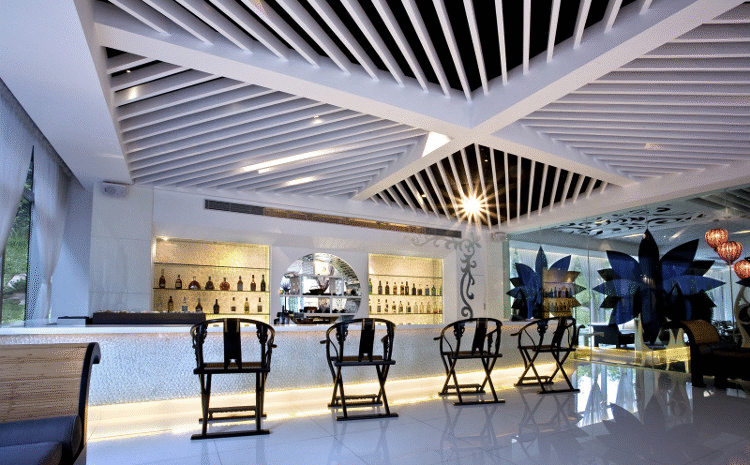 WELLNESS ACTIVITIES
Equipment
Individual and duo treatment rooms
Massage beds
Plantar reflexology room
Your package includes
Mountain Biking
Archery
Tennis
Flying Trapeze
Hiking
Fitness
Treetop Adventure
GOURMET CUISINE, CHILDCARE, ENTERTAINMENT…
It's all included in your Club Med holiday
Full board Gourmet cuisine and all day snacks
Open bar – Branded drinks throughout the day
Kid's Clubs – 2 to 17 years old*
Evening entertainment
* Petit Club Med® (2 to 3) at extra cost