Greece
****
Prices start from £1,425pp
Please call us for a detailed quote
Set on the island of Evia along a secluded beach, Club Med Gregolimano is a paradise for watersport lovers and active families. This spacious all-inclusive family resort in Greece has so much to explore, from wakeboarding and diving in the Aegean Sea to beach pilates and our flying trapeze. Kids can find adventure among the trees with our all-day kid's clubs and family fun. After the excitement, relax on our golden beach or on a swaying hammock in our tranquil pine forest. Then dine on gourmet cuisine, find your favourite drink at the open bar and enjoy a night at our modern Greek theatre.
Bars
Price includes
No need to carry cash around with you thanks to a selection of drinks and snacks included in your offer. These range from fruit juices and sodas to hot drinks and cocktails with and without alcohol. Local and international wines and spirits are also available. If you're feeling moreish then simply choose from a selection of sweet and savoury snacks.
At extra cost
Bottled and canned drinks can be bought from vending machines placed around some Resorts and/or the Club Med Boutique. These are not included in your offer as neither is champagne or wines from the à la carte menu. VSOP and XO spirits come at an additional cost as do quality drinks from a selection of super – premium brands.
The Aphrodite
Greece is famed for its fabulous coastline and understated luxury, and the Aphrodite shows you Gregolimano at its finest. Eat outdoors on the beautiful terrace overlooking the pool and bay, or sink into an oversized sofa with that special someone in the inviting outdoor lounge. Dancing starts at nightfall, so don't forget your dancing shoes!
Restaurants
The Panorama
Located in the Hotel Acropole, the Panorama is open for dinner, and serves delicious "assiettes gourmandes" with a selection of Mediterranean specialities.
Open certain evenings – don't forget to book, at Reception.
The Pleiades
In the shade of a pretty pergola on the terrace or in the elegant interior, choose from a wide selection of international dishes served at the buffet, from breakfast through to dinner.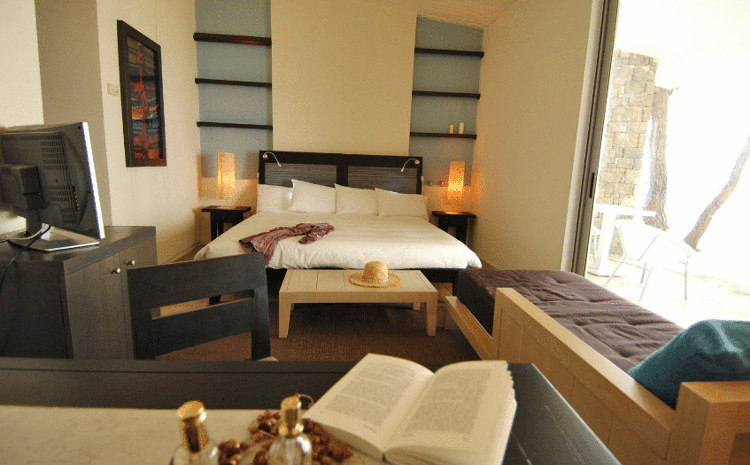 Accommodations
This Resort has a variety of types of accommodation (bungalow or hotel) alongside a magnificent long beach of white sand: there are Club Bungalows in the pine forest, Deluxe Bungalows with a Sea View and Deluxe Bungalows on the beach.
Olympe is a group of small 1 and 2-storey bungalows, with no lift, in the style of a Greek village, next to the Parthenon Hotel.
The hotels (with lift) are located in the centre of the Resort and on a hillside facing the sea:
The Parthenon is a 6-storey hotel located beside the Acropole.
The Acropole is a 3-storey hotel
The Pirée is a 4-storey hotel, located next to the Parthenon
Club
There are Club Rooms on all floors of the Acropole and Pirée hotels and a few on the 3rd floor of the Parthenon.
The Sea View Hotel Club Rooms, with balcony are in the heart of the Resort in the Pirée or Acropole hotels or on the 1st and 3rd floors of the Parthenon Hotel.
The Pinede Club Rooms are on the ground and 1st floors of the bungalows on the pinede. These rooms are ideal for families.
The Olympe Club Rooms reflect the Resort's Greek charm, with its shady streets and flowers.
Surface 40 m²
Guests 1 – 3 persons
Deluxe
These Deluxe Rooms with terrace are ideally located in the bungalows along the sea front.
The Parthenon Hotel has Deluxe Rooms with sea view and terrace.
Surface 40 m²
Guests 1 – 3 persons
Services:
Bathrobe
Bottle of water
Drycleaning service at extra cost
Slippers
Turndown service
Your luggage delivered to and picked up from your room
Air-conditioning
European electrical sockets / 220 Volts
Hair dryer
Ironing kit (Deluxe Room only)
Minibar (Deluxe Room only)
Security safe(s)
Tea and coffee kit (only in the Deluxe Rooms)
Telephone
Television(s)
Suite
In the bungalows in the shade of the pine wood or in the hotel w
ith a sea view, these spacious Suites with an independent lounge and terrace have elegant decor and provide top class comfort.
Surface 37 m² – 59 m²
Guests 1 – 4 persons
Services:
Bathrobe
Bottle of water
Dedicated contact person throughout your stay
Drycleaning service at extra cost
Guest amenities
Housekeeping in your Suite scheduled at the time of your choice
Inclusive of room service for continental breakfast
Lunch at no extra cost for G.Ms who arrive before 3 pm
Slippers
Turndown service
Your luggage delivered to and picked up from your Suite
Air-conditioning
European electrical sockets / 220 Volts
Expresso machine
Hair dryer
Ironing kit
Minibar
Security safe(s)
Television(s)
Telephone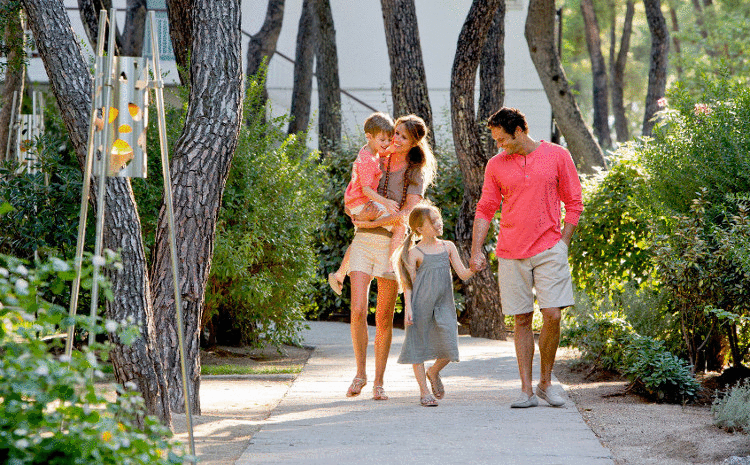 Kids
With the benefit of over 40 years' Club Med experience behind it, our Resort proposes innovative clubs for children and teenagers:
Dedicated areas specifically designed for their needs, and equipment designed with a view to comfort and safety. Decor inspired by the local environment, with its flora and fauna: the Mini Club Med® at Gregolimano introduces children to the pleasures of living in harmony with nature, and satisfies their curiosity. A wind farm, giant sundials and the gods Eole, Apollo and Poseidon guide children (aged 4 to 10) in the footsteps of Greek mythology.
G.O®s with a passion for their job(1)
Skiing or snowboard lessons given by professional ski instructors, creative activities and games for the different age groups.
Opening hours that allow parents to make the most of their day's skiing, and respect the children's desires and sleeping patterns
For information: the children's clubs are open all week, except Saturday.
(1)In France, G.O®s with a BAFA (State diploma for youth group leaders) or childcare qualification, depending on the age of the children; in other countries, an equivalent local diploma or relevant experience.
Age-specific clubs
Mini Club Med® (4 to 10) – Included
We've thought of everything possible to ensure your children have a unique, adventure-packed holiday, with discovery, sports and activities for each age group:
Sport: Little Tennis, Little Waterskiing, etc
Making things: cookery lessons, nature activities (e.g. Clean Art Planet, Happy Nature Box), art and crafts
Expression: dancing, preparing and taking part in shows, crazy signs
Play: group games and activities
Lunch and tea
Evening: after dinner with their friends, the children enjoy specially devised evening activities
From 9 am to 5.30 pm, 6 days a week
Junior Club Med (11 to 17) – Included
Teenagers can meet up and take part in the activities that interest them most, in the company of their G.O®:
Sports activities: archery, table tennis, beach volleyball, tennis, sailing, etc
Artistic activities: dance, shows, crazy signs
Evening: entertainment, films, shows
6 days out of 7
Hotel amenities and facilities for kids
Playground – included
The playgrounds independent of the children's club facilities are open to all children accompanied by their parents.
Baby corner – Included
This baby corner, located in the main restaurant, proposes sweet and savoury baby foods and all the equipment necessary for preparing babies' meals.
Baby-sitting – Not included
To enjoy a moment of total freedom, take advantage of the babysitting service.
For information: we provide a list of babysitting services on request. Club Med provides the contact but has no responsibility for the service provided.
Activities for kids
Little Tennis – Included
From 3 to 4 years
Through role play, children aged 3 to 6 get to learn tennis the fun way, from Mini Club Med®*.
Little Waterskiing – Included
From 4 to 5 years
Proposed for children aged 4 to 6, at Mini Club Med®. Your children discover the joys of waterskiing in total safety, with specially designed equipment, accompanied by G.O®s trained in their discipline.
Mini Football – Included
From 8 to 9 years
Players of all ages have great fun with improvised matches on this synthetic court, close to the tennis courts, where the only prizes going are for good spirits!
Nature and discovery activities for children at Mini Club Med® – Included
From 4 to 10 years
In the majority of our Mini Club Med®s, their G.O®s introduce your children to the joys of nature, encouraging them to explore and become nature experts! They take part in fun and artistic activities to help them understand the problem of pollution in the environment. Another opportunity for them to discover the world around them!
Little Circus – Included
From 4 to 5 years
Circus workshops for children aged 4 to 6 at Mini Club Med®, to discover the joys of the circus in small groups, with G.O®s trained in their discipline. The children take part in a show, where they can demonstrate what they have learnt.

Activities
Sports Schools – Included
The largest Sports School in the world is all yours! Exceptional sports and group lessons for all levels of skill. Beginners and experienced sportsmen enjoy state-of-the-art equipment and exclusive, fun teaching from G.O®s trained in their discipline. Indulge yourself to the extreme and discover new emotions.
Archery School
Flying Trapeze School with circus activities
Tennis School
Waterskiing & Wakeboarding School
Sports – Included
Fitness School
Sailing School
Cardio-training room
Aquadynamic
Pilates
Sports – Not included
– Snorkelling