Is situated in the top of the most western valley of three in the Monterosa Ski Area which is one of Europe's best kept secrets -a little undiscovered gem! The first part of this very Italian little village you come to is the attractive old village centre, with a church and fast running river. Most accommodation is situated on this main road and on the road to Frachey, which can make it a little way from the slopes, but most of the accommodation we have offers a free mini bus service to and from the slopes. So far this area has avoided commercialism…let's hope not too many of you read this and it stays a secret for a while longer!
Skiing in
The Monterosa ski area offers extensive skiing and the links to the other valleys enable even the most moderate skier to explore further afield, getting plenty of ski miles under the belt. The runs are varied, well groomed and generally uncongested.
Champoluc offers some of the most varied skiing for the intermediate skier in the most spectacular of settings. The valley links make it possible to ski for long distances trying out various different routes through trees and open bowls, and the neighbouring Gressoney valley offers equally varied intermediate terrain.
Beginners skiing in Champoluc
Beginners are well served here! With an open bowl and a variety of nursery slopes at the top of the Crest Gondola, by the end of the week confident beginners will be able to ski the relatively easy red run that enables them to reach the easier blues on the Frachey slopes.
Family skiing in Champoluc
A Safe haven for families wishing to enjoy each other's company in a relaxed informal resort in the centre of some of the most marvellous scenery in the Monterosa Ski area. There is a new children's ski area planned at the top of the crest gondola. We have a dedicated childcare hotel in the centre of resort that will offer crèche, childcare and ski school facilities.
Snowboarding in Champoluc
The quality pistes and few numbers of drag lifts make Champoluc a great place for beginner and intermediate boarders, Even though there is no dedicated fun park the powder on the edge of the pistes provides enough natural terrain to practice jumping.
Après ski in Champoluc
Quiet and uncomercialised – there are a few bars and cafes at the bottom of the last run home and nightlife later on in the evening centres on the hotels, a couple of late night bars and two discos. You can also organise an evening meal in one the of the mountain restaurants. There is also an ice rink and ice climbing amongst other energetic activities and a small number of shops to sample.
Champoluc piste map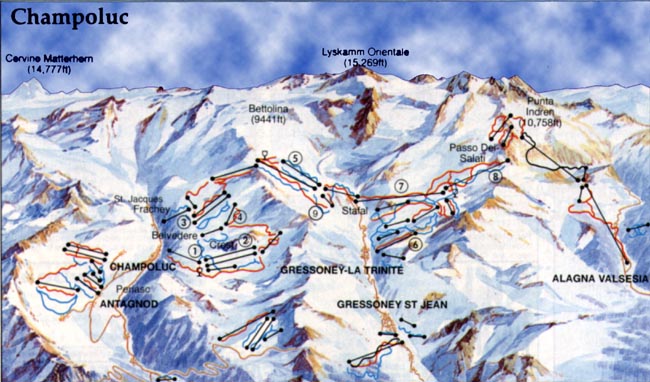 Champoluc historical snowfall
Based on weekly average snowfall data November 2000 - April 2018
Upper Piste

depth

Lower Piste

depth

Weekly

Snowfall
0 cm
100 cm
200 cm
300 cm
400 cm