France
***
Please call us for a detailed quote
A walker's paradise, and wind in your sails.
Club Med's Sant'Ambroggio Resort in northern Corsica overlooks a rocky promontory and offers great activities, such as hiking through some of France's most fascinating countryside and diving in the clear blue waters.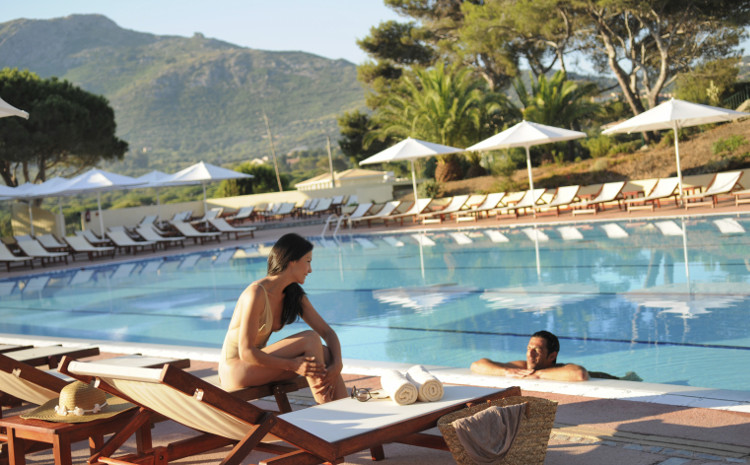 Bars
Price includes
No need to carry cash around with you thanks to a selection of drinks and snacks included in your offer. These range from fruit juices and sodas to hot drinks and cocktails with and without alcohol. Local and international wines and spirits are also available. If you're feeling moreish then simply choose from a selection of sweet and savoury snacks.
At extra cost
Bottled and canned drinks can be brought from vending machines placed around some Resorts and/or the Club Med Boutique. These are not included in your offer as neither is champagne or wines from the à la carte menu. VSOP and XO spirits come at an additional cost as do quality drinks from a selection of super – premium brands.
Main bar
Close to poolside, the main bar is the perfect place to lounge and take in the plush surroundings, or simply recoup under the bar's vast pergola after a day in the beautiful Corsican sun. From fruit smoothies and juices, to inventive cocktails and nibbles – there is something for everyone here.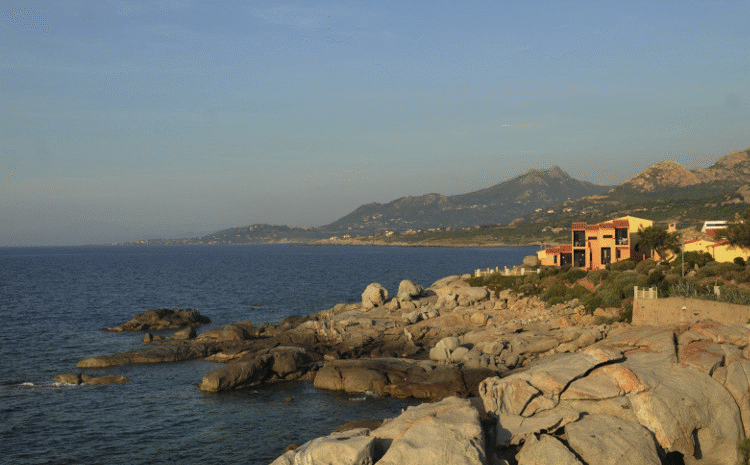 Restaurants
La Citadelle
Nestled on the hillside, with beautiful views over the sea, marina and pool,La Citadelle restaurant invites you to enjoy long leisurely mealtimes in its friendly atmosphere. The outside terrace creates a tranquil, elemental space and the interior is cosy and elegant. The buffet serves the best of French cuisine as well as international dishes. The Baby Corner lets parents prepare meals for their little ones.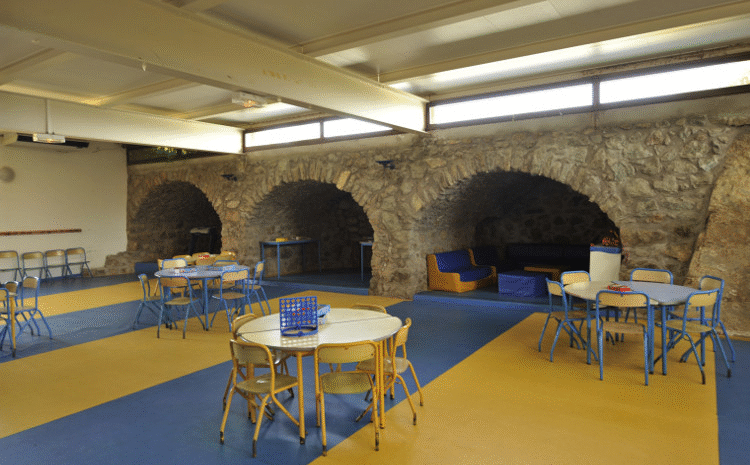 Accommodations
With 291 rooms located in bungalows spread throughout the grounds amid luxuriant vegetation, the Club Med lies on a rock overlooking the town and its marina.
The bungalows have an upstairs floor, with no lift.
Club
An comfortable Club Room on the upper or ground floor of the bungalows.
Surface    15 m² – 27 m²
Guests    1 – 5 persons
Services:
European electrical sockets / 220 Volts
Fan
Hair dryer
Security safe(s)
Shower
Telephone
Television(s)
Sant'Ambroggio
Club Med's Sant'Ambroggio Resort in northern Corsica overlooks a rocky promontory and offers great activities, such as hiking through some of France's most fascinating countryside and diving in the clear blue waters.
Holidaying in a Club Med Resort between sea, sky and the Corsican maquis, where the cicada sing all day long
Enjoying family outings to discover the beauty spots of La Balagne
Scuba diving* or sailing in the crystal clear waters off Corsica
Enjoy Calvi's traditional atmosphere or discover the Valley of La Restonica and its swimming pools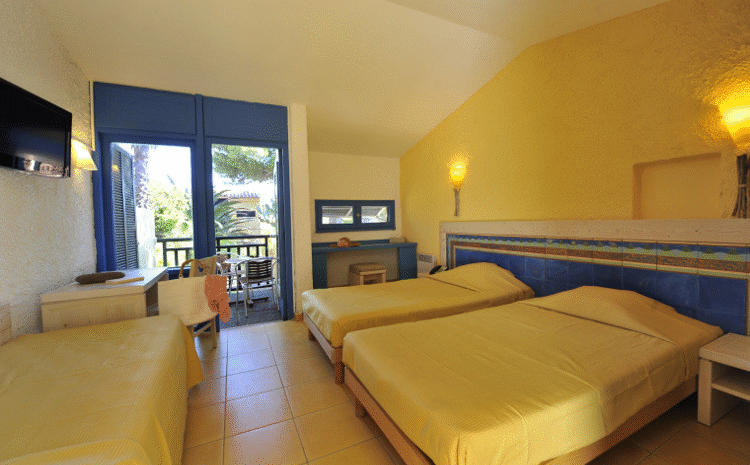 Kids
With the benefit of over 40 years' Club Med experience behind it, our Resort proposes innovative clubs for children and teenagers:
Dedicated areas specifically designed for their needs, and equipment designed with a view to comfort and safety
G.O®s with a passion for their job(1)Numerous activities for all ages: sport, creative activities and games for the different age groups
Opening hours that allow parents to make the most of their stay, and respect the children's desires and sleeping patterns
For information: the children's clubs are open all week, except Saturday.
(1)In France, G.O®s with a BAFA (State diploma for youth group leaders) or childcare qualification, depending on the age of the children; in other countries, an equivalent local diploma or relevant experience.
Age-specific clubs
Mini Club Med® (from 4 to 10) – Included
We've thought of everything possible to ensure your children have a unique, adventure-packed holiday, with discovery, sports and activities for each age group.
From 9 am to 5.30 pm and from 7 pm to 9 pm, 6 days a week
Junior Club Med (11 to 17) – Included
Teenagers can meet up and take part in the activities that interest them most, in the company of their G.O®:
Sports activities: tennis, sailing, kayaking, etc
Artistic activities: dance, shows, crazy signs
Evening: entertainment, films, shows
Hotel amenities and facilities for kids
Baby-sitting – Not included
From 4 months to 7 years
To enjoy a moment of total freedom, take advantage of the babysitting service.
For information: we provide a list of baby-sitting services on request. Club Med provides the contact but has no resposibility for the service provided.
Club Med Baby Welcome® (from birth to 23 months) – Included
From 4 to 23 months
Personal welcome, baby-care material available in your room and/or in the baby feeding and equipment room:
Playground – Included
The playgrounds independent from the children's club facilities are open to young children accompanied by their parents.
Activities for kids
Nature and discovery activities for children at Mini Club Med® – Included
From 4 to 10 years
Clean Art Planet raises children's awareness of the environment. Once the objects have been collected by adults, sorted according to colour and washed, the Mini Club Med® can get on with the creative side of the activity, during which the children invent objects, stories, etc.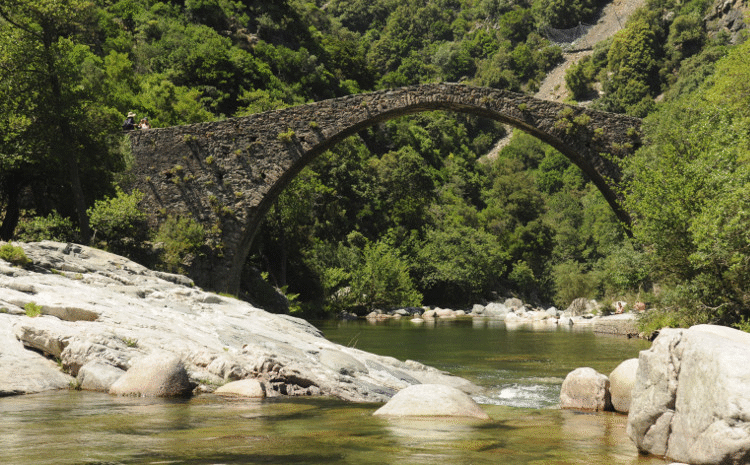 Activities
Sports Schools – Included
The largest Sports School in the world is all yours! Exceptional sports and group lessons for all levels of skill. Beginners and experienced sportsmen enjoy state-of-the-art equipment and exclusive, fun teaching from G.O®s trained in their discipline. Indulge yourself to the extreme and discover new emotions.
Tennis School
Sailing School
Walking & Hiking School
Sports – Included
Basketball
Beach volleyball
Snorkelling
Volleyball
Aquafitness
Mini football
Fitness School
Kayaking
Pilates
Sports – Not Included
Scuba diving
Swimming lesson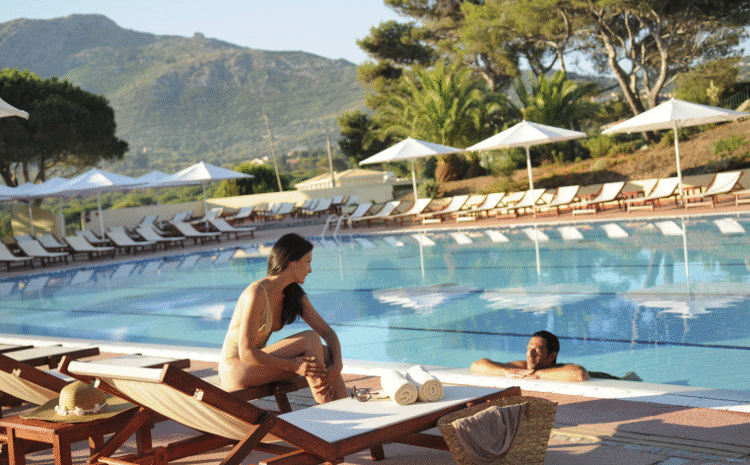 Wellness – Not included
With energy points stimulated, and body and mind perfectly relaxed, slip into a realm of total wellness and relaxation.
Discover a world of total relaxation and enjoy the pleasures of wellness and beauty treatments.
For information:
The term "massage" implies a superficial manipulation of the face or body, solely for aesthetic purposes, sometimes to ensure optimal penetration of a cosmetic product, or for comfort. The massage referred to is an external massage of the skin, with no medical or therapeutic aim. It may be done manually or with mechanical aids, exclusively by qualified, trained professionals.