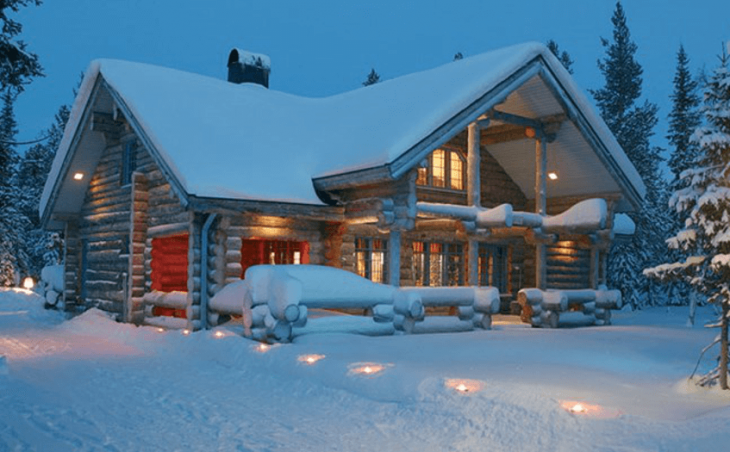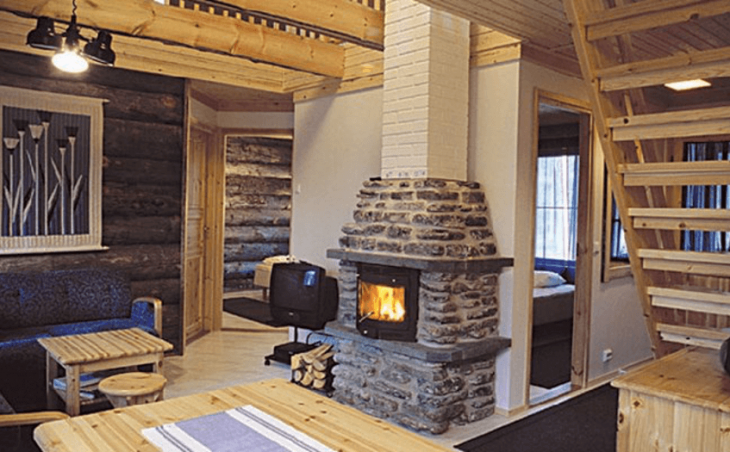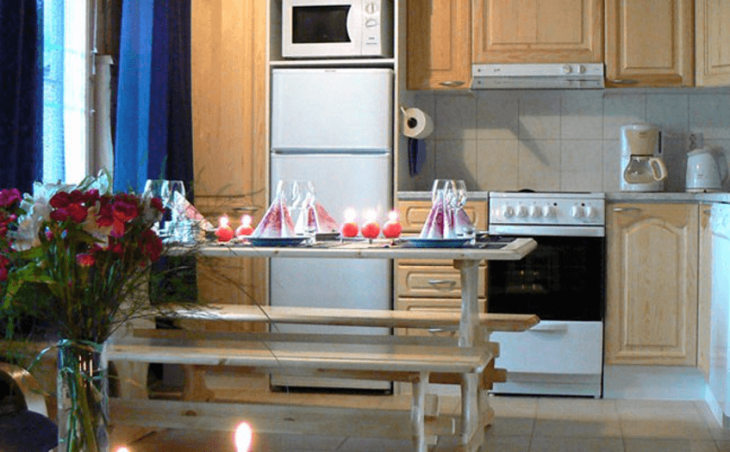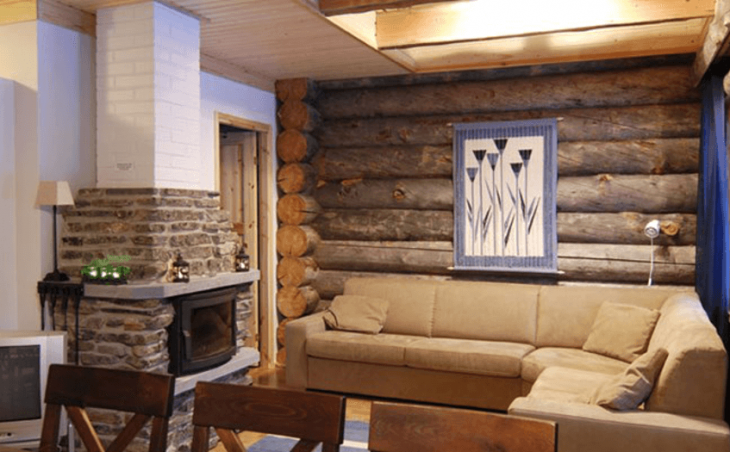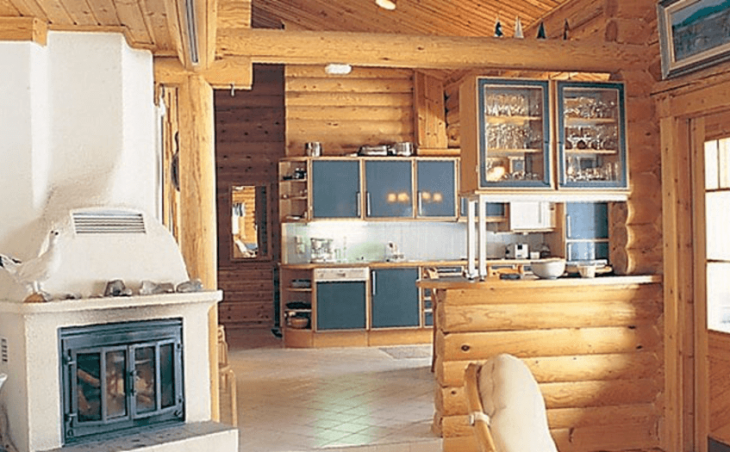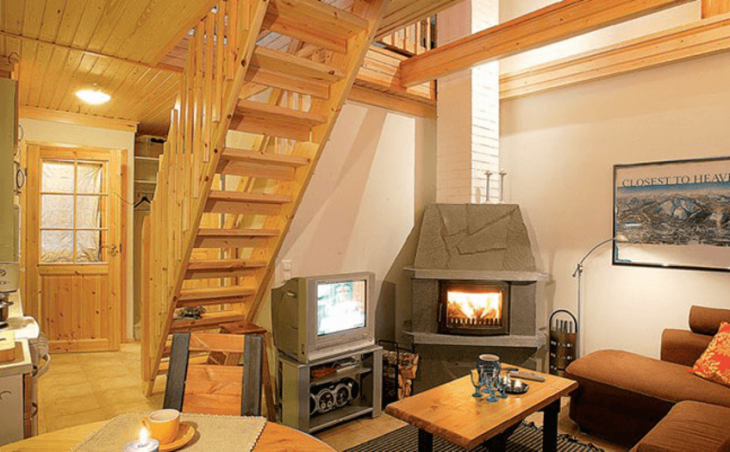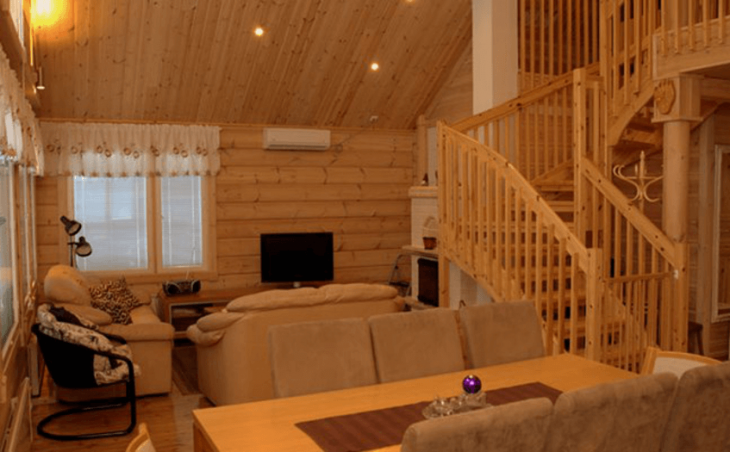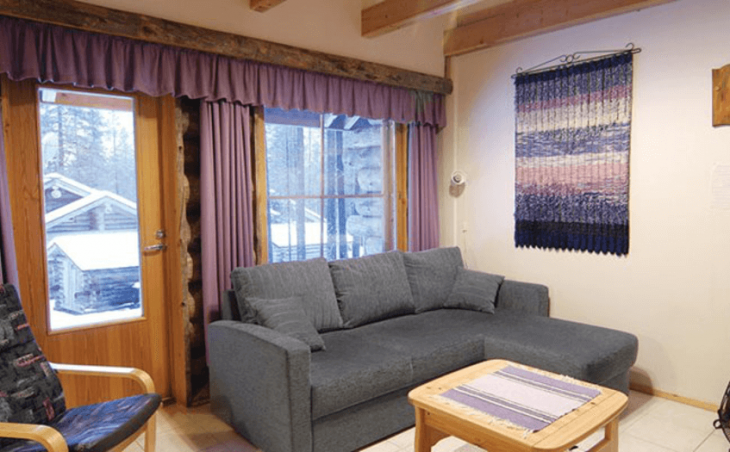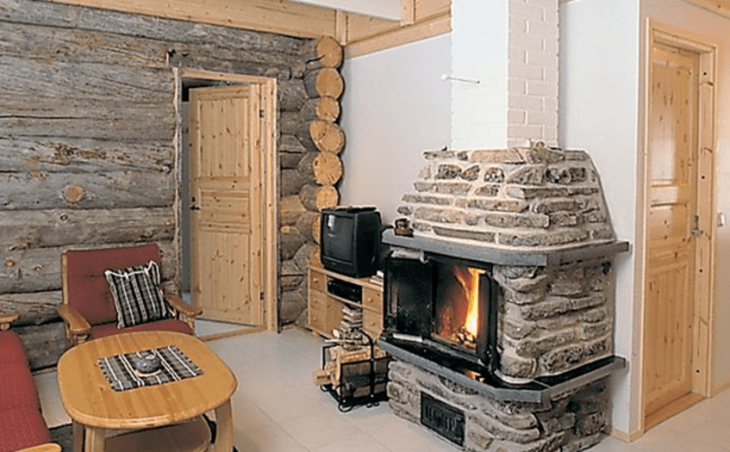 Highly recommended, idyllic, high-quality modern log cabins, dotted around the woods in a variety of scenic locations. Excellent cross-country skiing starts from the door. Cabins are located 2-10 minutes' walk (250-900m) to the nearest ski bus stop and from one of either the Äkäs Hotel or Kaltio Hotel. There is a large well-stocked supermarket and a choice of cafés, bars and restaurants for those who prefer to eat out. (All cabins vary in appearance and location and may be round or flat log or adjoin another cabin).
Choose your cabin
We are happy to say, with so many repeat guests, it is now possible to request the specific cabin name at the time of booking, through the our reservations department, and our cabin rental agency will confirm your choice, if available, within 1-2 working days. Otherwise the exact cabin will only be advised on arrival.
These are some of the cabins typically allocated to this operators guests:
1-room cabin (A4): Ylläsniesta, Ylläskuningas, Reporanka, Musko, Ylläs-Sulo
2-room cabin (B5): Ylläsröhkö, Musko, Peltola, Veerantupa, Veramukka, Lumipolku, Sapara
3-room cabin (C6): Hillankukka, Lumipolku, Sapara, Reporanka, Ylläsniesta, Teerentie
4-room cabin (D8): Ylläsniesta, Poronkello, Kurunkolo
7-room cabin (E0): Highly recommended detached Hillankukka (Big)
All log Cabins have
(Sizes are approximate. Cabins vary in appearance and may be round or flat log or adjoin another cabin. None are fully detached.)
Shower, WC, Sauna
Fireplace (wood included), TV, VCR or DVD
Oven, Dishwasher, Fridge, Toaster, Microwave, Vacuum cleaner, Iron, Coffee maker, Drying closet and washing machine
Linen, towels, firewood and final clean included
1-room + mezz (A4) 25m²+10m² - sleeps 1-4 - with
Double sofa bed in openplan living room/kitchen
2 mattress beds in mezzanine
2-room + mezz (B5) 45m²+10m² - sleeps 2-5 - with
1 twin bedroom
2 mattress beds in mezzanine
Single sofa bed in open-plan living room/kitchen
3-room + mezz (C6) 57m²+20m² - sleeps 3-6 - with
2 twin bedrooms
Large mezzanine with 2 beds
4-room + mezz (D8) 64m²+20m² - sleeps 3-8 - with
3 twin bedrooms
2 beds in large mezzanine (2 toilets). Bookings of 6 or less persons may be allocated a 3 bedroom cabin without a mezzanine.
7-room + mezz 'Hillankukka Big' (E0) 130m²+54m² - sleeps 4-12 - with
4 twin bedrooms downstairs all with en suite shower/wc
2 large twin bedrooms upstairs with sloping roof and sliding doors, sharing additional downstairs showers/wc/sauna.
This cabin, called 'Hillanukka Big', is highly recommended and located in a peaceful scenic central wooded location.
Meals
Self-catering
Optional pre-bookable half board at the nearer of either Äkäs or Kaltio Hotels 500-900m away.
Facilities
2-10 minutes's walk (250-900m) to the nearest ski bus stop from one of either Äkäs Hotel or Kaltio Hotel.
Guests may pay to use the pool and sauna at Äkäs Hotel
Included Firewood, linen, towels and final clean
Indoor pool
Sauna
The advantage of booking a self-catered skiing holiday is often the price. The disadvantages mean either eating out, which in a ski resort is often expensive, or it means having to cook your own meals, which probably means less time skiing, and who really wants to shop and then cook an evening meal after a full days skiing?
Huski, the Alps-based catering business offers a great solution, that means you can still enjoy the great value of a ski apartment or self-catered chalet and eat well without the fuss of having to cook your own food.
Huski delivers a week's worth of dishes, freshly frozen and ready for you to just heat and serve.
Please Note
Huski catering is only available to properties in French ski resorts.
Sample Menus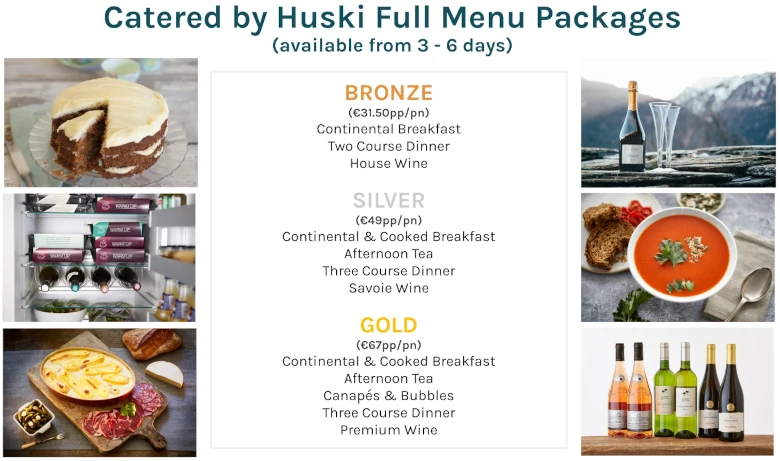 Interested? Speak to a member of our sales team for more information on 020 8313 3999.
Prices & Availability
PP - Price per person based on full occupancy
Alternative accommodation in Yllas