7 nights
Independent Travel
Finkenberg Ski Resort Guide
Why Ski in Finkenberg?
The ski resort of Finkenberg is a quiet and pretty village in the Tux valley. This delightful place has some great skiing with good access to the Zillertal ski area. The village itself has mainly hotels with some bars and cafés and has a nice central area around the local church. The rest of the buildings are spread along the road which is can be quite busy, it is a steep winding road heading towards Lanersbach. Most of the hotels are in walking distance of the gondola and for those hotels a little further away, the hotels will normally provide a free bus service there. The gondola is split into 2 stages up the mountain but takes you to the Penken Slopes. When the snow is in good condition you can normally ski back to the village without a problem.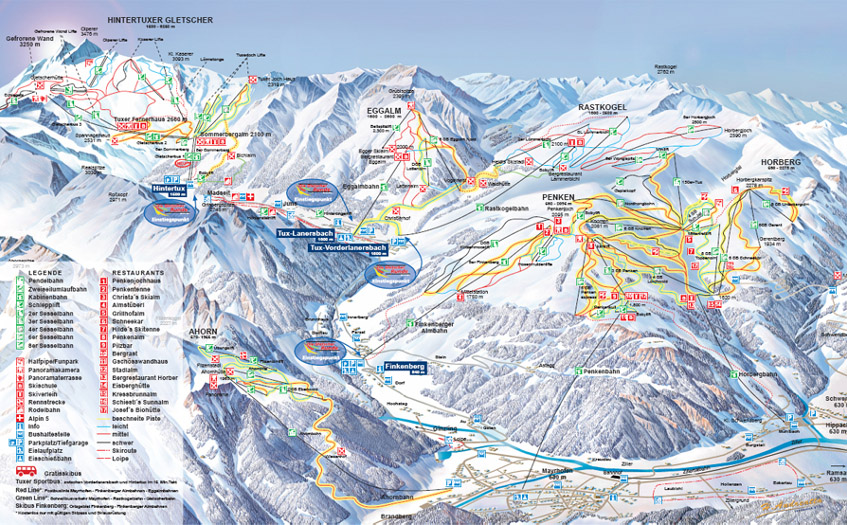 Upper Piste

depth

Lower Piste

depth

Weekly

Snowfall
0 cm
100 cm
200 cm
300 cm
400 cm
Based on weekly average snowfall data November 2000 - April 2018
Pistes
Altitudes
Resort Altitude


840m

Highest Piste


2440m
Expert Ratings
Beginners skiing in Finkenberg
For beginners in Finkenberg there are some nice nursery slopes which are easily accessible at the top of the Gondola in Penken. You can also make your way over to Mayrhofen which some say is a more suited base for beginners.
Intermediates skiing in Finkenberg
The ski resort of Finkenberg has some great wide slopes for intermediates. Once at the top of the gondola the area opens up with lots of long red runs.
Advanced skiing in Finkenberg
Advanced skiers will love the challenging runs on the Mayrhofen side of the mountain. Why not try the long, invigorating descent of Katzenmoos. There is also the bumpy area of Schafskopt too.
Snowboarding in Finkenberg
As part of the Zillertal Valley snowboarders will find lots of opportunity to free ride here. The Penkenjoch which is situated just above Mayrhofen has some great rocky and steep wooded areas to travel through. There is a good snowboard park next to the Sun Jet Chair.
Après ski in Finkenberg
The Après Finkenberg is relatively quiet, there is a good bar at the base of the gondola where you will find a warm, welcoming, if slightly strangely decorated Laterndl pub. The nightlife here is generally enjoyable.
Activities off the slopes in Finkenberg
The activities in Finkenberg for the non skiers are close to the centre of town and include curling and ice skating.
You can also use the local swimming pool and the town also offers some nice local walks to see the stunning views.