Of course, February brings the fabulous Half term week for British skiing families. It's a "The Peak" week of the ski season and if this is when you plan to ski, its never too Early to book! We are already taking bookings for the 2019/2020 ski holidays are already on sale!
The Half Term week is always the week that is in most demand out of all the school holiday weeks for a family skiing holiday. The reason for this is because it is by far and away the most snow sure of all the school holiday weeks. It falls slap bang in the middle of the ski season so it's very rare that conditions will be 'iffy'. This week gets booked up to a year in advance, however, if you haven't booked yet we always have a choice of many different holidays to choose from that will still be available.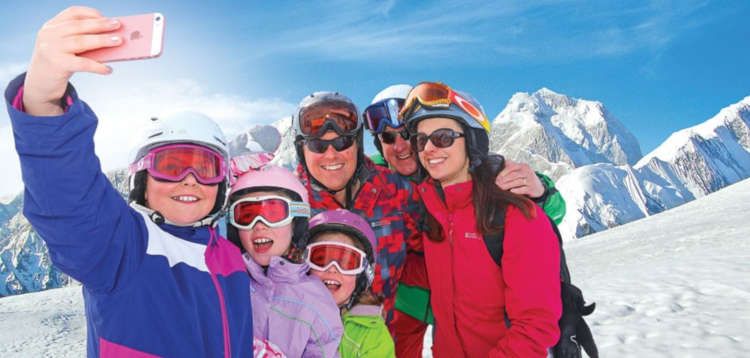 Family rooms tend to get booked up first especially if you are travelling with young children. The key to booking a half-term holiday is to be flexible. If you were hoping to fly but we have run out of flights from your chosen airport perhaps you would consider flying from elsewhere in the UK? Perhaps you can drive to the alps instead? This will open up many, many possibilities of accommodation from self-catered apartments in the best ski resorts to catered chalets to suit all budgets and right up to 5* hotels and all-inclusive hotels such as Club Med.
Top Tip if booking an all-inclusive skiing holiday... Book Early!
The all-inclusive holiday company, Club Med, are one of a few tour operators who don't charge room supplements for interconnecting rooms, which are always popular with families. Of course, interconnecting rooms are always in high demand, so early booking is essential, especially in February and the peak weeks of the ski season.
Club Med release their prices for the following ski season skiing holidays in January and offer a 15% early booking discount! Most of our clients who favour Club Med book within a few days of Club Med prices go on sale. We get the best rooms and the best flight times and Club Med guarantee you won't be able to by the same skiing holiday later, cheaper.
Tips to save money on your family skiing holiday... choose a smaller ski resort!
Perhaps, consider a ski resort that isn't quite as large as you would normally go for if you were skiing with friends, you will need to take into account that you will have to be back at lunchtimes to the ski school drop off point to pick up your little ones who have been in lessons for the morning. Your children may want nice easy slopes so that you can have some practice with parents every afternoon and you can see how they have progressed.
If you have booked early you will be able to take advantage of some of the specialist operators who provide childcare and pick up and drop off from ski school. We deal with around 10 different tour operators who provide excellent childcare.
Some of family groups invite grandparents to act as unpaid childminders. Childcare nannies in ski resorts are very limited, especially in February, so taking the grandparents with you to help with childcare. Some ski resorts would suit none skiers better than others, these tend to be lower altitude villages, rather than the high purpose-built ski resorts, popular in France, which for a none skier can be a bit soulless and bleak.
Early or late February can be a great time to get a deal. Many of our family specialist operators will offer discounts, free passes, free childcare or maybe even free children's places! Check out our website homepage or call one of our specialist agents who will tell you just what we can offer as an incentive to go skiing with the family in February.
Other Popular pages on this website for skiing holidays in February include:
... Read more