Scheffau is known as one of the most attractive little ski resorts within the Ski Welt villages. The village has a rustic feel to it, the town is spread out but not to far apart to get around easily. Scheffaus situation makes it one of the best places to start skiing on the SkiWelt Mountains, which is Austria's largest ski area. You can ski to the lifts situated in Blaiken and take the bus back. There are 2 gondolas which will take you to Branstadl from Blaiken.
Après ski in Scheffau
The Après Scheffau is a lot quieter than some of the larger ski resorts in Austria, There are a couple of bars in town. You can travel on the gondlas for some more lively bars.
Activities off the slopes in Scheffau
There are not many other activities within the resort of Scheffau. You can try tobogganing or bowling, and the walks are very pretty. The local reps or tourist information office can also organise day trips to Innsbruck and Salzburg.
Beginners skiing in Scheffau
For beginners in Scheffau the nursery slopes are in the village, unfortunately they are not near the main slopes which is not ideal for mixed groups.
This area is a very good base area for intermediates, you can work you way up to the main ski area for all the reds and blue runs in the SkiWelt.
Advanced skiing in Scheffau
In Scheffau the more advanced skiers should head for the pistes above Blaiken. Here you will find some of the steepest and longest runs in the SkiWelt.
Snowboarding in Scheffau
The runs up in Brandstadl are said to be excellent for Snowboarders with fun terrains and large areas. Beginners will enjoy the quiet nursery areas.
Scheffau piste map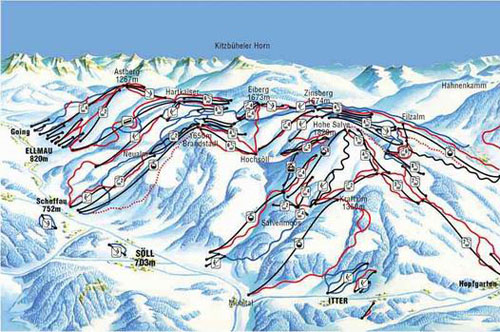 Scheffau historical snowfall
Based on weekly average snowfall data November 2000 - April 2018
Upper Piste

depth

Lower Piste

depth

Weekly

Snowfall
0 cm
100 cm
200 cm
300 cm
400 cm