For only the 6th time in 35 years of skiing, I'll be travelling by train next month to the Italian Alps to reach my Ski Holiday!
From London, we take the Eurostar to Paris, across Paris to pick up our day service to Oulx railway station which is 15 minutes below Sauze d'Oulx, which is our final destination. On our last day, we want to ski the whole day, so we have booked a sleeper train back to Paris from Milan, I should be back in London for lunch on the following day.
The instigator of our travel plans recently retired after a long and successful career working in travel, probably making him or at least his company facilitators for millions of tonnes of CO2 emissions over the years. Upon retirement he apparently had a sudden feeling of guilt about the impact his career in travel had had on the planet, so he joined Extinction Rebellion as a campaigner and donator and promised to slash his air miles. Mine too it seems!
If we had chosen to fly from London to Turin plus a taxi journey, the four of us on our return journey would have used 720kg of CO2.
If we had driven in one car, our total CO2 emission would have totalled 450kg
By train, our groups total CO2 amounts to 80kg
To put that into perspective, a 40-year-old tree will absorb about 21kg of CO2 in a year. Or another way, that decision to fly, rather than take the train is the same as leaving your PC and Monitor on and running for 3 months or your TV on stand by for 22 years!
In 2017 Mountain Riders carried out research for the French Government which discovered 73% of an average ski resort's carbon footprint is created by visitor journeys. There will probably be a million journeys between the UK and the mountains this winter!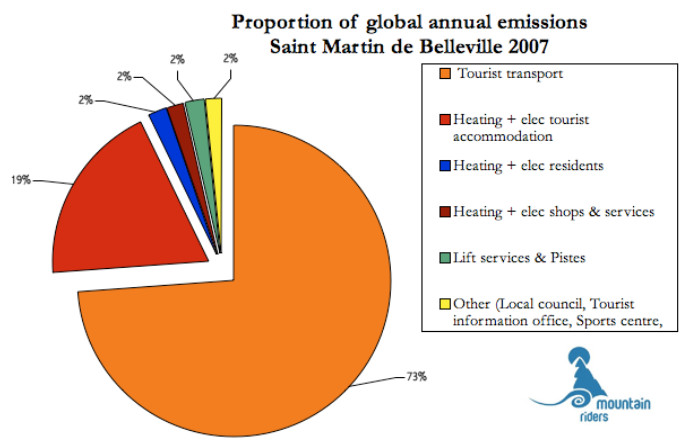 Ski resorts in Europe and all over the globe are working had to reduce their carbon footprint, as ours is a sector that understands the risks of global warming. Many ski resorts now power lifts with renewable energy, their snowmaking now uses eco machines, they use electric vehicles and also solar energy. Some ski resorts are trying harder than others!
Kaprun, Austria
Operating ski lifts uses a lot of energy, but Kaprun was the first Austrian ski resort to be ISO0Certified and was awarded 5* rating for its use of renewable energy and solar power. The free bus operating between Zell am See and Kaprun helps reduce emissions from private cars. The ski area has also embarked on an ambitious tree-planting programme and installed an 11km sewage pipe system to prevent polluting the mountain and glacier.
Anzere Switzerland
This tiny ski resort in the Swiss Alps is doing more that its fair share towards keeping Swiss air clean. They have installed Europe's largest central eco heating system that uses a wood pallet burner to heat 600 homes, 2 hotels and a new sports centre with an outside pool. This saves over 1.5m litres of fuel each year.
Vail, USA
In 2017, Vail Resorts, which operate a number of resorts in the US, launched the 'Epic Pledge' in which they promise by 2030 that they will have a zero-carbon footprint and none of their waste will go to landfill.
Avoriaz, France
Avoriaz has been car-free since its conception in 1966, however, its green credentials go much further than being car-free. In 2016 the newly opened Residence L'Amara was awarded 'Clef Verte' certification for its green credentials, water waste and energy management.
The resort's buildings have been designed to support greater snow depths which are used as added insulation. They also have an eco-friendly central heating system that provides heat and hot water to 11-holiday apartment blocks and provides heating to the popular Aquariaz water park.
Jackson Hole, USA
Jackson Hole are holders of the Golden Eagle Award for Environmental Excellence. Two of the ski resorts popular ski lifts run on wind energy and by investing in the public transport system car use has dropped 25% and public bus use has increased by 40%. The resort also uses the latest low energy systems for snowmaking, with lower water consumptions.
Saas-Fee, Switzerland
Saas-Fee has done more than any other ski resort to lower the impact of skiing on the environment and is one of the greenest resorts in the World!
The resort is car-free as mini electric vehicles deliver guests and luggage to hotels and to and from the slopes which produce zero emissions! The aim is to attain carbon neutrality within a few years. It's doing pioneering work to reduce soot particles by filtering wood burning. Today 100% of the resort's power, including for its trains, ski lifts and recharging of batteries for resort buses comes from renewable hydropower.
Saas-Fee is the only ski resort to be awarded Energy Town status and is an example to us all about how to pull together as a community to cut our carbon footprint.