When Angus and I got together, Angus had just founded Ski Line about 6 months earlier – we are talking 1996…… The internet was in its embryonic stage – we sold holidays by advertising on Teletext and took calls from clients over the phone sometimes up until midnight we'd just started out and we needed to make this business work!
Angus had 2 children from his previous marriage Sydney and Sam aged 9 and 7 at the time so it was also the prime time to get them on the slopes……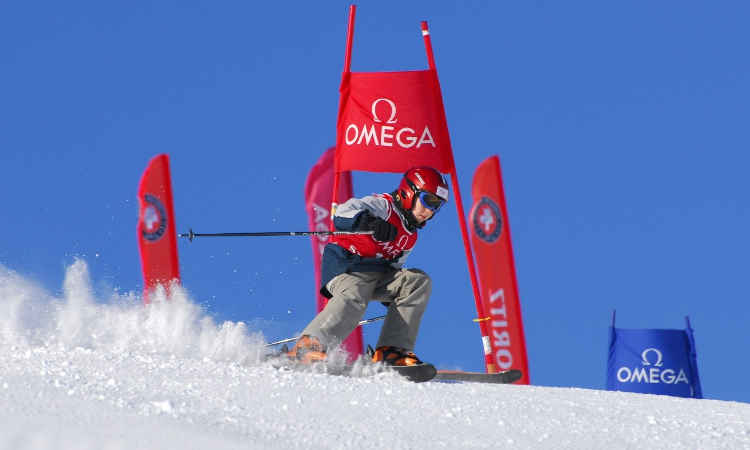 Sam aged 7 couldn't wait to get out there – so Angus borrowed some ski gear and took him off to the Altiport area of Meribel to get him going. After a few lessons on the easy green tree-lined slopes of the Altiport area Sam was raring to go and spent the mornings learning and the afternoons practising with Dad.
Syd wasn't the sporty type and was reluctant to go, however, when Max was born in April 1998 she seemed more interested. There's little point in forcing a child to ski if they don't want to, once they see their friends and family enjoying it – they will hopefully come around to the idea and eventually give it a go.
Our first Ski holiday as a Family
As soon Max was 12 months old we decided to take all three of them to the snow for our first ever ski holiday as a new family together.
We waited until Easter, April 1999 and booked to go to La Rosiere with Esprit Holidays who were one of our preferred suppliers of Family skiing holidays.
La Rosiere is one of the most child-friendly and beginner friendly resorts in France. There were plenty of chalets to choose from and as Esprit are a family friendly company we knew there'd be other families with children so that the kids would be happy and that we'd have other adult company in the evenings when they had gone to bed!
The other reason and probably the most important reason why we chose Esprit was because they had a creche for Max which employed NNEB trained English speaking nannies. I'd looked around the chalets on an earlier 'Familiarisation' trip at the beginning of the season and seen the chalets, crèche facilities and playrooms with an abundance of activities that would be available, so I knew that Max would be in good hands here.
Max was not quite 1 years old and was a little reluctant to leave my grip on the first morning but I gritted my teeth and left him there – I had no need to worry – the nannies had talked us through how everything worked at our welcome meeting, and they had my mobile number in case Max needed me.
I came back at lunchtime to check up on him. He was great! they'd had activities all morning such as finger painting, sing songs and a walks in the snow, they'd built snowmen and they'd had a lovely freshly prepared child-friendly lunch too. He was a happy little bunny. I went off skiing again happy in the knowledge that he was having fun.
Later that day, as it was Easter the sun was still shining at 4pm so when we picked him up we went sledging for the first time, you'll see from the photo above how happy he was!
The same morning we'd taken Sam to his ESF ski lessons. We dropped him at 9am at the ski school meeting point which was literally outside the door of our chalet and he'd met the other Esprit kids in his group. They were all given Esprit bibs to wear so that they would stand out on the slopes easily and so that the instructor would be able to keep track of his brood.
Sam didn't look back when the small class of about 7 went off with the instructor. He was SO excited to be back on the snow – he was literally jumping up and down with excitement and was eager to show off to everyone that he could ski already!
Sams face when he came back at lunchtime was priceless, a huge beaming smile! He'd made friends with another little boy of the same age who was staying in the chalet next door to ours and he showed us how he'd mastered the 'pizza and chips' method of skiing (pizza was a snowplough and chips were when he put his skis together side by side), so when we practiced that afternoon shouting 'PIZZA!!! And CHIPS randomly as Sam zigzagged down the nursery slope people must have thought we were raving mad!
The nursery slope in La Rosiere is handily situated right next to the majority of chalets and has an easy drag lift at the bottom to whiz you back up to the top again. We must have done it 20 or more times, we stopped for hot chocolate for Sam and Vin Chaud for us adults and then after a few more runs we went back to the chalet for a well-earned rest and our afternoon tea.
Children get fed earlier on a family ski holiday, usually those aged 11 and under have a children's tea time about 6pm for an hour. After skiing all day children are very tired and extremely hungry and even though you may think you want all the family to eat together, trust me, do your selves a favour – the children enjoy eating with each other and will be fast asleep before you know it after their first day on the snow.
In the evening if the children still have energy after dinner there's a 'cocoa club' which means that they will be looked after while adults get ready for and have their 4-course dinner. Cocoa cub consists of various wind-down activities such as story-telling, films, etc to help wind the children down and get ready for bed.
When your kids just aren't into it
Give them time!
Sydney (aged 10) wasn't so keen. As previously said she wasn't really the sporty type preferring to have her head in a book, but she joined on for the first morning of lessons and at lunchtime she decided it was all too much for one day and took a break and stayed with Max in the creche which was great, she got a rest and we were happy to leave her there as the Esprit nannies were super with her.
Later in the week Sydney tried lessons again but she'd missed a couple of days so found it difficult to fit back in with the same group. That's the problem with missing a few days – the children progress at such a speed that it's hard to get back into it right away. We made sure that we spent lots of time taking her out snowshoeing and tobogganing, walking around the various shops and generally spoiling her with lots of lovely hot chocolates! Maybe next year she'll get into it, we thought…!
Val d'Isere in a Self-Catered Chalet
Our next family trip was April 2000. We'd been offered a sweet little self-catered chocolate box chalet in Val d'Isere and we decided to take our friend Debbie and her 2 children, Lee and Holly. All three were complete beginners. Max was only 2 and still in a pushchair so we took it in turns to look after him whilst we accompanied our friends to their lessons. The weather was fabulous and we spent many a long afternoon in the Follie Douce and sunning ourselves in the garden of the chalet whilst playing backgammon. The kids were happy as they had each others company and Val d'Isere had plenty going on.
Mottaret Christmas 2000
Chalet Natalia – just across the road from the blue piste down to the centre of Mottaret and next to the 'pedestrian yoghurt pot' lifts which run up the side of the resort to and from all the accommodation. Ok, so the snow wasn't great – it was warm and slushy but this didn't put us off.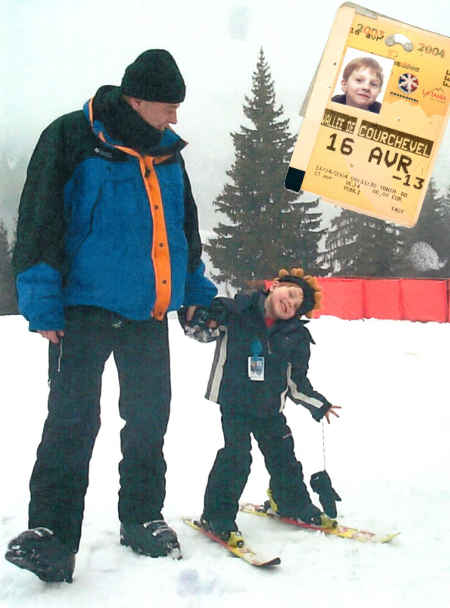 We managed to get Max into the local esf run creche which also had a fabulous children's nursery learn to ski area outside. He didn't take to skiing immediately and I wished I'd left it a little longer to put him on skis. We were selfish and couldn't wait to see his little legs going down the slopes like the French kids (who do this every weekend) – however, this in hindsight was a bad idea and I think I put him off for a while……
We then started to rally round our friends to get them to come with us, and boy did they keep on coming!
Easter April 2003 – Peisey Les Arcs with Ski Beat
We took 2 families this time, Tony, Charli and their 3 kids Fintan, Daniel and Hannah and our friend Ian and his daughter Laura. The chalet has fantastic views and we sat on the sun-soaked balcony each afternoon drinking beers and watching the Vanoise Express double-decker lift cables being put in place for the following season. An awesome sight. Its hot and sunny but the snow is holding on – the staff are great and prepare us some fine chalet fayre and look after the children so well.
February 2003 La Plagne 1800
With the big house holiday lot – a group of over 25 this time as we have 6 families all with between 1 and 3 children so it's a big group trip. We use our pals Oxygene ski school for the lessons and the kids thrive. We hire a variety of chalets all within walking distance of each other. Chalets Perrier & Annie in La Plagne 1800. La Plagne is a great resort for beginner and intermediate skiers. The children come on really well.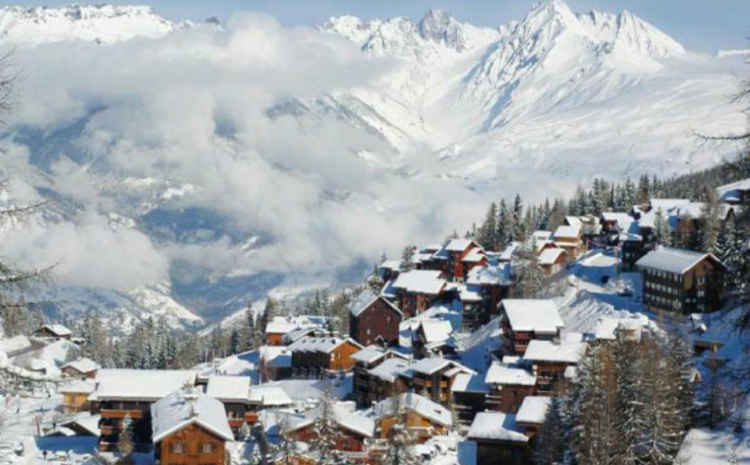 In hindsight this doesn't work very well, we prefer to all eat together each evening – so it's a lesson learnt and we make a note for future reference.
La Tania Chalet Topaz April 2004
Max was aged 5 when we went to La Tania and it really was on this holiday that he was truly loving the skiing. He had the strength, the enthusiasm and was old enough to really enjoy the fun and keep awake in the afternoon for sledging and snowball fights!
We went here with 2 other families the Tarrents (2 adults, 2 children) and the Kents (1 adult 1 child) all with similar aged children ages 5–7.
It was lovely to be able to let the children run around the small pedestrianised resort knowing they were not going to get lost.
Easter 2005 –Plan Peisey Les Arcs – We hire chalet Marmotton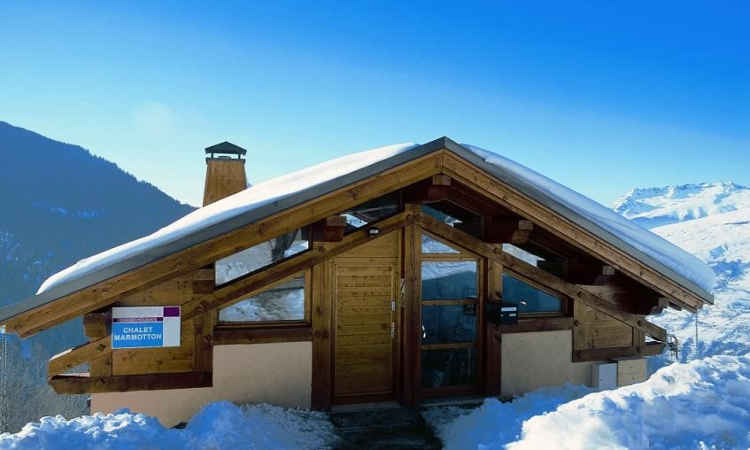 The ski area was perfect, lots of wide blue and green tree lined runs and the chalet was a short walk from the lift, esf ski school meeting place and bottom of the pistes.
Easter 2006 La Tania Chalet Topaz AGAIN!
Back to chalet Topaz – but it now has an outdoor Hot tub on the terrace! HURRAH!
We drive over in the Chrysler Voyager its perfect for a long journey and take our friend Alan and his two kids, Ajai and Jobi. Rob Sewel is the instructors for the kids again and he is fabulous. He tells us that Jobi is so naturally good at skiing that he could go far……… Max enjoys the slopes at Courchevel 1850 as he thinks they look like Teletubbie land – and he's not wrong!
The chalet and the hot tub are a huge success and that's when Max falls in love with hot tubs! – He'll discover that falling in love with girls is a lot more interesting a little later on!
Easter 2007 Chalet hotel in Courchevel 1550 Ferg, Chris and the girls
Christmas 2008 Morzine – Chalet Savoy
Wow, what a superb chalet. We've driven again and from the moment we arrive the sun shines. It's Christmas and the town is buzzy. We're literally around the corner from the lift.
Christmas 2008 Club Med St Moritz
Wow – in usual circumstances St Moritz would be the stuff of dreams for a family like us – way too expensive we thought, and way too posh…..however Club Med St Moritz makes this entirely possible with their all-inclusive deal. We drive there and back and take my mum ('nanny') too – we have the most fabulous time as their all-inclusive deal includes lessons all day every day for all of us, nanny (who doesn't ski) is well catered for with walks around the frozen lake and jaunts in to town for window shopping, snowshoeing and is also able to come up the mountain as she has a ski pass and meet us on the mountain in Club Meds on mountain hut for lunch. The entertainment is fabulous. On Christmas eve they absolutely go to town with the food and drink. The chefs are so proud of their chocolate and strawberry display that they come out to take photos. On Christmas day we have a seafood buffet complete with oysters, lobsters, smoked salmon and king prawns to name just some of the amazing array of dishes on display – the French REALLY know how it's done! – It's absolutely amazing. We are totally hooked and that's when we decide that from now on Club Med is the way to go – as the value for money is absolutely outstanding.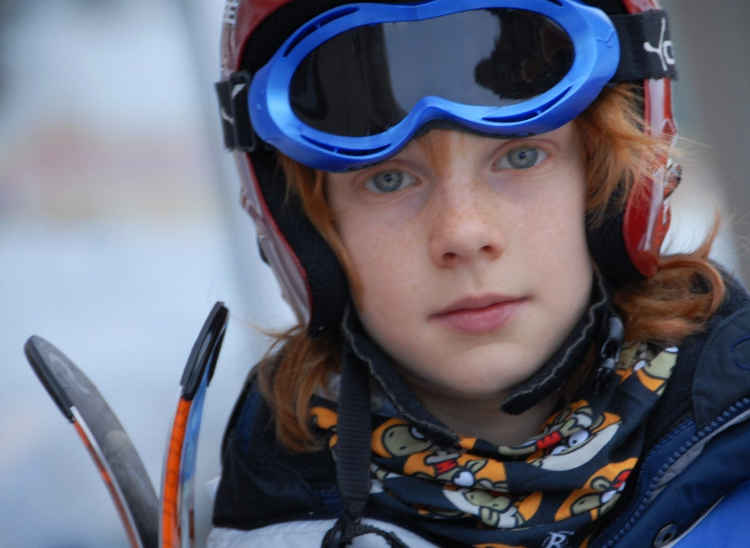 During the following year I sell Club Med like CRAZY and get our staff out on educational trips so that they can experience it too…. We soon become Club Meds biggest Ski agent in the UK and we hold that title to date!
Christmas 2009 Club Med Cervinia. Who else but Club Med again?!
Club Med Cervinia – We take nanny again and she meets another family who have also brought 'nanny' with them – they become firm friends on the trip and take bus rides around the local area, play scrabble, and meet us up in Club Meds mountain restaurant for lunch most days. Sheila and Rose have remained friends to this very day!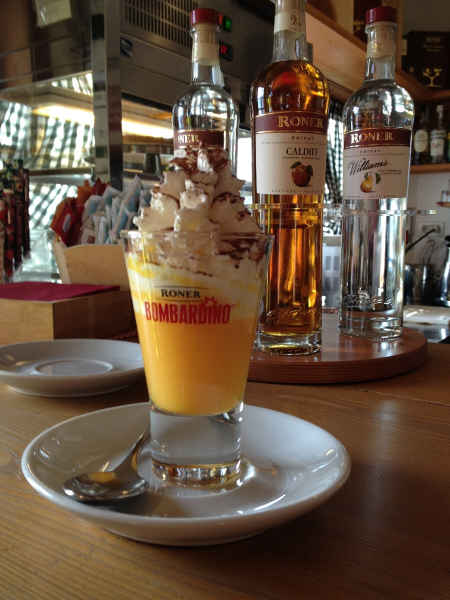 A famous Italian Bombardino
The high altitude and the ski back to door hotel in this wonderful ski area do the trick once again. We love the skiing here – which backs on to Zermatt and the famous Matterhorn peak and we discover Bombardinos for the first time……
April 2011 Club Med Valmorel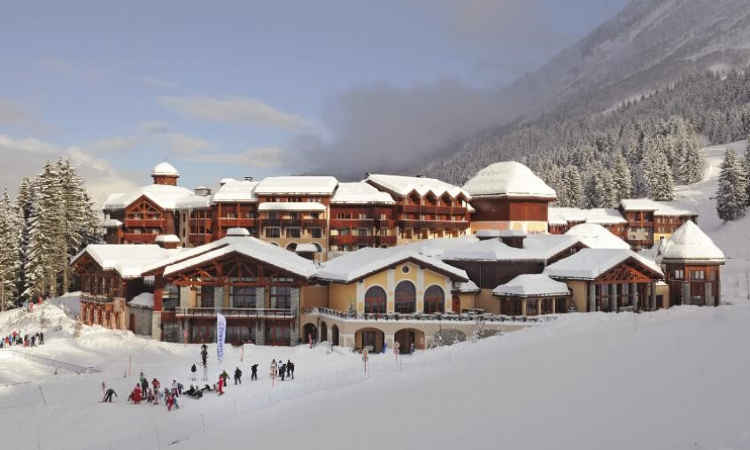 WOW Club Meds new property in Valmorel is stunning. I have never stayed anywhere so smooth, suave and sophisticated. The ski in/ski out building with indoor-outdoor pool and hot tub is amazing. The restaurants are stunning and we take 3 other families with us. We're a clan of 11 and everyone is well impressed with the ski area, high quality of the lessons and the splendid hotel. I get lots of bookings off the back of this one – both families go on to book Club Med holidays to other ski resorts the following year. WIN WIN!
Christmas 2012 – Samoens apartments les fermes du Samoens
We decide to meet our French side of the family who ski in Samoens every year – they stay in a hotel in town that they book every year, and we rent a little apartment on the outskirts. Of course, they're French and can ski like gods – legs together and mincing down the slopes with the minimum of fuss – we keep up (in a fashion) – they introduce is to what is one of the most stunning villages in the French Alps we have ever stayed in – its absolutely gorgeous and being there at Christmas time makes it all the more special. They take us to the best restaurants and show is the best runs……its perfect.
Easter 2013 – La Rosiere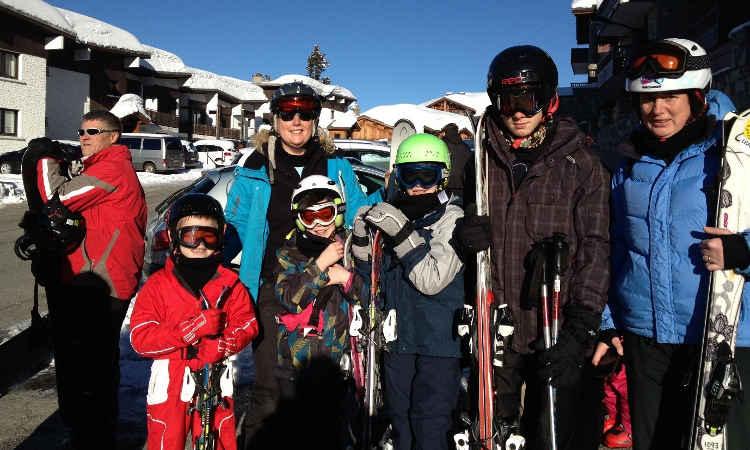 My sister and her kids need to learn to ski and my friend Tracey (who's a teacher) needs to go skiing during the school holidays – La Rosiere it is then! We get a great deal at the Chalet Oliver with flights and transfers. I book them all into ski lessons every morning. Of course, we know La Rosiere is perfect for building up confidence – the runs are so wide and easy and its simple to get them up and down the slopes every afternoon when they are practising what they've learnt during the day.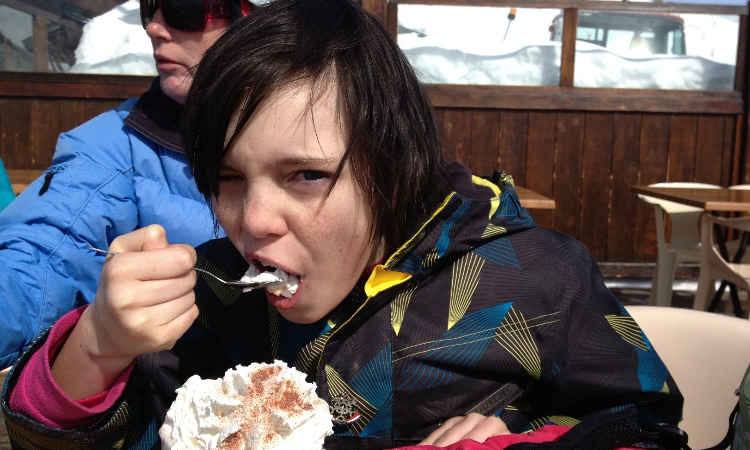 My Neice Megan enjoying a well deserved hot choccy.
Holiday is a complete success and we get my nieces and nephews hooked.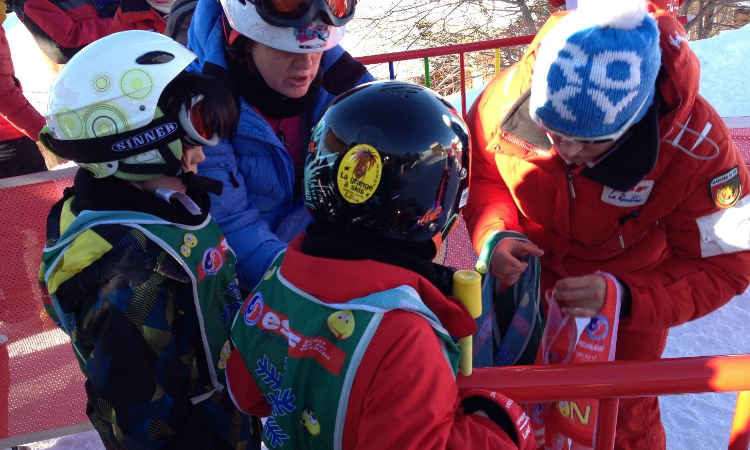 The first morning of ski lessons for my niece Megan and nephew Noel.
February 2014 Passo Tonale Italy Hotel Eden
Our big house holiday ladies and their kids (around 10 of us) need to go in school holidays and I find a great break in Passo Tonale for the half term. It's a bit of a trek on the coach there and back but once we are there it's fab. Blue sky days and easy skiing on the doorstep with more trickier stuff a little further away. We even get to ski for the day in Madonna di Campiglio too. The nightlife is limited – but they aren't QUITE ready for that anyway – we find the best rocking après ski bar in town and spend most late afternoons dancing on the tables in ski boots – the kids are in their element!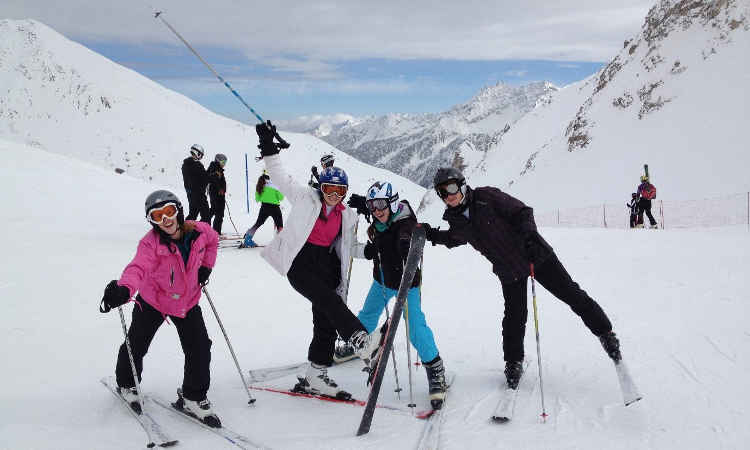 Very cheap and cheerful but super location and almost ski in/ski out – the kids are getting older – and they want some après and nightlife – it's the sort of village where they can't get too lost and can't get into too much trouble which suits us fine!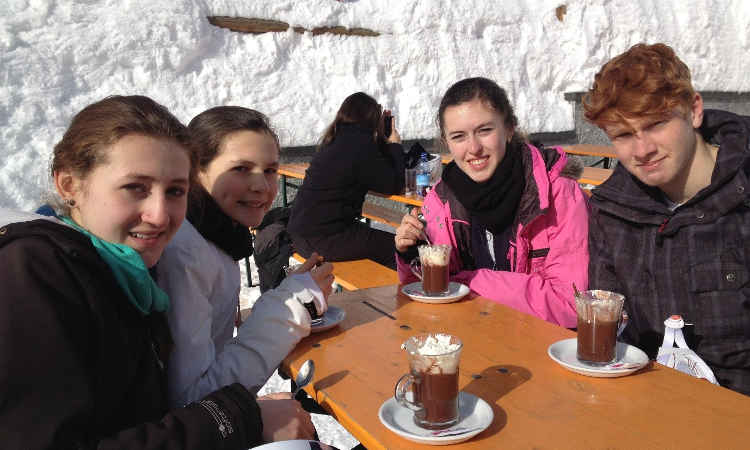 Lottie, Beatrice, Polly and Max.
Us adults wanted a resort that was easy on the purse as the kids are all getting older and wanting constant feeding and watering. Sauze d'Oulx ticked every single box. The skiing is as extensive as you want it to be and there are loads of lovely little villages and mountain restaurants to explore. We were happy here the whole week with blue skies and sunshine most days.
February 2015 Sauze d'Oulx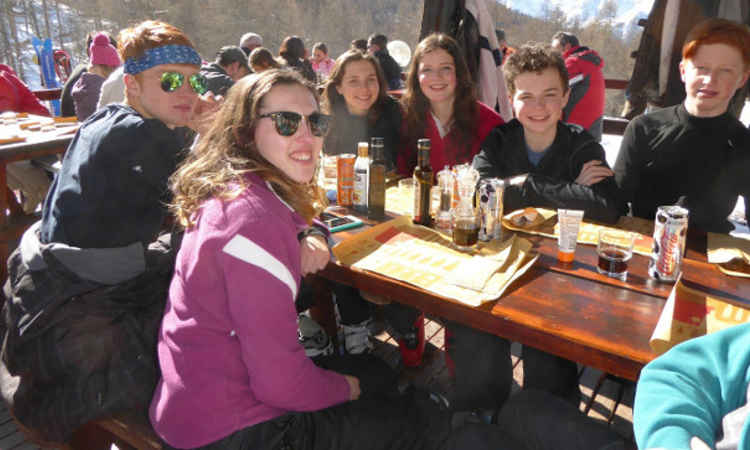 Feb 2016 Sauze d'Oulx Hotel Holiday Debili – a Ski Line package – We enjoyed it so much in Sauze we went back again! – The kids knew the ski area and the town and this holiday was even more relaxed than it had been the year before.
Almost the whole group Sauze 2016 – wow how they've grown!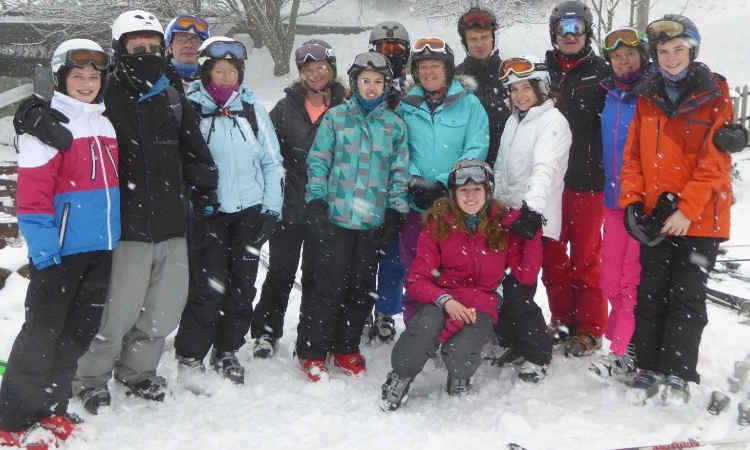 The kids are getting the hang of the Apres thing now!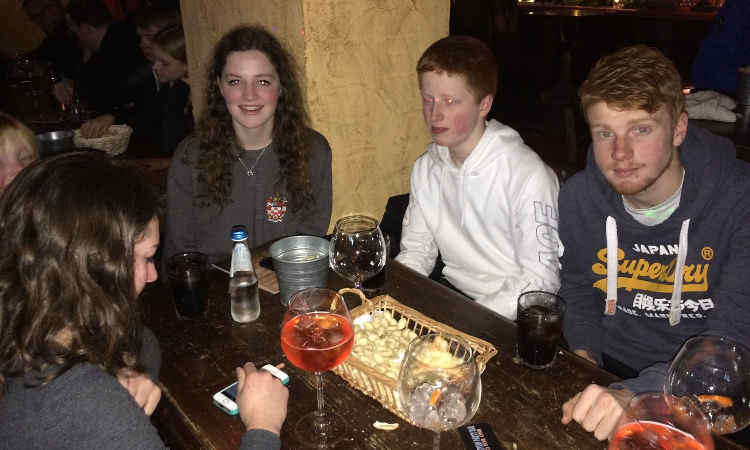 Polly, Oriel, Fin and Max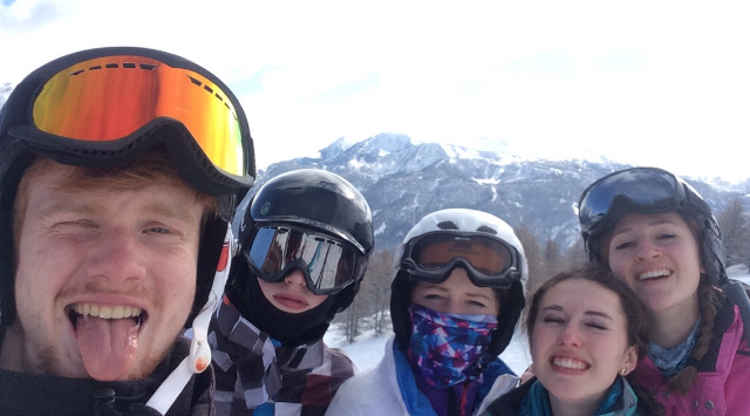 Max, Fin, Oriel, Polly and Lotty pose for a selfie on the Sauze Slopes!
Now they are really getting arty!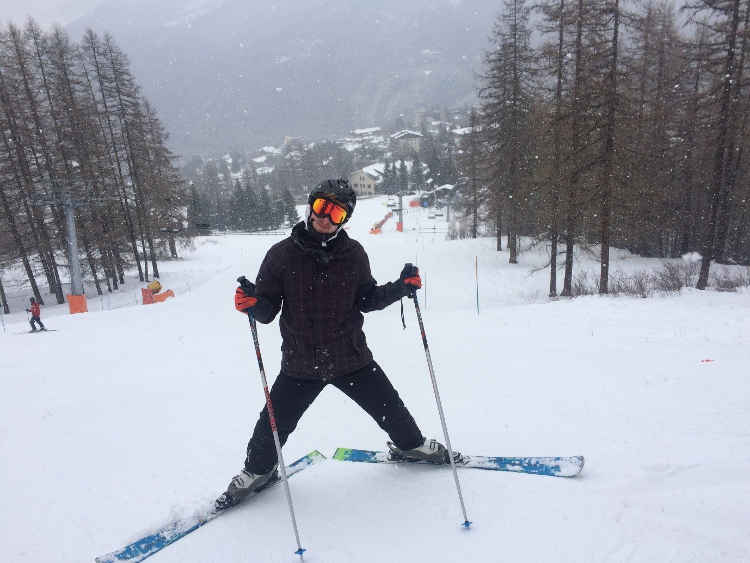 April 2017
Lots of the kids started uni so in 2017 including our son Max so we took a break from the usual 1 week trip as we've all had digs to pay for– however we got Max on the slopes for our end of season ski trip (over 200 people for a 4 night blast in Val Thorens) Club Med Sensations flagship hotel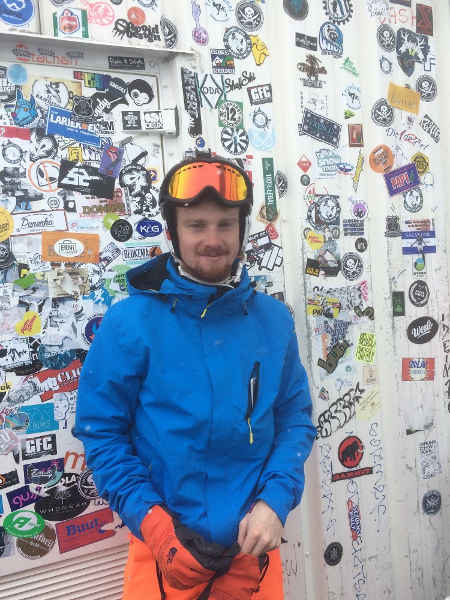 This was such a successful trip that he's managed to persuade some of his new Uni friends to come on the April 2018 trip……
From £499pp its Club Med value at its best.
May 2017 Our first granddaughter Isla is born! – A new generation of 'Kinloch Family skiing' will begin within the next few years and we just can't wait to get Isla on the slopes when there will be 3 generations skiing together – however, this time we will wait until she's about 5 yeard old…..it will be easier for everyone!