For the past few years snow cover in Europe and North America has in most cases been very good. The odd exception happens, for example some Austrian ski resorts in the 2013/14 had a poor year, particularly towards the end of the season as temperatures climbed. Many will remember the Whistler Olympics a few years ago, when snow from nearby mountains was trucked by road to keep the events running, forgetting that Whistler normally get over 11.6 metres of the white stuff. (That's over 38 feet in old money!)
Thankfully today most ski resorts now have advanced and effective snow making on the lower runs and some too on the higher south facing slopes to ensure that they can keep on selling lift tickets. The life blood of the village depends on the snow.
If you don't want to leave it too chance, pick a high ski resort anything over 1800m should be safe but make sure it has plenty of high altitude slopes, if possible with a glacier. North facing slopes hold the snow better than a south facing slopes, pick a ski resort a good balance of different directions to its slopes. The snow on the south facing slopes should still be very good but in spring could be slush before lunch.
Best Snow Covered Ski Resorts
Cervinia, Italy
Courchevel, France
Les Deux-Alpes, France
Obergurgl, Austria
Val d'Isere, France
Saas Fee, Switzerland
Val Thorens, France
Solden, Austria
Lech, Austria
Zermatt, Switzerland
Located in the Italian Alps in connected to the Swiss ski resort of Zermatt. The village is located at 2,050m with the highest skiing at 3,900m , mostly West facing but North and South too, Glacial skiing is available on the Plateau Rosà Glacier. Snow cannons cover 50% of the slopes.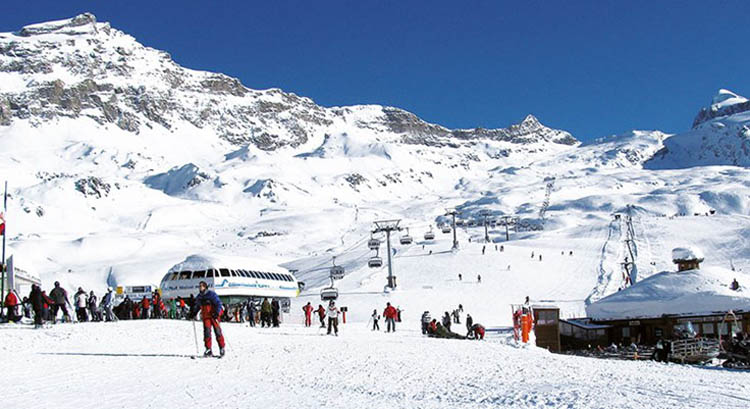 Located in the French three valleys area offers 600 km of pistes. The top village is at 1850m the highest skiing is at 3,230m, slopes face North, South, East and West. Several glaciers within the ski area. There are 563 snow cannons on the lower runs.
Located at 1650m but as most of its slopes face North, North East or West, snow reliability is almost a certainty. The highest skiing is at 3,568m and the glacier de Mont de Lans means good snow is always available. 214 snow cannons cover the lower runs in a ski area that extends to 225km.
High at the end of a valley in Austria is perhaps the country's most snow sure ski resort. It's located at 1,930m with a ski range between 1,795m and 3,080m. There is no glacial skiing here, but your lift pass covers a day in nearby Solden which has one. The slopes face North and West and a remarkable 99% of the runs are covered by snow cannons.
Val d'Isere is a mecca for skiers heading to France and has been our top selling ski resort for many years. It's located at 1850m, with a ski range between 1785m and 3,456m. Linked with Tignes, together they offer 300km of piste skiing and loads of off piste too. Both Tignes and Val d'Isere have glaciers where summer skiing is available, but in winter you can depend on Val d'Isere to keep its slopes open from November to May.
Saas Fee is called the Pearl in the Swiss Alps is located at 1800m all of the skiing is above the village and this extends to a dizzy 3600m. Many of the runs are on glaciers so the snow remains crunchy even in spring. The slopes face North, East and West and for much of the winter Saas Fee avoids the sun which keeps its snow in tip top condition if not a little cold.
Val Thorens offers the highest skiing in France, even in Europe. The village is at 2300m and connects to the ever popular Three Valleys ski area covering 600km of slopes, more than even the most keen of skiers will probably cover in a week. The ski range is between 1260m and 3230m and includes the opportunity to ski on one of several glaciers available in the Three Valleys. 45% of the lower slopes have snow cannons.
Located in the Austrian Alps has not one but two glaciers and three giant mountains above 3000m. Although the resort is only at 1380m the skiing extends to 3250m and most of the skiing is above the tree line. The snow record is excellent and we always surprised more British skiers don't have this ski resort on their bucket list. Most of the slopes in Solden are north facing with good snow cannon cover to the home runs.
Lech (1450m) and Oberlech (1650) share its ski area with Zurs and last year a new lift gave an additional 50% more skiing and even more off piste skiing. It's also connected (by bus) to St Anton and the Arlberg ski area and covers an impressive 340km of piste. The ski range is between 1450m and 2811m which when compared to the other resorts we have listed may not appear that remarkable. But the snow record here is excellent. The slopes face all directions and snow cannons cover 60% of the slopes.
Zermatt is the last of our ten best snow cover resorts, we toyed with changing it Chamonix, but the Swiss ski resort of Zermatt just had to be included. It's linked with the Italian resort of Cervinia. Its height is 1650m and the skiing extends to a nose bleeding 3,900m. The slopes face all directions but mostly North and East. The Glacier sits between Zermatt and Cervinia and when winds don't close it always has the best snow. For your added protection Zermatt has snow making on 75% of its slopes.
For more information about snow sure skiing holidays click here
Related Blogs
James Bond's positive effect in Solden ski holiday sales
Top 10 Resorts for Lively Après Ski and Nightlife