Discover our list of the top resorts for snowboarding In France. Indulge in the ultimate snowboarding escapade amidst the mesmerizing French slopes! Brace yourself for an unparalleled journey as the allure of French snowboarding unveils its magic. Each resort beckons with an irresistible charm, tailored to cater to every rider's wildest dreams while warmly embracing the entire snowboarding community. Whether you seek the heart-pounding rush of conquering deep powder bowls or yearn to gracefully glide down vast, open pistes, France has it all and more. Our seasoned team of experts has meticulously curated an all-encompassing guide, designed to reveal the crème de la crème of snowboarding experiences across the country. So don your snow gear, embrace the thrill of carving through snow-covered terrain, and prepare for an unforgettable ride amidst the awe-inspiring winter wonderland of France!
Val d'Isere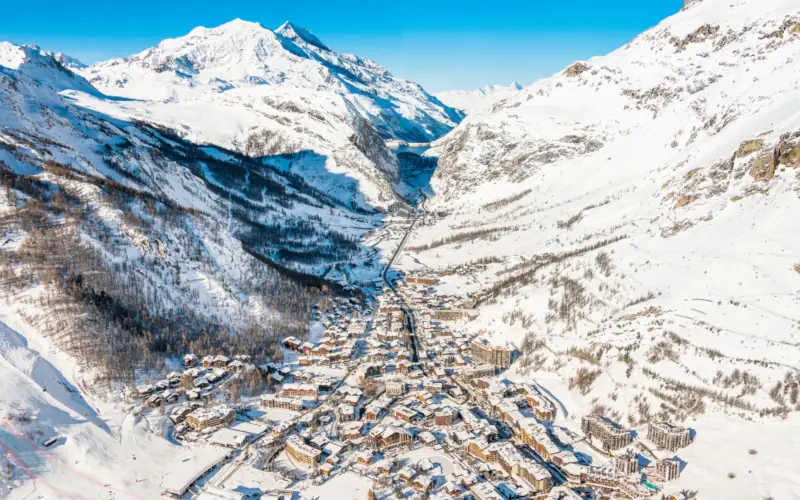 Welcome to the captivating world of Val d'Isere, nestled in the majestic French Alps—a veritable haven for snowboarders that rivals its neighbouring resort, Tignes. Whether you're a seasoned powder connoisseur or a wide-eyed novice, this mountain paradise embraces all with its unrivalled splendour. Brace yourself for an extraordinary snowboarding experience that transcends expectations.
Feel the rush as you carve through the powdery expanse of Val d'Isere, where an abundance of powder bowls and exhilarating drop-ins await, tantalizing every adventurer's soul. But that's just the beginning—Val d'Isere adds an extra layer of excitement with its world-class snow park, a sanctuary for freestyle enthusiasts yearning to defy gravity with gravity-defying jumps and rails. The alpine backdrop sets the stage for heart-stopping tricks and soaring airtime—prepare to be awestruck!
Beyond the park's allure, Val d'Isere spoils snowboarders with an extensive 300 kilometres of slopes, each one a canvas for your winter masterpiece. Whether you're a fledgling rider seeking to conquer new heights or a seasoned daredevil craving adrenaline-pumping descents, Val d'Isere's diverse terrain beckons with open arms.
The natural wonders of Val d'Isere blend seamlessly with the meticulously crafted snow park, forming an unbeatable tandem that leaves you spellbound with every twist and turn. As you plunge down the slopes, the enchanting alpine panorama becomes your backdrop, painting your snowboarding journey in vivid hues of excitement and adventure.
So, fellow snowboarders, seize the moment and embrace the boundless opportunities Val d'Isere offers. Gear up, take the plunge, and allow yourself to be captivated by the wondrous offerings of this winter paradise. Whether you're seeking euphoric first rides or seeking to push your snowboarding limits, Val d'Isere promises a journey you'll cherish, igniting a flame of snowboarding passion that will forever linger in your heart!
VIEW SKI HOLIDAYS IN VAL D'ISERE HERE
Tignes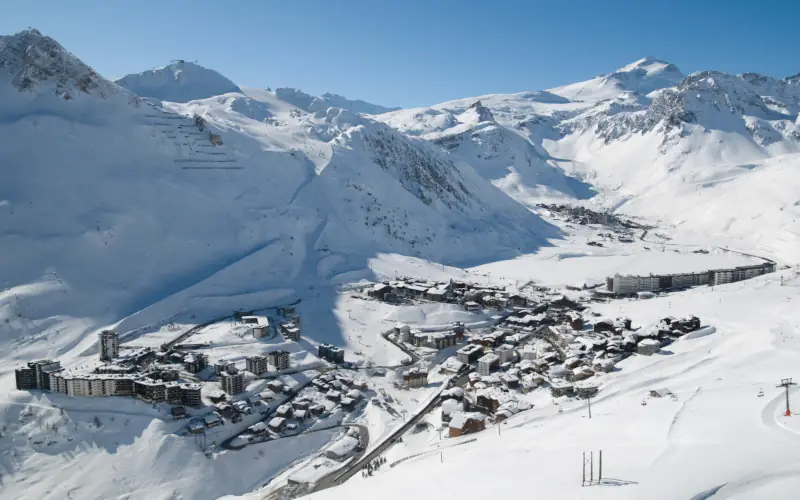 Welcome to the enchanting winter wonderland of Tignes—a hidden gem nestled within the prestigious Espace Killy ski area, beckoning snowboarders to embark on an extraordinary alpine odyssey. With an impressive array of exhilarating slopes and seamless lift connections to the neighbouring Val d'Isere, Tignes stands as a dream destination for winter sports enthusiasts seeking an unparalleled mountain experience.
As you step onto the slopes with a full lift pass, you'll be greeted by a vast snowy playground spanning an impressive 300 kilometres. Regardless of your expertise level—whether a novice, intermediate, or seasoned rider—the slopes of Tignes have been thoughtfully curated to cater to your unique snowboarding desires, ensuring every moment is filled with excitement and adventure.
For those drawn by the allure of freeride bliss, Tignes opens its arms to unveil a treasure trove of long, exhilarating powder runs, like the awe-inspiring Aiguille Percee to Tignes Les Brevieres. Within these pristine slopes, powder hounds will find their sanctuary, a place where untamed, snowy ecstasy awaits.
Freestylers, brace yourselves for an explosion of creativity and adrenaline in Tignes' expansive 2-kilometre snow park. Here, a playground of features, a pro pipe, and a boardercross course eagerly await, igniting the adventurous spirit within. Gravity becomes your ally as you catch air and conquer each thrilling obstacle, setting the stage for unforgettable freestyle performances that will leave you and spectators in awe.
Yet, Tignes offers far more than just heart-pounding rides—it blesses you with a picturesque tapestry of breathtaking vistas, ensuring your snowboarding journey is as visually mesmerizing as it is adrenaline-fueled. Whether you crave the rush of adrenaline on daring descents, the bliss of gliding through powdery terrain, or the art of mastering freestyle tricks, Tignes delivers an unforgettable winter escapade that will leave you yearning for more.
Prepare to be enchanted by Tignes' irresistible charm—a destination where snowboarders of all stripes unite to craft timeless memories that will forever hold a place in their hearts. So don your snow gear, hit the slopes, and allow Tignes to weave its magic, guiding you on an unparalleled alpine adventure where each turn and carve etches indelible joy in the fabric of your snowboarding soul!
VIEW SKI HOLIDAYS IN TIGNES HERE
Avoriaz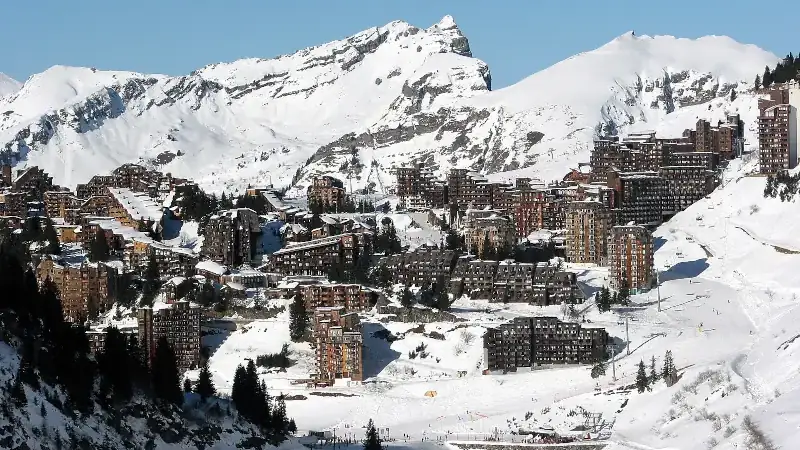 Welcome to the breathtaking realm of Avoriaz, a snowboarding paradise nestled within the prestigious Portes du Soleil ski area—an unrivalled delight that beckons snowboarders to an unparalleled winter wonderland. Spanning an impressive 600 kilometres of pistes and offering a captivating array of off-piste terrain, this alpine gem unveils a playground that surpasses all expectations.
In Avoriaz, snowboarders of all levels find solace, whether they're taking tentative slides on the slopes or seeking the adrenaline rush of advanced rides. The state-of-the-art lift network ensures seamless exploration of the vast terrain, while brilliant beginner areas provide the perfect platform for honing skills and advancing with confidence.
Immerse yourself in a true highlight of Avoriaz—the Stash Park, a unique and exhilarating fun park nestled within the tree line. Purposefully designed with specialized features to inspire daring tricks, this exceptional park beckons you to embrace the challenge, igniting your adventurous spirit and enticing you to push the boundaries of freestyle riding.
For free riders in search of unexplored frontiers, Avoriaz offers a haven of powder pockets scattered throughout the ski resorts in the region. Dive into the untouched powder, relishing the unmatched thrill of carving through pristine snow—a true paradise for freeride enthusiasts in pursuit of unforgettable moments.
As the winter sun casts its enchanting glow upon Avoriaz, prepare to be captivated by its untamed beauty, where breathtaking panoramas and endless possibilities unite, crafting a snowboarding utopia like no other. This winter haven promises a journey that surpasses all expectations, where passion and adventure intertwine to create everlasting memories etched within your snowboarding soul.
So, fellow snowboarder, let Avoriaz be your ultimate winter destination—a canvas inviting you to carve moments of sheer joy and forge unforgettable experiences. Embrace the thrill, explore the powder-laden slopes, and savour every ride as Avoriaz paints a masterpiece within your heart, forever marking this extraordinary journey in the annals of your snowboarding escapades!
VIEW SKI HOLIDAYS IN AVORIAZ HERE
Serre Chevalier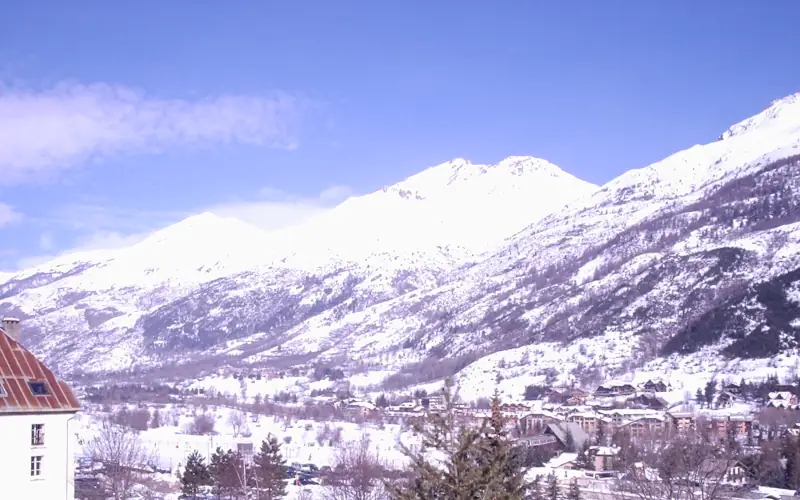 Welcome to the enchanting realm of Serre Chevalier, nestled in the heart of the Southern French Alps—a true gem concealed from the masses, awaiting the arrival of snowboarding enthusiasts seeking an extraordinary alpine escape. Despite its lesser-known status, this hidden wonder reveals a treasure trove of snowy delights, boasting an impressive 250 kilometres of pistes that beckon with an allure that's simply irresistible—a cherished find for avid snowboarders seeking a pristine winter wonderland.
From first-timers to seasoned riders, Serre Chevalier warmly embraces all who venture to its snowy slopes. Beginners are welcomed with open arms, granting easy access to nursery slopes and gentle blue runs—creating a supportive environment that nurtures skill development and fosters confidence. For the intermediate and advanced riders, the resort unveils a vast array of terrain, each twist and turn to present new opportunities to discover exhilarating slopes that promise a thrill like no other.
Freeriders, prepare for an exhilarating journey into off-piste bliss, as Serre Chevalier unveils a haven of lift-served terrain, offering untamed excitement and pristine powder fields waiting to be conquered. Each descent becomes a gravity-defying dance, as the mountain reveals its captivating playground—a realm of snowy perfection that beckons those with a thirst for uncharted territories.
Against the majestic backdrop of the alpine scenery, Serre Chevalier captivates with its awe-inspiring vistas and unparalleled snowboarding experiences. Here, tranquillity and adventure converge, creating an enchanting fusion where the spirit of exploration meets the exhilaration of mastering untouched slopes. Serre Chevalier stands as a treasure trove, waiting to be unveiled by the intrepid at heart.
So, fellow snowboarders, heed the call of Serre Chevalier—a hidden gem that promises an unforgettable winter wonderland adventure. Glide through its vast pistes, conquer the off-piste realms, and allow this exquisite alpine retreat to etch memories that will forever linger in the depths of your snowboarding soul. As you carve your way through its snowy terrain, Serre Chevalier invites you to unlock the magic of the Southern French Alps—a journey that will forever hold a cherished place in your heart of winter escapades.
VIEW SKI HOLIDAYS IN SERRE CHEVALIER HERE
Courchevel
Welcome to the majestic world of Courchevel, a snowboarding paradise nestled within the illustrious Three Valleys ski area—a true gem boasting some of France's most exceptional slopes. As an integral part of the world's largest ski area, this winter wonderland opens up a staggering 600 kilometres of pistes, setting the stage for an unparalleled snowboarding journey like no other. Whether you're a first-time snowboarder, eagerly carving your maiden trails, or an advanced rider seeking the thrill of conquering challenging slopes, Courchevel warmly welcomes and caters to riders of all levels, ensuring that every snowboarder finds their bliss amidst its snowy embrace.
Venture up to the enchanting 1650 area, where a world of breathtaking cliff drops and powder-filled bowls beckons—an exhilarating playground of snowy bliss awaiting your exploration, especially when accompanied by the expertise of a skilled mountain guide. Conquer the untamed terrain, allowing the rush of adrenaline to course through your veins as you elegantly carve through uncharted snow-covered realms—a journey destined to ignite and reignite your passion for the pure joy of freeriding.
For freestyle enthusiasts, an exciting playground unfurls under the Plantrey chairlift. Be prepared to be awestruck by impressive kickers and not one but two halfpipes, masterfully crafted to inspire awe-inspiring tricks and gravity-defying manoeuvres. Here, gravity becomes your ally as you take flight, immersing yourself in the art of freestyle snowboarding, with the stunning backdrop of Courchevel's enchanting alpine charm adding a touch of magic to your every move.
As you traverse the snowy landscape, Courchevel reveals its captivating allure, where every twist and turn unveils a harmonious union of adventure and beauty. Embrace the snow-covered slopes, challenge yourself with the thrills of off-piste exploration, or showcase your freestyle finesse with flair—whatever your snowboarding heart desires, Courchevel holds the key to a winter utopia that promises to fulfil every rider's snowboarding dreams.
So, fellow snowboarders, heed the irresistible call of Courchevel—a destination where snowy wonders await, where the grandeur of the Three Valleys meets the thrill of an unforgettable snowboarding journey. Embrace the adventure, glide through its vast slopes, and let Courchevel's magical embrace paint cherished memories in the very core of your snowboarding soul, for this is a journey that will linger in your heart long after the snow melts away.
VIEW SKI HOLIDAYS IN COURCHEVEL HERE
Chamonix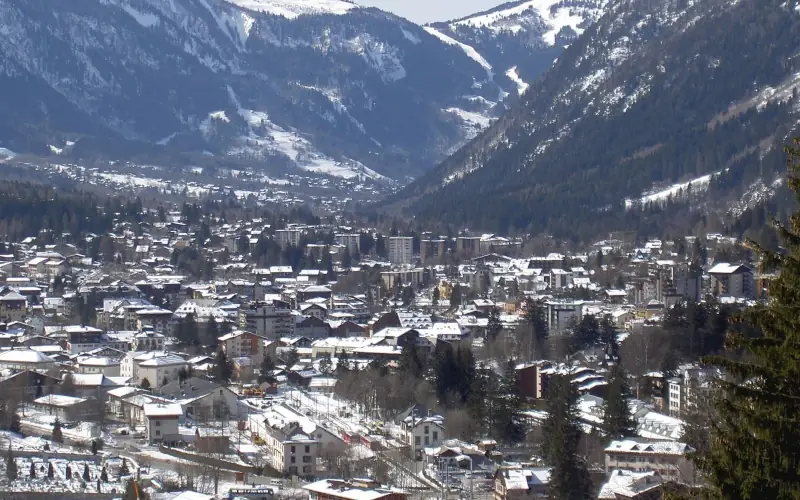 Welcome to the captivating world of Chamonix, a magnetic beacon nestled in the heart of the French Alps, drawing top snowboarders from every corner of the globe like moths to a flame. Renowned for its challenging freeride terrain, this alpine gem boasts a unique allure that sets it apart from the rest, making it an irresistible magnet for professional riders in search of the ultimate snowboarding experience.
A full lift pass unlocks a winter wonderland spanning 150 kilometres of perfectly groomed pistes, inviting riders to embark on an unforgettable journey through snow-covered wonders. As you traverse the on-piste terrain, it quickly becomes evident that Chamonix caters predominantly to advanced riders, offering an abundance of steep slopes and thrilling descents—each turn revealing the mountain's daring character, ready to be conquered by those who dare to tame its untamed beauty.
For freestylers seeking gravity-defying thrills, the Grands Montets glacier beckons with a world-class snow park and halfpipe—where the artistry of freestyle snowboarding comes alive in a symphony of flips, spins, and tricks. Here, riders showcase their prowess in a setting that exudes pure adrenaline, elevating the allure of the park and halfpipe beyond mere structures. Throughout the season, regular contests transform this snowboarding haven into a stage for showcasing true freestyle brilliance, igniting the passion and competitive spirit of riders.
Amidst the stunning alpine scenery, Chamonix captures the very essence of snowboarding, blending an adrenaline-fueled passion with awe-inspiring beauty. It's a place where challenges are met with courage, where both seasoned professionals and enthusiastic enthusiasts push the boundaries of snowboarding artistry. As the sun glistens upon the snowy canvas, Chamonix extends an invitation to step into a world of limitless exploration—a place where snowboarding legends are born, and the spirit of adventure dances gracefully with the snow.
So, fellow snowboarders, embrace the call of Chamonix—a destination where champions are inspired, where slopes transform into stages for unparalleled performances. Carve your way through the groomed pistes, immerse yourself in the gravitational pull of the snow park and halfpipe, and let Chamonix lead you on a mesmerizing journey—an experience that will etch an indelible mark on the very core of your snowboarding soul.
VIEW SKI HOLIDAYS IN CHAMONIX HERE
Flaine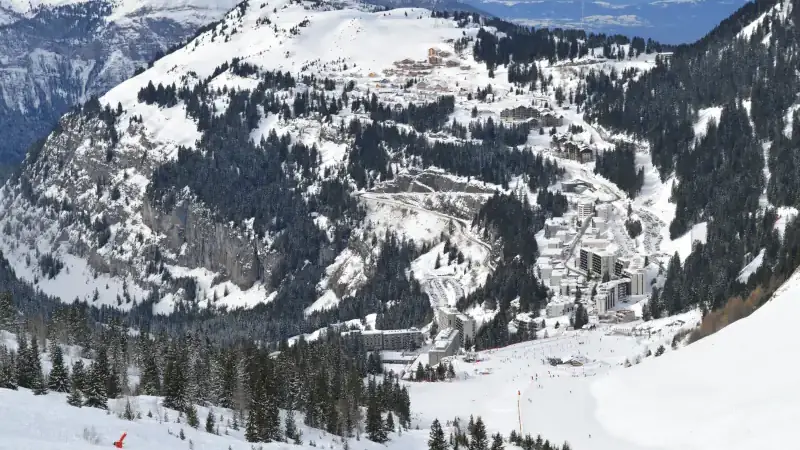 Calling out to all snowboarding enthusiasts with a penchant for a more relaxed ride — Flaine beckons as your ultimate winter sanctuary! This alpine gem offers an array of thrilling opportunities perfectly tailored to suit your riding preferences, promising an unrivalled snowboarding paradise that embraces your carving finesse like no other.
Imagine yourself gliding effortlessly down a splendid tapestry of slopes, adorned with cruisey blues and inviting steeper red runs—Flaine sets the stage for you to revel in the joy of long, fast runs. The mountain becomes your canvas as you gracefully carve your way down, immersing yourself in the blissful rhythm of your relaxed style.
But the delights of Flaine do not end there—for advanced snowboarders, prepare for an extraordinary adventure as the resort reveals hidden gems of freeride delights. Embark on an exploration of the mountain's best-kept secrets, and let the thrill of freeriding lead you to captivating tree runs and conquer steep powder-filled bowls, all with the invaluable guidance of a knowledgeable local mountain guide.
For the freestyle aficionados among you, rejoice! Flaine caters to your adventurous spirit with an array of playgrounds to ignite your passion for tricks and stunts. Venture to the exhilarating Jampark in Aujon or the adrenaline-pumping snowpark in Les Carroz—both designed to inspire awe-inspiring freestyle performances. Here, creativity knows no bounds, and the playground becomes a stage for your freestyle dreams to come alive.
Amidst the breathtaking alpine backdrop, Flaine shines as a harmonious blend of snowboarding delights—a destination that caters to every riding style, ensuring you experience an unforgettable winter wonderland adventure. So, pack your gear and embrace the call of Flaine's snowy embrace. Whether you effortlessly carve the slopes, seek the thrill of freeride exploration, or revel in the artistry of freestyle tricks, Flaine awaits as your calling—a destination where your snowboarding dreams soar to new heights!
VIEW SKI HOLIDAYS IN FLAINE HERE
Meribel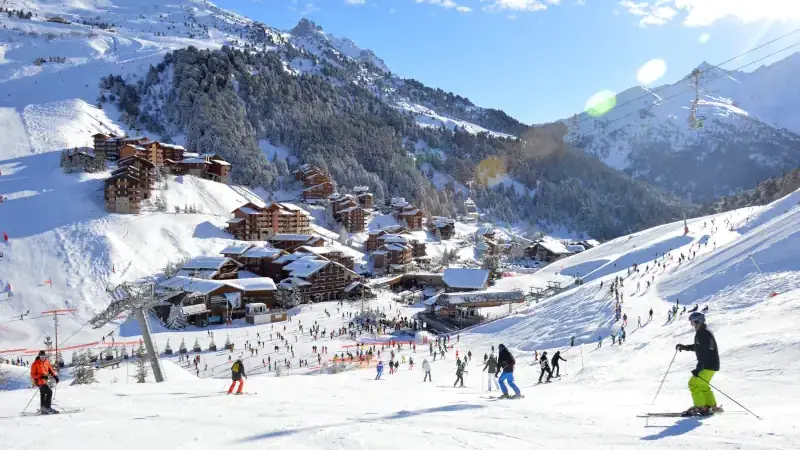 Nestled within the prestigious Three Valleys, Méribel emerges as a shimmering jewel in our sought-after list of the finest snowboarding destinations in France. This alpine paradise promises an awe-inspiring snowboarding adventure, with a staggering 600 kilometres of slopes beckoning to be explored. Méribel's state-of-the-art lift network seamlessly connects you to other renowned resorts, paving the way for an exhilarating snowboarding journey like no other.
Freeriders, prepare to be captivated by the enchanting diversity of terrain gracing the Mont Vallon and Saulire peaks, offering an irresistible playground of powder-infused thrills. For those seeking an elevated freeride experience, venture to the majestic heights of Val Thorens, where the snow-covered wonders will leave you breathless with delight.
But Méribel's allure doesn't end there—two brilliant terrain parks invite you to partake in a freestyler's dream, adorned with an irresistible array of rails, boxes, and kickers. Here, freestylers have the canvas they crave to showcase their tricks and stunts, unleashing their creativity in the most thrilling and innovative ways. And for those seeking an extra dose of adrenaline, brace yourself for even more excitement, as Méribel boasts four exceptional half-pipes, standing ready to unleash your freestyle spirit and elevate your snowboarding adventures to new heights.
In the embrace of stunning alpine landscapes, Méribel unveils its charm as a haven for snowboarding enthusiasts of all levels, a place where every ride orchestrates a symphony of joy and adrenaline. Whether you find solace in carving the slopes, embarking on freeride odysseys, or perfecting your freestyle artistry, Méribel promises an unparalleled winter wonderland experience that will forever captivate your heart.
So, dear snowboarders, heed the magnetic call of Méribel—a destination that captivates with its vast slopes, diverse terrains, and thrilling freestyle havens. Equip yourselves with gear and enthusiasm, embrace the thrill, and let Méribel enfold you in its snowy embrace, as you carve your way into an extraordinary snowboarding escapade amidst the majestic splendour of the Three Valleys!
VIEW SKI HOLIDAYS IN MERIBEL HERE
Les Arcs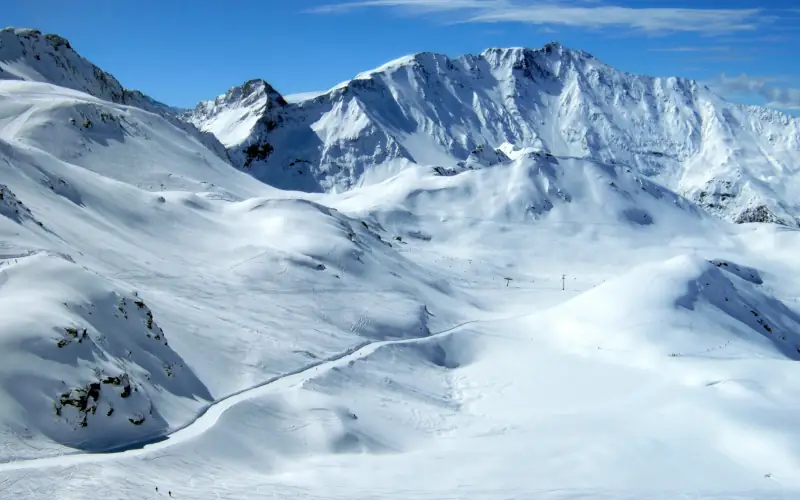 Step into the captivating realm of Les Arcs, an enchanting gem nestled within the breathtaking Paradiski area, where an exhilarating snowboarding adventure awaits, destined to leave you spellbound. Brace yourself for an extraordinary winter wonderland, boasting an expansive playground of 425 kilometres of slopes—a true paradise for snowboarders of all stripes, beckoning you to embrace the thrill of the mountains.
For those taking their first steps on a snowboard, Les Arcs extends a warm welcome, offering gentle nursery slopes and gradual terrains that create a nurturing environment for building confidence and honing skills. As the sun graces the slopes, you'll find yourself gliding effortlessly, embracing the joy of your snowboarding debut amidst the stunning alpine landscape.
The heart of Les Arcs holds a special treat for intermediate to advanced riders seeking a pulse-pounding challenge. A feast of steeper terrains awaits, inviting you to carve your way down the mountain with unmatched finesse. Here, each turn is an opportunity to master the art of snowboarding, as you immerse yourself in a symphony of exhilarating descents.
Freeriders will be in their element, as Les Arcs unveils a treasure trove of pristine terrains in Arcs 2000 and Peisey-Vallandry, beckoning the adventurous spirit with powder-infused thrills and unforgettable moments amidst the unspoiled alpine setting.
Calling all freestylers and trick enthusiasts! Les Arcs caters to your thirst for excitement with a sprawling snowpark, an arena of possibilities brimming with countless rails, kickers, and jumps. Set your creativity free, catch air, and perfect your freestyle artistry amidst the breathtaking views that surround you.
In the heart of Les Arcs, snowboarders of different levels and preferences are embraced with open arms. This welcoming ski resort ensures an unforgettable winter escape that caters to all—whether you're a beginner seeking the gentle slopes, an advanced rider chasing adrenaline-pumping descents, or a freestyler yearning to perform gravity-defying tricks, Les Arcs promises an extraordinary journey that celebrates the very essence of snowboarding.
So, fellow snowboarders, the time has come to pack your gear and unlock the magical allure of Les Arcs. The winter wonderland awaits, inviting you to carve your way through a symphony of snowy delights, immersing yourself in an unforgettable snowboarding experience amidst the majestic splendour of the Paradiski area. Let Les Arcs be your canvas for adventure, and let the mountains guide you to moments that will forever linger in your heart!
VIEW SKI HOLIDAYS IN LES ARCS HERE
Les Deux Alpes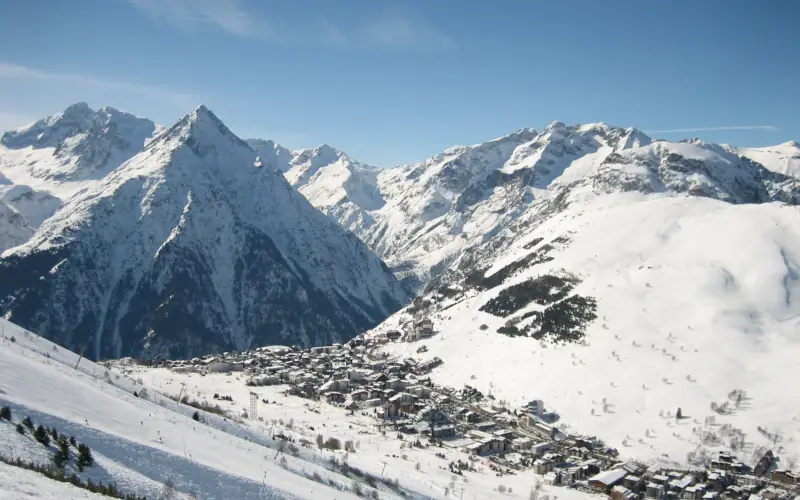 Welcome to the snowboarding paradise of Les Deux Alpes, a winter wonderland where every rider's dream comes to life amidst the awe-inspiring snow conditions. With the second-largest glacier in France and a soaring altitude ranging from 1,650 meters to 3,570 meters, this alpine gem promises an unparalleled snowboarding experience that will leave you exhilarated.
As you take your first steps on a snowboard, Les Deux Alpes extends a warm welcome with gentle blue slopes at the top of the mountain, providing a supportive environment for beginners to build skills and confidence. But don't be fooled—adventure awaits as you progress, with steeper terrain back to the village, offering an exciting opportunity to conquer the mountain with every thrilling descent.
For intermediate and advanced riders, prepare to find your snowboarding haven in Les Deux Alpes. This resort is tailored to cater to your hunger for exhilarating descents and technical challenges, boasting a vast expanse of slopes that reveal a symphony of snowy delight with every turn. Carve your way through the stunning alpine landscape, and immerse yourself in the breathtaking scenery that surrounds you.
On a powder day, indulge in an extraordinary freeride adventure with a mountain guide in La Grave. The pristine playground of untouched snow beckons, offering freeride enthusiasts an unparalleled experience amidst the untamed beauty of the mountains.
Les Deux Alpes elevates the snowboarding experience even further with some of the best freestyle facilities in the country, making it a haven for freestylers of all levels. Immerse yourself in a world of creativity as you tackle an array of boxes, rails, and kickers, each feature designed to inspire freestyle brilliance. And for those seeking an adrenaline rush, prepare to be dazzled by the halfpipe and super-pipe, where gravity becomes your ally, enabling gravity-defying tricks and heart-stopping performances.
In Les Deux Alpes, snowboarding dreams come true, as the resort caters to riders of every level and style, ensuring an unforgettable winter escape that celebrates the art of snowboarding. So, gear up and let Les Deux Alpes enchant you with its magical allure. Glide through the majestic slopes, embrace the exhilarating experiences that await, and discover why this alpine haven stands as a true snowboarding paradise—a destination where the beauty of winter meets the passion of the rider.
VIEW SKI HOLIDAYS IN LES DEUX ALPES HERE
Alpe d'Huez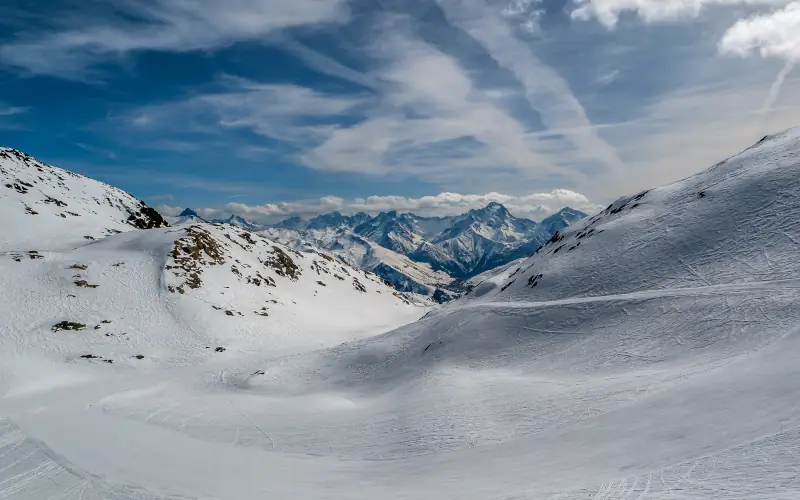 Step into the enchanting world of Alpe d'Huez, where snowboarding dreams take flight amidst breathtaking winter wonders. This alpine gem, set at a majestic altitude ranging from 1,860 meters to 3,330 meters, guarantees a winter wonderland draped in pristine snow—a true haven for snowboarders in search of the ultimate winter experience in France.
Prepare to be captivated by a snowboarding paradise, where freeride opportunities abound. Le Grand Sablat and Cheminées du Macles couloirs beckon, offering untamed powder fields that promise to ignite your adventurous spirit. Embrace the thrill of carving through this winter paradise, as you immerse yourself in the untouched beauty of these must-ride spots.
But that's not all—Alpe d'Huez presents an extensive playground of 250 kilometres of slopes, a tapestry that caters to every snowboarder's desire to explore. With a seamless lift network, you'll glide effortlessly across this vast expanse, where exhilarating descents and breathtaking vistas await riders of all levels.
Calling all thrill-seekers, a giant snowpark awaits, poised to unleash your freestyle spirit in a realm of excitement. Here, you'll perfect tricks and showcase your skills amidst an arena of features and challenges, an opportunity to shine as you revel in the artistry of freestyle brilliance.
Amidst the sweeping landscapes of Alpe d'Huez, the allure of winter enchants your senses, where the symphony of snowy delights merges with nature's grandeur. Each turn becomes a poetic dance, as snowboarding thrills intertwine with the beauty of the alpine splendour. Alpe d'Huez invites you to embrace the magic of winter, to indulge in an unforgettable snowboarding experience—a journey that will etch cherished memories in your heart long after the snow has melted.
So, fellow snowboarders, heed the call of Alpe d'Huez—a destination where superb conditions and thrilling slopes converge, where freeride bliss meets alpine majesty. Prepare to carve your way into an extraordinary adventure, and let Alpe d'Huez paint unforgettable memories in the very core of your snowboarding soul!
VIEW SKI HOLIDAYS IN ALPE D'HUEZ HERE
For detailed information on the top places to snowboard in France, we invite you to contact us.
Speak with one of our ski and snowboard holiday experts on 020 8313 3999 and let us provide you with comprehensive insights into snowboarding experiences in France. We're here to answer your questions, offer recommendations, and guide you towards the perfect snowboarding ski resort in France.
Related Blogs