Club Med Samoens wins the Ski Line 'Ski Hotel of the year 2017/18'
7th July 2017
When we were looking at the contenders for this year's "ski hotel of the year", we thought about our client's most popular wish lists and the attributes they are looking for in their ideal skiing. These included the following.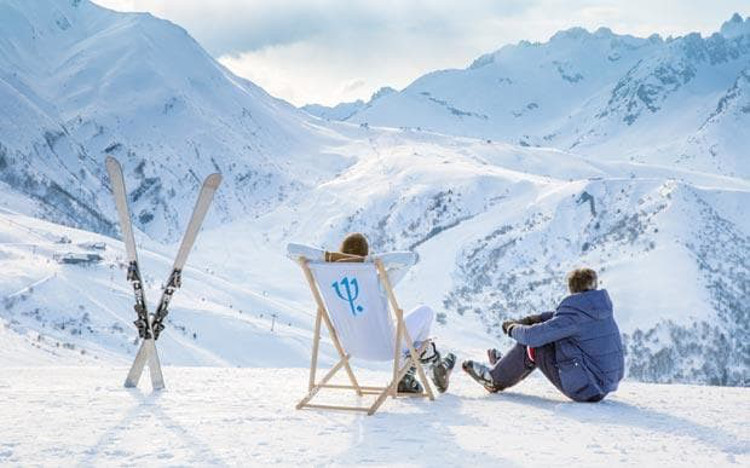 Must be good value for money – An all-inclusive holiday delivers great value!
Ski In Ski out would be nice- You can ski from the ski locker room
A hot tub- there are several hot tubs
A sauna- that's another tick
Short transfer time, about 90 minutes from Geneva.
A swimming pool for the children- There are two pools, both heated one indoor, one out.
Childcare- Included for all children over 3 years (4 to 23 months =£308, 2 to 3 years £273)
Good sized bedrooms with interconnecting rooms for families- That's another tick
Modern bathrooms- Options of Showers and Baths
Good food- a Double Michelin-starred chef created the menu's
Spotting trends in the kind of skiing holidays skiers want to experience is part of the job of a good travel agent. We have been advocating the wonders of the Grand Massif ski area, ever since spending a very enjoyable Christmas in Samoens in 2013.
It appeared Samoens had also been on Club Med's mind too, as in 2015 we heard that Club Med was investing €580 million in a new flagship family resort above Samoens, designed to accommodate 1,050 guests.
The Ski Line team have just returned from a visit to the nearly completed hotel, some 6 months ahead of its official opening in December 2017. To say we were impressed, is an understatement. This is going to be a very special resort, particularly for families.
The Wow Factor! with 360° views, its location is stunning.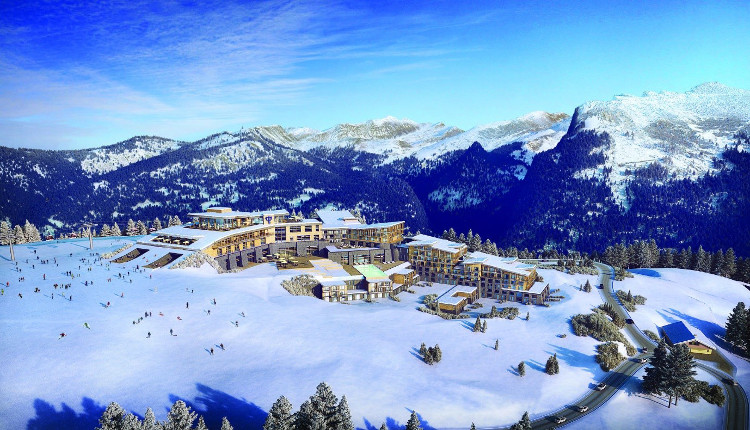 When planning was agreed for the site on a beautiful plateau at 1600m, above the attractive stone mason's village of Samoens, we suspect even the architect's expectations will have been surpassed. The balconies and terraces that surround the new resort enjoy the sun and offer uninterrupted views of the surrounding peaks. These will also have dining and outdoor space for the kid's clubs and bars.
Dining at the new Club Med Samoens
There are four principal dining rooms, each with access to a sunny terrace. The main restaurant offers a massive buffet choice, and has four distinct dining areas, very like the Club Med Valmorel resort, which proved to work very well. Each of these dining spaces has access to terraces or balconies to catch either the morning, midday or afternoon sun and should make an ideal space to relax whilst you enjoy the varied cuisine.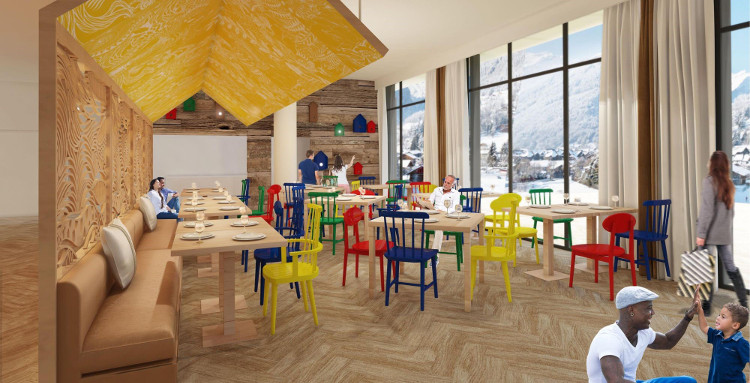 The main restaurant offers 4 separate dining rooms
The main dining area at Samoens will be a huge buffet styled affair, with a very varied menu from around the globe, reflecting the international clientele. From this large room are 3 dining areas, which are cleverly rotated to ensure guests can always find a table, as one fills up, another is opened. This we first saw at the Club Med Valmorel, which opened a few years ago and which worked very efferently.
The Three restaurants, La Rivière, Les Randonneurs, Les Sommets and La Prairie, (with its dedicated family space, see below)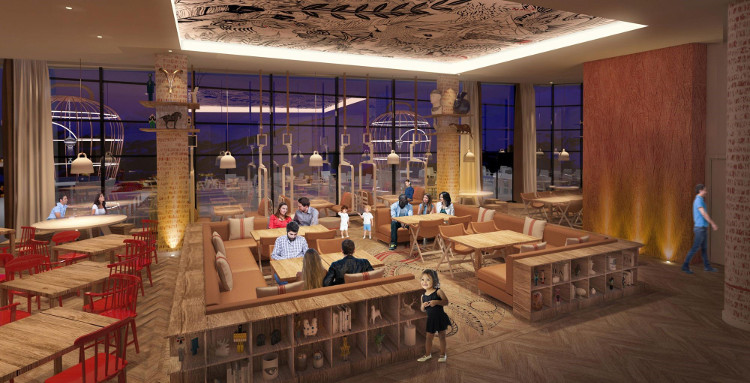 Designated family dining area, makes sense for families
A new innovation from Club Med is a family only dining room. This will provide space exclusively for family groups, it will offer shaded terraces in warmer weather. The main dining area offers good space between tables to allow younger children more freedom. There are obvious benefits for skiers travelling without children too!#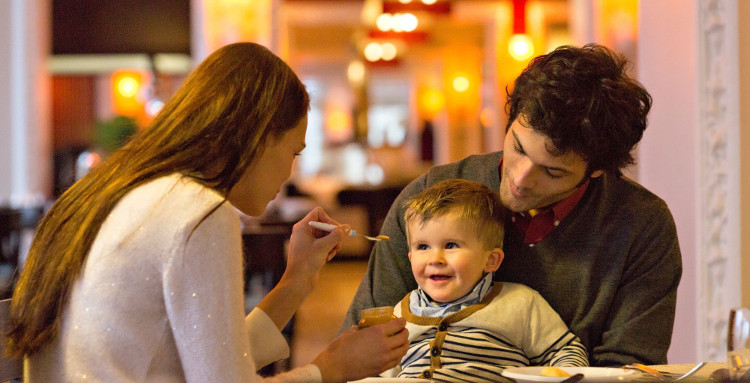 Childcare at Club Med Samoens
Ski holidays with young pre-ski children, requires a little extra planning. At Club Med Samoëns, all this has been taken care of. Childcare is available for all children over the age of 4 months up to teenagers.
Baby Club Med
This is a full day service in specially created space to afford a bright safe environment for babies from 4 months to 23 months under the watchful eye of trained and qualified child carers. The cost per child is £308.
Petit Club Med
A full day service for infants between the age of 2 years to 3 years, with lots of play activities with the Club Med Nannies. The cost per child is £273.
Mini Club Med
The mini club is aimed at children from 4 years to 11 and is included in the cost of the holiday. Activities take place after skiing in dedicated areas and brings the children together so friends are quickly made. The cost is included in the price of the holiday.
Junior Club Med
Junior Club Med is aimed at Children from 11 to 17 years. Its all about choice, there are dedicated areas with sofa for teens to stay connected to social media, games, competitions and ski races to make sure everyone has fun. The chances are that your teenagers will want to dine with their friends for lunch and dinner, so don't expect to see too much of them on a Club Med skiing holiday. The cost of junior Club Med is included in the price.
Discounts of up to 20% are still available at Club Med Samoëns, Prices start at £1,235 pp, which includes
Flights and resort transfers
All meals, Breakfast, lunch with wine and dinner with wine
Full area ski pass
5 full day ESF ski lessons
5 days' ski guiding with an ESF guide, which includes off-piste skiing
Snacks and drinks throughout the day
Free bar for cocktails and alcoholic beverages
Evening entertainment
Plus, lots more
Why choose to ski in the Grand Massif ski area?
The Grand Massif ski area isn't as well-known as the other big linked ski area's in France such as the Three Valleys, then again, it doesn't get the massive number of visitors either! Its Frances 4th largest ski area offering 265km of piste. The best known of the villages in the ski area is Flaine, the most attractive is Samoëns. The ski area is best suited to Intermediate skiers because of the wide choices of runs suitable. But, advanced and beginners will love it here too.
Past winners of the Ski Line ski hotel of the year
2014/15 Club Med Sensations, Val Thorens
2015/16 Hotel Le Savoie, Val d'Isere
2016/17 Hotel Theodul, Lech
This year's winner Club Med Samoens
Other relevant blogs
https://www.skiline.co.uk/blog/club-med-samoens-a-sneak-peek
https://www.skiline.co.uk/blog/bucket-list-samoens
https://www.skiline.co.uk/blog/club-med-2018-ski-prices
https://www.skiline.co.uk/blog/new-club-med-ski-hotel-samoens
https://www.skiline.co.uk/end-of-season-ski-trip
https://www.skiline.co.uk/club-med-one-in-7-ski-holidays