Ski Chalet Tour Operator Goes Into Liquidation
14th March 2019
After 43 years of trading, sadly, Ski-Val the Val d'Isere and St Anton ski chalet specialist went into Liquidation yesterday 13th March.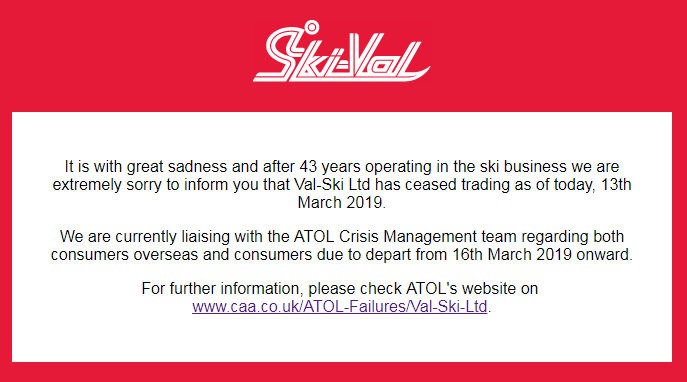 Ski Val was one of the first chalet companies to set up in the Alps and operated 24 ski chalets in the two best-loved ski resorts. We acted as their agents for nearly 25 years, they were the second tour operator to appoint us to act as agents for in our early days as a Teletext agent.
Ski Val's website had reported their phones and internet were down for several days, but this was replaced today 14th March 2019 with a message reporting that the business was in Liquidation and referring clients to the Civil aviation authority (CAA).
Are you booked on a Ski-Val holiday?
Our sales team started early this morning and most of the 50 or so clients of ours who we had booked with Ski-Val have already been booked on replacement holidays within an hour of us opening. We are also successfully finding replacement holidays for clients who booked directly with Ski-Val.
We are receiving a lot of calls from guests who booked directly with Ski-Val, many with questions about refunds and what happens now.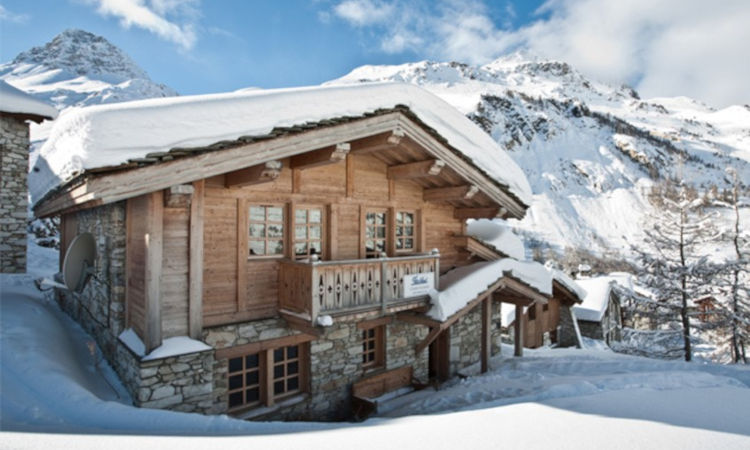 Chalet Arabella in Val d'Isere was one of Ski Val's popular chalets in Val d'Isere
If you have booked a skiing holiday with Ski-Val due to travel after this weekend 17th March, or have bookings confirmed for next winter, your holiday will not now happen. Providing you booked a holiday as part of a package holiday which must include a flight you will receive a refund. This refund will come either from your bank if you paid by credit card or via the CAA.
If you booked an accommodation only package, which Ski-Val did offer, unless you paid by Credit Card, you probably won't receive any money back. One skier post on the Snow Heads ski chat forum today reported his booking due to depart this weekend is now lost.
This failure is the first this winter of a ski tour operator. Many in the industry are predicting, it won't be the last.
How to make sure your skiing company isn't about to fail.
Over the years we have written countless blogs about ski holiday booking fraud and encourage skiers to carry out a degree of due diligence, before booking any ski holidays. Lots of businesses operating ski chalets are very small and are often lifestyle businesses that make tiny profits, and some make ever-increasing losses!
Ski Line currently work with 72 different independent ski chalet suppliers, we require our partners to be well equipped financially and that their business has enough liquidity to support their activities. For any partners where the liquidity levels fall short, we will only pass our clients payment to them in the final days before they arrive on holiday. This allows us to manage the risk of our client's holidays being affected if the holiday company fails.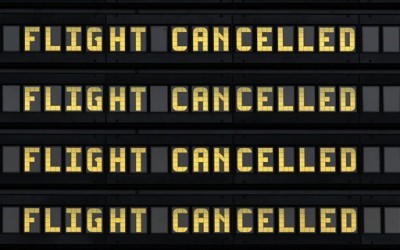 Smaller specialist tour operator businesses often don't have any bonding, such as ABTA or ATOL. Many don't accept credit cards, or rather the banks didn't accept them as a good credit risk. If you are asked to pay for your ski holiday by bank transfer, a red flag should be waving. Pay by credit card you can get a refund from the bank if the business fails. If the business won't accept your card payment, ask if they appoint any bonded agents, you can book through that will accept card payments.
If you are booking a group of your friends, often up to a year in advance, shouldn't you check out the business to make sure its unlikely to go bust before you go on your holiday?
Providing you know the company's full name, you can inspect the company's latest financial accounts online. It's free! A good, sound business should be making profits. As a guide ABTA require its members to have paid up capital of at least £80,000.
If the tour company you intend to book a ski holiday through isn't a member of ABTA or hold an ATOL, doesn't accept credit card payments and has fewer shareholders' funds or cash in the bank appearing in their accounts than £80,000 you could be at risk too.
As travel agents, Ski Line takes our financial responsibility to protect our client's money very seriously. Our company accounts are audited for our client's piece of mind. We strongly believe all travel companies, where payment for holidays are required a year in advance should have their accounts audited.