How Financially Secure Is Your Ski Holiday Or Worse Still, Does It Even Exist?
25th February 2015
In February 2015 the Kent and Sussex Courier reported that Nick Blanchard and his friends lost over £9,000 when the Company they booked their ski holiday with, Ski Power, went into liquidation. The story emphasises the need to exercise caution when deciding who to book your holiday with and how to pay, and a few simple checks can substantially reduce the risk. Fortunately, Skiline.co.uk carried out our own due diligence on Ski Power and stopped trading with them before they failed, potentially saving our clients considerable inconvenience.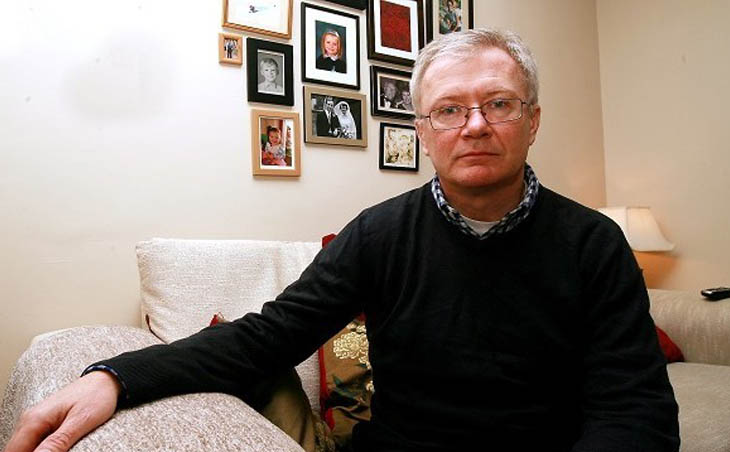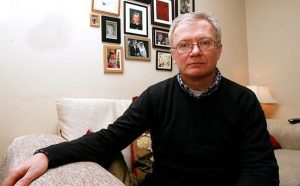 Plimsoll Publishing Limited analyse various business sectors, among them Ski Holiday companies, where this year they reported on the 78 largest ski companies. Rather alarmingly 20% of the companies are considered to be in danger of failure, 18 were making a loss, and 12 had lost over a 25% of their value in the last year. This serves to emphasise the fragility of the market and we hope you haven't booked with one of these companies.
Ski Line is rated as among the leading Ski Companies in this report.
Many Catered chalet companies are not ATOL bonded
The Air Traffic Organisers Licence (ATOL) is a protection scheme for flight and air package holidays, managed by the Civil Aviation Authority. If you've booked your holiday with a licensed tour operator and it consists of a package including flights from the UK the ATOL protects you from losing money or being stranded abroad if the tour operator goes out of business. If an ATOL licensed firm goes out of business the CAA can give refunds to people who can't travel and arrange for people abroad to travel home.
Most independent chalet suppliers don't offer flights and if you book accommodation only with them and then arrange flights through a different supplier you may not be protected if things go wrong.
We are approached by numerous ski chalet owners every season asking us to sell their accommodation and having undertaken our own due diligence, generally to include a search at Companies House, we often have to decline their request, considering the financial and reputational risks too high. Unfortunately, many skiers who book themselves fail to take even the simplest precautions and thereby risk losing their money and hard-earned ski holiday.
Should I book my ski holiday with a company that doesn't accept credit cards?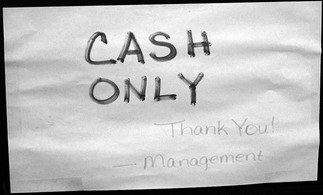 No, not if they want you to pay for your holiday in advance. If a supplier is unable to secure credit card facilities there is generally a good reason. The decision is made by the card company after undertaking a detailed credit assessment and if they are not happy with the risk why should you be? If you pay for the holiday direct and the company goes out of business it is unlikely the liquidator will have much leftover for you.
Payment of your holiday by credit card and some debit cards provides financial protection and should your supplier fail, you will be able to seek reimbursement from your credit card issuer.
Check the financial strength of the ski company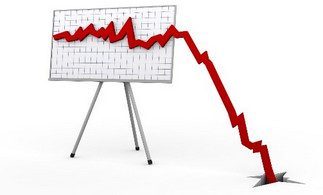 Check to see if the Company is profitable and that the level of "Shareholders Funds" appear reasonable in relation to their activities. Many ski companies lodge Abbreviated Accounts at Companies house which do not show their annual profit/loss and if so an increase in Shareholders Funds is a good indication of profitability. At the end of the day if the supplier is not bonded you should ensure they are at least are a profitable and well-capitalised company and able to deal with any issues that may arise, such as unsold holidays, without placing a strain on their finances.
How we operate
Ski Line Limited is a member of ABTA. Our accounts are audited by a major West End firm of accountants and whilst not a legal requirement we believe that all travel companies responsible for holding client funds should adopt this practice. As an ABTA member, any client monies in our possession are protected and our financial standing is monitored by ABTA to ensure we meet their capital requirements. We are further required to provide them with a financial bond based on sales.
At Ski Line, we trade with almost 200 ski holiday suppliers and as part of our due diligence, we look at the financial standing of each and everyone and only sell those holidays where we are comfortable with the supplier's financial situation.
Other things to look out for
It is essential that you exercise caution when booking your holiday, especially when it is not part of a package, to include flights which benefit from ATOL protection. Using a specialist ABTA ski agency should help you reduce some of the associated risks but if you are making your own arrangements you need to carry out a few basic checks. It is amazing that we still see accommodation websites that have no owner's details, physical address, landline, or even terms and conditions. These companies should be avoided at all cost no matter how attractive the price may appear. If the operator is a UK company the website must by law show the name, registered office and company number and you will be able to undertake a free search at Companies House to check how long they have been trading, the officers and financial standing of the Company etc. Some companies may offer their own financial protection and if so check the cover carefully and if in doubt pay by credit card.
Con websites to watch out for! rightski.com
rightski.com is the first doggy ski chalet website we have found this year, but we are sure there are others out there! Its advertising luxury chalets for sale at a 40% discount. We understand the website is hosted in China. No doubt some British skiers could fall for this con.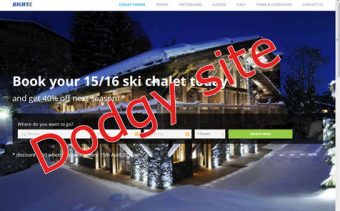 The website states under its contact us button that they are a proper registered UK company called B.T.Y. Limited which is the registered name of a totally legitimate ABTA travel agency trading under the name Number One Travel, which trades in Harrogate. We have notified the owners of this company who are taking steps to have the web site shut down.
We recognised that the photos in this chalet belong to a chalet we have on our books called Chalet Marco Polo. We contacted our supplier who is aware. It appears all the content for the web site has been scraped from the Ski Club of GB and other ski related web sites. Watch out!