9th April 2018
More and more visitors to the Alps are looking for a greater thrill than skiing or snowboarding alone can offer. Many are choosing a more "airborne" approach to a holiday in the mountains.
Les Ailes Du Mont Blanc, a Chamonix based paragliding and speed skiing school is taking full advantage of this oldest of human desires, flight!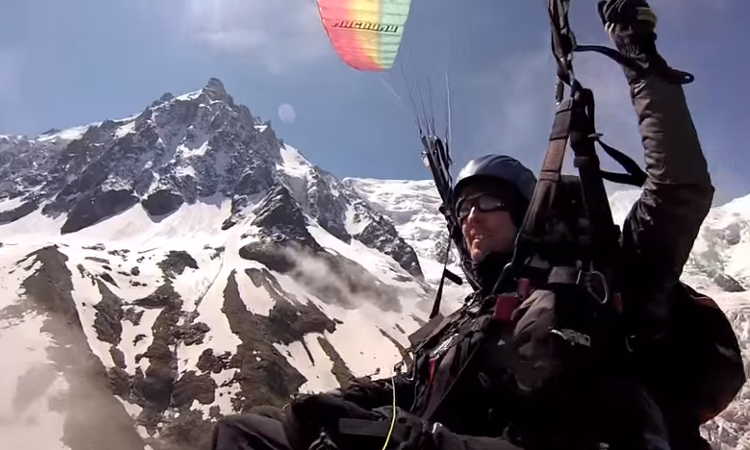 Les Ailes Du Mont Blanc operates paragliding courses for beginners to advanced levels, or for a trial flight, tandem flights under the safe control of a qualified pilot.
The team at Les Ailes Du Mont Blanc are reassuringly vastly experienced. Claire Mercuriot, is the school president. Claire joined the French Acrobatic team in 2016 and secured a gold medal for France in Annecy and is currently ranked 6th in the world.
Sandie Cochepain, is the technical director that the school and has competed at the highest level in the sport representing France between 1994 to 2001 and French Champion in 1995, 1999, 2000, she held world titles in 1997, 1998 and 1999.
Each of the training staff at Les Ailes Du Mont Blanc will encourage you to take your first steps before joining the birds.
We recommend the 5-day courses for beginners; the cost is just €625. The first 3 days are spent practising controlling your wing on the school's gentle practice slope. By day 4 or 5, you should be ready to take your first solo flight with radio communication with two ground-based instructors. Private courses are also available from €340 per day.
Advanced paragliders courses are also available to help bring flyers to the next level in the sport and where Chamonix is an ideal spot to enjoy this exciting sport.
Also available are courses in the latest mountain thrill craze, Speedriding. Speedriding is a combination of freestyle skiing and paragliding, although the people who do it tell us its sum is greater than its two parts. Also known as speed flying and ski gliding it's a sport that's taking the mountains by storm.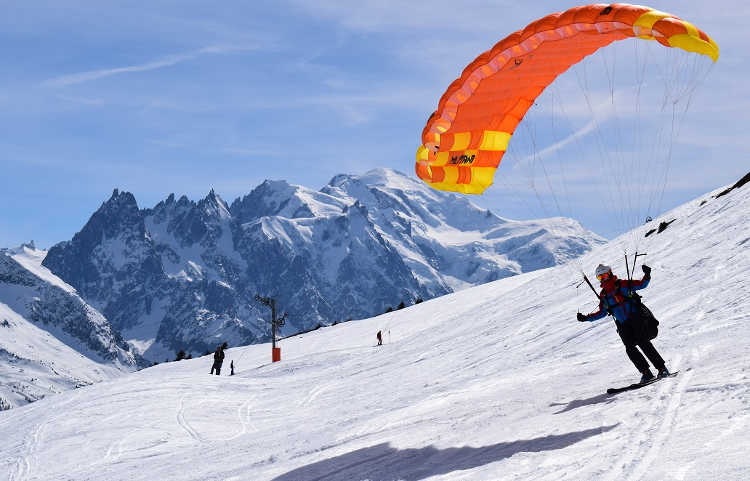 A speed wing is very much smaller than a paraglider, with a surface area of between 5.5 sqm to 18 sqm and weighing between 2 and 4kgs, despite Its small size its high-performance shape is capable of reaching up to 90mph, which is fast enough for many, even with your skis on the snow so just imagine the thrill of leaving the snow and going airborne.
This Go Pro film shows speed skier Neil Amonson's flight from the slopes and above, Chamonix.
To book your paragliding or speed riding course contact:
Les Ailes Du Mont Blanc
117 Chemin des Chosalets
Argentière
74400 Chamonix Mont Blanc
France
Tel: + 33(0)6-20-46-55-57
email info@lesailesdumontblanc.com or visit https://www.lesailesdumontblanc.com/en