April Champagne powder day is no April Fools!
24th August 2015
Working in the ski holiday business means it's very rare that I do much skiing before mid-March, in fact most of my skiing takes place from mid-April onwards. I don't feel I ever miss out by skiing so late in the season.  Why would I? Longer days, less crowds, no lift queues, fantastic après ski in sun soaked terrace bars, catching the suns warming rays from the chair lifts and more often than not, near perfect snow conditions. What's not to like?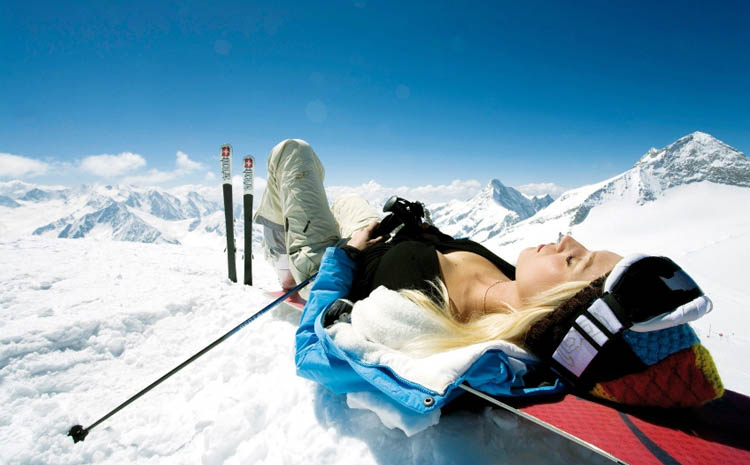 What never ceases to amaze me is that good friends and some clients who are very keen skiers often question, "Will there be any snow in April?"   What they don't appreciate is that April sees a lot more snow fall than January. In January of course, it colder and the snow lasts longer, but in April in the UK it's the rainy season, and it's the same in the Alps, but in the Alps that rain falls as snow. So it's not at all rare for a big snow fall to be measured in feet rather than inches.  Just last week (April 2015) saw 1.7m of fresh snow fall across many ski resorts in the Alps, making conditions simply perfect. For the off piste skier snowfalls like this and fewer people on the mountain means the chances of finding powder stashes are a real possibility days even weeks after the last snow fall.
We often struggle to sell the last few places in chalets and hotels once Easter has passed, yet we never have a problem selling the same chalets and hotels in the dead of winter January dates. I just don't get it, why don't more skiers and snowboarders want to ski in sunshine?
The 21st April 2012 sticks in my mind for a couple of reasons , It was the very last time I skied with my dear friend, Jess Jaworski, who sadly died last year and it was the only time I skied on "Real Champagne powder" in Europe. Jess and I were part of a large group staying in Val d'Isere on Ski Line's end of season ski trip. It started snowing heavily as we skied down the mountain on the 20th April and didn't stop until about 10:30 the following morning. Looking at the mountain from our chalet dining room table that morning, conditions looked dreadful, low cloud covered the village and visibility was less than 20m. We'd heard the sound of explosions all morning as the piste security teams cleared any risks of avalanches and we knew, well we hoped, we'd be in for a good day if we could see where we were going!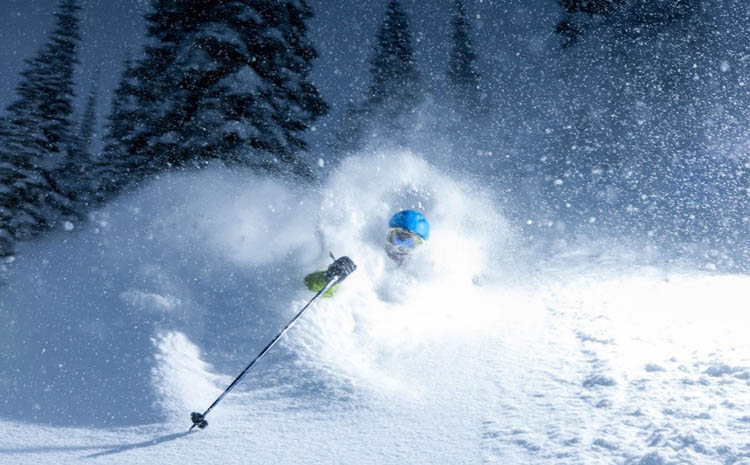 As we stepped out of the Funicular in now, glorious sunshine, high above the low clouds that from the village looked like it was a show stopper on to a thigh deep "Champagne" powder run that my skis simply float through. If you have ever dreamed about skiing or snowboarding down an empty piste I bet this would be the kind of snow. Snow that dreams are made of! It's one of my best days skiing I have ever experienced. Although other April days have given up some powder days too, nothing I doubt will come close to the 21st April 2012.
When we returned to the chalet that afternoon, exhausted and on an adrenalin induced high the chalet staff were as excited as us and all claimed it had been the best conditions of the whole season for many of them, probably their whole young lives. I felt rather sorry for the other members of our group as it dawned on them as they sat out the low cloud in the bars of Val d'Isere that day, what they had missed was probably the best days skiing they would have ever have.
I simply love skiing in late April, why don't you try it?