24 Hour Party People Hit The Slopes
23rd March 2018
When you are on holiday, it is only natural that you want to squeeze as much fun and excitement out of the holiday as you can. There will be people who want to enjoy the trip at a leisurely pace but when you only have a brief period of time to get away, it makes sense to pack as much fun and excitement into the trip that you can. If you are looking to enjoy a skiing trip this year, you will be glad to know that there is always a chance to enjoy a party, no matter the time of day or night.
If you are hitting the slopes, it is probably unlikely that you will be able to party 24 hours a day. After all, skiing requires a lot of effort and while many people have lofty ambitions of parting around the clock, you may find yourself holed up in bed long before the midnight hour. That doesn't mean that you can't party though and the après ski scene is ready when you are.
Make the most of your free time
There is a feeling that the après ski runs into the small hours of the night but for traditionalists, this is the time between skiing and heading off to dinner. If you are putting a time on it, between 3.30pm and 6.30pm are your peak après ski hours, but everyone is different. The most important thing is to have fun and if you are looking to down a few beers or wines, with some shots on the side, you will not be alone. A lot of people suffer injuries when skiing but there will also be some people who come back home injured after enjoying themselves too much in the après ski scene!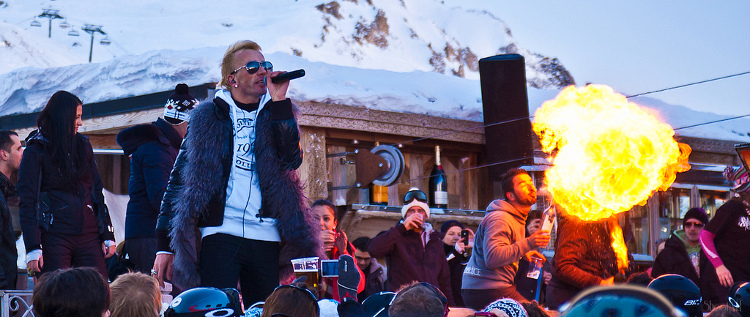 In Europe, France and Austria are at the forefront of this party scene. The Americans may still rage harder, tapping into the spring-break style of holiday, but if you are looking for a great session that caps off a momentous day of skiing without leaving you nursing a hangover on the slopes the next day, France and Austria offer a lot. Your personal taste and preferences could sway you to choose one destination over another but there is also the fact that Austria is usually a more affordable destination than France, and this could be the option that is best for you.
You can choose from many fantastic party destinations when you book a ski holiday
Some of the leading destinations to choose from for the ideal après ski session include:
All these destinations have their charms. Given the fact that Les Deux Alpes has been compared with Ibiza, this is the destination if you really want to make the most of your time off-piste. If you are in the mood to dance into the small hours, the beats are livelier here, and this could be the perfect destination if you intend to be 24-hour party people.
We know that people want to enjoy a holiday that is right for them and for a lot of folk, a skiing holiday is about more than just skiing. If you are looking to make the most of your time away from the slopes, get in touch with Ski Line and we will ensure you enjoy a fantastic holiday.
Read our other blogs on Apre-Ski: