Chances are if you are a member of a skiing family, your ski holiday dates will be limited to the school holidays dates at your children's school. For families that means the only opportunity to ski is, Christmas, when many families like to be at home; New Year week which can busy cold and expensive or the most popular week in the ski calendar, the February half-term week. So, what about going skiing over Easter?
Easters dates change each year, as Easter Sunday is always the first Sunday after a paschal full moon- so if the full moon is on a Sunday, Easter will be a week later. Therefore, the earliest Easter could be is March 22, and the latest is April 25. The latest Easter in recent years was April 23 in the year 2000, and the earliest was March 23 in 2008
An Easter ski holiday is up to 50% cheaper than the identical holiday at half term.
In winter when Easter falls in late March or early April it's great news for families that like to ski. The snow will still be good at Easter and the differences between a ski holiday over half term vs Easter can be significant. Great news for whoever pays for the family ski holiday!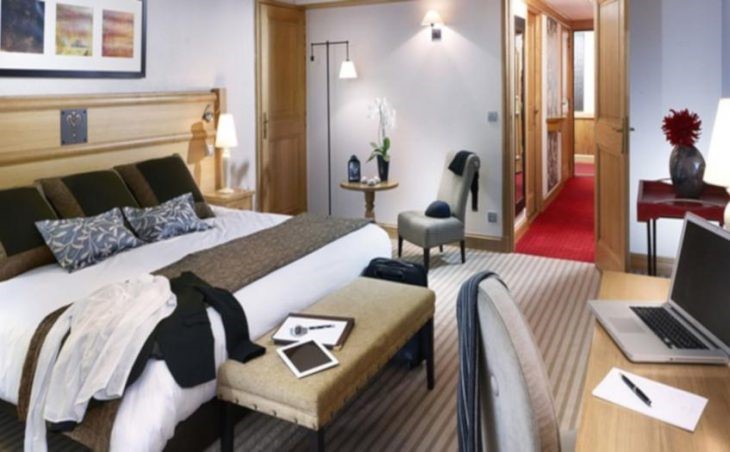 *We have compared a holiday for a family of 6 staying in chalet hotel Le Savoie in Val d'Isere booking a week's stay over the half term week in 2021 with the same holiday over Easter 2021 , the savings for this family of 6 are £7797.80! That's enough to rent a very nice villa with a pool for a summer holiday!
Family of 6 booking over Half Term 14th Feb 2021 costs £14,990.20
Family of 6 booking over Easter 4th April 2021 costs £10,684.30
Family of 6 booking over Easter 11th April 2021 costs £7,192.40
*Based on a package ski holiday for 2 adults and 4 children staying in a 3-bedroom suite in the popular chalet hotel Le Savoie, Val d'Isere with flights from Gatwick to Chambery, the three holidays are identical, except the dates.
Club Med, half term vs Easter 2021
Club Med ski holidays are sold worldwide, this allows the hotel group to level out the demand across different markets, so the saving isn't so obvious but the saving between a February school holiday date and Easter weeks is still considerable.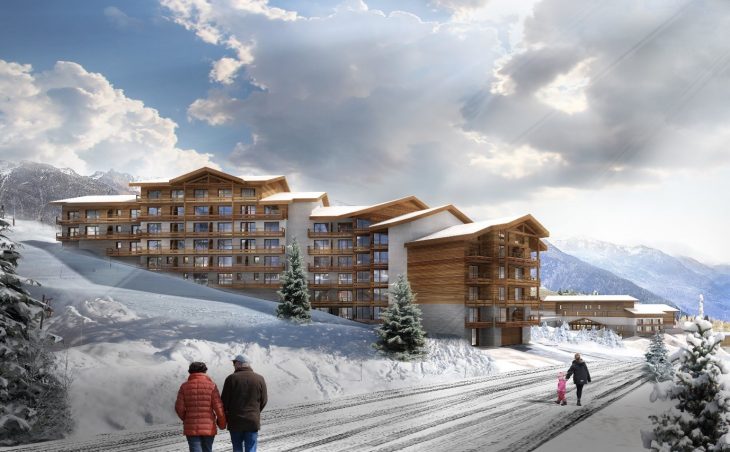 For this comparison, we compared an identical ski trip staying in Club Med's newly opening La Rosiere resort, for a family of 4 staying in an interconnecting room, with flights from LGW.
Family of 4 all-inclusive, Half Term 14th Feb 2021 costs £9,572.00
Family of 4 all-inclusive, Easter 4th April 2021 costs £7302.00
Family of 4 all-inclusive, Easter 11th April 2021 costs £6,704.32
For Club Med, French guests are still the biggest market, however, the British market has a major advantage over the French guests because Club Med launch prices in the UK, several months ahead of the home market. This allows canny British families booking on the opening day of Club Med's price launch, (normally Mid-January) to not only receive the highest early booking discounts but also grab the best interconnecting rooms.
In France, the Winter school holidays, (our February half term) are split across three weeks dividing France into three zones. The biggest of these zones is the Paris week, zone C. When Zone C clashes with the UK half term week, the ski resorts in France get very busy and visitors can expect delays at lifts, busier ski classes and higher prices. Thankfully this won't happen in 2020 or 2021!
The difference in snow conditions between February, March and April.
Concerns about snow conditions at Easter are we believe, unnecessary. We find that our clients often worry needlessly! Pick the right ski resort and this won't be a problem.
We always err on the side of caution and recommend that our clients book a ski resort located at around 1800m above sea level and without too many south-facing slopes. Providing Easter isn't too late in Spring conditions should be excellent, and the difference in skiing in the sunshine of a clear day in March or early April compared to the dead of winter in February will probably bring a smile to your face as well as your wallet.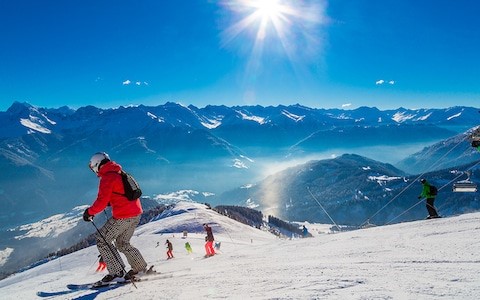 The chart below shows the historic snow depths between 2000 and 2018 for Val d'Isere, a ski resort that's normally reliable for snow cover until early May! This, in fact, shows that weekly snowfall drops off after January, and the lower slopes would expect to have an average of 109cm while the upper slopes would average 180cm.
It's not until the spring, that in the UK we get our biggest rainfall, and it's the same in the Alps, but of course, in the mountains, the rain falls as snow! Look at the average weekly snowfall on the chart below, from the second week of March to the last week in April. More snow falls on average than it will in February, although the day time temperatures are warmer, so the snow melts a little faster, you always have the chance of a powder day! The snow depths continue to build towards Easter in Val d'Isere, suggesting conditions could be even better with spring snow.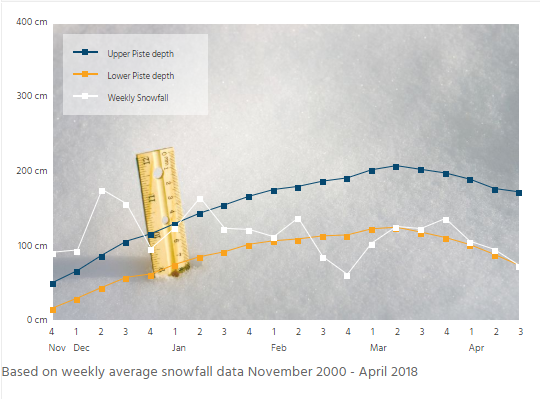 As the team at Ski Line work in the ski business, our best time to ski is at the end of the ski season. While we miss skiing in the cold of mid-winter, we don't miss the ice or the lift queues and we enjoy longer lunches in the mountain restaurant terraces, which are often too cold for alfresco dining in February. We think skiing over Easter is a better choice for families than any of the other possible school holiday options for families!