Poor Ski Holidays Sales In March 2019 Blamed On Brexit
13th September 2018
Each year skiline.co.uk monitor which weeks are selling and which weeks are likely to have the best last-minute supply, so we can reliably inform our clients when they should be booking their ski holidays.
Skiline.co.uk are in a unique position that we see the availability of skiing holidays from over 200 suppliers. We'd never publish this data on our website, in fact we signed NDAs as its very sensitive to our travel partners but we update our clients by letter around the time they normally book, so they can make informed choices about the best holiday dates.
This year's data shows us Christmas is booking better than it has for many years, a combination of exceptional snowfall in the past few winters and also probably due to prices of skiing holidays over half term and the late Easter weeks has pushed many families to think of Christmas for this year's family skiing holiday.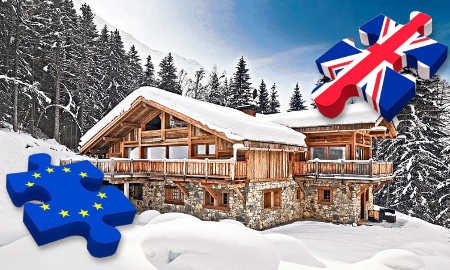 Half term with flights are now very limited and Easter is booking fast as a result.
What's different this year is sales In March, we often see a couple of dates in March that have slow sales, especially when Easter is late in the ski season in 2019, but this year, there is a date that you'd have to say is sticking, that's the departures over the weekend of the 23rd and 24th March. With the Brexit on the 29th March are skiers worried that they won't get home?
We Know Boris Johnson likes to ski, although we understand, he's not very good at it. If you are reading this Boris we'd like to offer you a free ski holiday to Europe for the departure over the sticky week, you can even bring your new Doris, Boris! We bet you will be planning on keeping a low profile that week!