5 ways you can make the most of just a week's ski holiday, by hiring an instructor
7th July 2016
A week's ski holiday generally gives you six ski days, seven-ish hours a day, minus some time for lunch and coffee stops: take away the minutes spent perched on a chairlift, and your ski time is shrinking! So, to maximise just a week's ski holiday, the team at Ongosa are offering their best advice for you to try out this season.
A day of instructor-led guiding
This is perfect for competent skiers who may not need tuition, but want to utilise the local knowledge of an instructor, to show them around the pistes. You'll get to know a resort in double-time, alongside finding the sneaky shorter lift queues, best coffee on the mountain, good value lunch stops and even the best places to party for après! Because you've hired an instructor, they'll also be happy to help you iron out any bad habits before your week is underway too.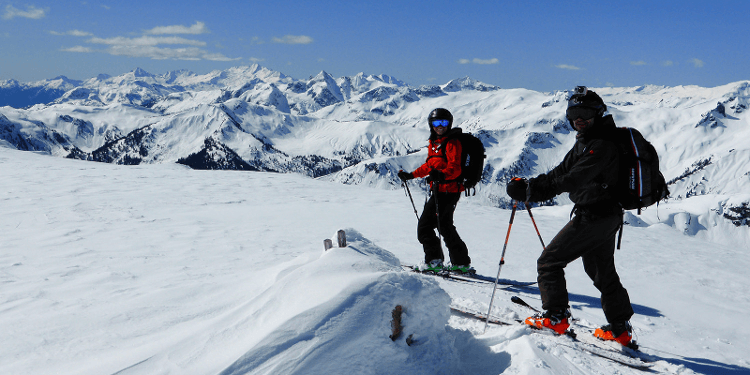 Ski in bad weather
This one will take willpower. If bad weather is forecast during your week, don't head for the pool, the sofa or the bar! Hire an instructor: it'll force you to make the most of the hours available on the piste and you'll learn how to tackle low visibility, high winds, dodgy snow etc. so that you'll never miss a day's skiing again! (Also note bonus bragging rights when you get back to the chalet and the others have done nothing all day…)
An intensive skills session
If you're determined to leave the resort a better skier than you arrived (let's be honest we all are!) then hire a private instructor, early on in the week, for a few hours or half-day. They will quickly assess your skiing, then suggest drills and things to focus on. This way you can keep the cost down, but spend the rest of the week practicing what you've been taught.
Join a group
On or off the piste, you'll find plenty of mountain guides, instructors and ski schools offer group sessions. Book into one of these and you'll meet other, like-minded and (hopefully!) interesting people, who may give you tips about the best places they've eaten, skied, partied and stayed in resort. Any group lesson will have a pre-set skill level, so you'll benefit from skiing with others who are at exactly the same level as you and no one holding you back!
Try something new
Taking a day out of your precious week to be a 'beginner' again may seem like a waste, but we promise it's a great way to pack all-sorts into your holiday and make it memorable. You may discover an un-tapped talent! You don't need to go totally alien: if you've never been off piste before, get an instructor to show you the specific skills and equipment. If you're already confident off piste, take it up a level via heli ski! Finally, you've got to try out snowboarding if you want some serious laughs (and bruises).
We're sure you're nearly all set for your ski holiday, if you've booked or are booking with Ski Line, but hopefully some of these tips will help you make the very best of your week.