12th February 2020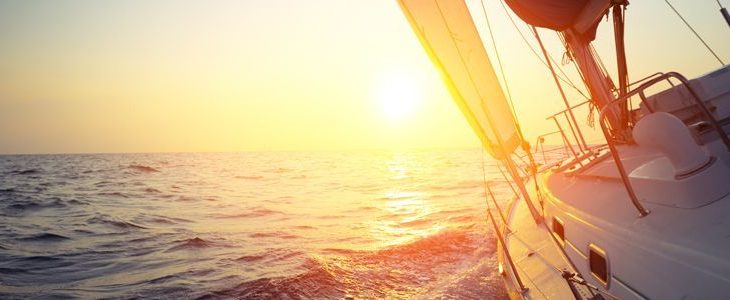 Skiing and snowboarding are the ultimate thing to do in the Winter – there's nothing quite like strapping on skis or a board and making your own tracks down a snowy mountainside, followed by an evening of fun and socialising (with or without a heavy dance beat!), enjoying the hotel or restaurant, or sampling the local culture. Unbeatable. If only every holiday could be a ski holiday?!
Whilst there are still a handful of ski resorts, like the majestic Tignes, which offer glacier skiing during the height of summer, it's not quite the same. And Frozen II's Elsa doesn't exist in real life (otherwise, surely she'd have developed her home country of Arendelle into the Ski capital of the world by now?), so how can skiers and riders get their kicks in Europe from April to November?
Well, if you like skiing, then you'll likely love a summer sailing holiday – they're a lot more similar than you might think. Both skiing over the snow and sailing on the sea offer you the freedom to make your own lines, and go your own way.
If you're all about adrenaline-inducing speed as you race down the piste, then you can get the same feeling from getting the boat to zip as fast as it can – get fast enough and the boat will heel over to one side and then you'll really fly. You can get active at the helm, pulling the ropes, and learning all about the physics of movement and the importance of good technique.
Conversely, if you prefer to take things slowly and enjoy the views and the sun, then life on a boat offers that too: there is nothing quite as tranquil as sitting on a boat in the sunshine as it calmly bobs along with the water gently lapping against the side of the boat. You can choose to get involved in the sailing, sunbathe on the deck, or maybe relax with a good book or a well-earned gin and tonic. Or why not dive into the turquoise seas to cool off?
Maybe you go skiing for the nature? Well, sailing is just as much about the great outdoors, with the added bonus of potentially seeing dolphins, whales, sea-turtles, crazy coloured fish, and the chance to really explore – you're not stuck to the piste, and can sail to distant lands well off the beaten track.
You're the sort of boarder who lives for the apres? Well, you'll never be more than five metres from your own fridge, stocked with your own favourite drinks. You can stick on your own tunes and get the party started as the sun sets beautifully on the horizon. Sailing a yacht or catamaran isn't something you can do on your own, so you'll also have a whole crew full of friends who are ready to join you in your quest. Better still, head to a party bay like Paklinski Otoci near Hvar – a remote bay on a remote island, only accessible in your own boat, which has a staggering eight restaurants and bars which stay open well into the night!
Everyone's on holiday and there for a good time, and sharing the days and nights on a boat is just as much – if not more – fun, than skiing and chairlifting with someone for a week.
And in the evenings, you can either cook for yourself on-board or go and try out one of the local restaurants – if you're doing it right, then you won't even have the chance to be coerced into the same restaurant every night, because you'll be on another island altogether! That means there's a lot of local culture and local dishes to sample. Just moor up the boat in whichever village you end up and you're seldom more than a stones' throw from somewhere to eat or drink.
Sounds good? Seriously, it is!
And you might be surprised to hear that hiring your own private yacht or catamaran isn't as expensive as you think: in fact, it can actually be a little cheaper than a skiing holiday as the boat doubles as your accommodation, transport, and main day-time activity – if you can get 8 of you together, then you can charter a nice catamaran for under £300 each, and you can book now with just 50% deposit!
Our friends at award-winning Mediterranean Charter Experts PlainSailing.com can help arrange you sailing holidays in Greece, Croatia, Italy, France, Turkey, Spain, Montenegro and Malta, and are generously offering all Ski Line customers a 5% discount off their first sailing holiday – just mention this article when making a booking.
Head to PlainSailing.com to search for your ideal boat, or find out more by reading their guide to planning and booking a sailing holiday.
Where Shall We Go Sailing?!
And so the circle of life goes on. Every day, we're getting closer and closer to the end of the skiing season. Sad face. But wait, it's not all bad news, because whilst the melting of the snow might mean putting your ski-boots back in the attic for the year, it also heralds the start of the sailing season! (and when the sailing season is finished, it will be almost time to get your ski back on!)
We know that lots of skiers and riders are also avid sailors, so we asked our friends at yacht and catamaran charter experts PlainSailing.com for their tips on where you should go sailing this summer:
GREECE – If you've not yet been sailing in Greece, then you simply must. People have been sailing here for literally thousands of years, and this is where the whole idea of a sailing holiday – borrowing a boat for a week to go and make your own voyage around the islands – was born. The sunshine is sublime, the winds are reliable, and the people will welcome you into the local marina as if you're the first person who's ever arrived at their door!
CROATIA – Sail-tourism has only been in the country for about 20 years, but Croatia is fast challenging Greece to become the best place to sail in the Med. The marina facilities in general are much more modern than in Greece, and there's over 800 islands to explore – including the national marine parks where you're likely to spot dolphins and sea-turtles. Key sailing destinations include Trogir, Dubrovnik and Korcula – which are each so beautiful that they are all UNESCO world heritage sites!
TURKEY – If you're after something a little different, then Turkey might be for you, as they do things differently around here: instead of massive marina's, the majority of overnight mooring spots are on small jetties attached to cute remote restaurants – there's no mooring fees as long as you eat there for dinner, and they often throw in breakfast for free. There's also a supermarket-ferry, so you don't even need to worry about going shopping when you go ashore!
ITALY – Imagine a sailing holiday coupled with a holiday in Italy?! Can there be anything better than a life of sunshine on your own boat during the day, and evenings filled with fine Italian pasta, pizza, ice-cream and wine? Choose from sailing in the stunning Maddalena islands near Sardinia, the volcanic Aeolian islands near Sicily (where you can spot molten magma), or, our top pick, sail along the glorious Amalfi coast from Salerno and throw down the anchor just off Capri!
FRANCE – The French Riviera is such a fashionable place that it's all about arriving in style – so how about sailing into Cannes, Nice, Saint Tropez or Montecarlo on your own private yacht or catamaran, then mooring up in the heart of the old town? The weather is sublime, there's all the finer things in life – including champagne and cocktails on the beach, and the finest restaurants, biggest casinos and art galleries in the world – and there's so many idyllic and infamous places to explore.
If you're interested, award-winning Mediterranean Charter Experts PlainSailing.com can help arrange you sailing holidays in Greece, Croatia, Italy, France, Turkey, Spain, Montenegro and Malta, and are generously offering all Ski Line customers a 5% discount off their first sailing holiday – just mention this article when making your booking at PlainSailing.com.