From Beginner To Expert Skier In Just 5 Simple Steps
28th November 2017
A lot of people like the idea of skiing but think that it is too challenging or difficult for them. This opinion means that many people never bother learning how to ski. It doesn't have to be this way and at Ski Line, we can take you from beginner to expert skier in just 5 simple steps.
You don't need to be an expert to start skiing
One thing that worries many people about skiing is that there is a need to be proficient and experienced to enjoy it. This isn't the case. There is a growing array of ski trails across Europe that ensures you will find a route that you can tackle with confidence. You'll even find that there are ski centres in the UK which allow you to develop the basics and feel confident about heading off to the slopes.
The most important thing is getting involved, listen to the advice you are given and of course, have fun. Similarly, don't worry too much about your fitness because again, there is a wide range of tours and trails that ensure everyone should be able to take part. If you can walk up a hill or mountain terrain while still holding a conversation, you should have a level of fitness that ensures you can ski with confidence.
Find the right kit and equipment
The right kit and equipment will keep you warm, it will make you feel comfortable, it will give you confidence and it will make sure you have an element of protection. You don't need to spend a lot of money to enjoy skiing but you'll find that the right equipment makes a difference in how much you look forward to a day of skiing.
Be sure to speak to the experts for guidance on what equipment is best for you.
Get proper training
Getting advice from experts comes up in all of our tips but it is worth highlighting this individually. If you want to enjoy skiing, feel confidence on a trail and give yourself a platform where you can improve your skiing over time, take lessons from a respected trainer.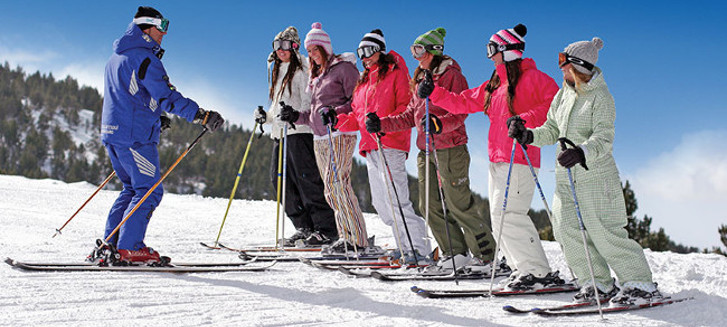 Proper training will help you to understand your equipment, learn how to use your equipment properly, learn how to care for it and you'll even learn how to walk most effectively in your skis. You should also learn about the best technique for you, what other techniques you can utilise and you'll also receive many safety tips.
No matter how much of an athlete or sporting enthusiast you think you are, taking lessons will ensure that you enjoy skiing a lot more, while ensuring you can ski safely and confidently. You'll even learn what you should pack with you when you go skiing, which can help you to pack efficiently and not be caught out.
Expand your comfort zone
A lot of people talk about stepping out of your comfort zone, but it is often best to view it as making your area of comfort bigger. This means you should be patient with your development. You may feel as though you want to take on new challenges but it is often best to set yourself many small targets and goals so you can make steady progress and improvements towards the goal of being a confident and competent skier.
Book a holiday and look to have fun
Developing your skiing skills and competence is a great way to be happier on the piste but make sure you give yourself the chance to really indulge in the activity. If you have a big skiing trip planned or you have a goal of skiing at a particular resort, you will find it easier to improve and practice. Skiing is a great way to stay active but it should also be an enjoyable activity, so make sure you look forward to it and have fun.
Following these steps will hopefully help you become happier and more confident when you step on to the slopes and at Ski Line; we look forward to seeing you develop your skills when skiing.