Club Med raises the bar for skiing holidays in Les Arcs
9th January 2018
Since the new owners of Club Med took over a few years ago, there seems to be no shortage of investments in new hotels and resorts around the globe. The latest announcement is a spectacular new multi-million Euro resort in Les Arcs 1600 to raise the bar yet again.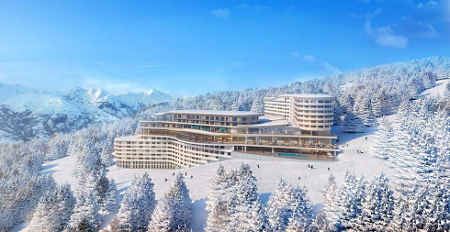 Les Arcs is part of Frances second largest linked ski areas, with 425km of pistes which it shares with La Plagne. 70% of the slopes in Les Arcs are above 2,000m so its one of Frances most snowsure ski areas that offers a great mix of ski runs to suit all levels. Les Arcs 1600 is just 7 minutes from Borg St Maurice, so travel by Eurostar is defiantly on the cards.
Club Med Panorama, Les Arcs ticks all the boxes
The new hotel will be known as Club Med Les Arcs Panorama. It's located among the trees on a plateau at 1,750m just above the village with direct access to the slopes. We haven't yet seen the hotel, but it appears to have the same wrap around sunny terraces as the newly opened Club Med Samoens.
Club Med Panorama will be a 4-trident hotel but will offer a 5-trident space too, a model that has worked so well for Club Med. This is equivariant to a 4* and 5* hotels.
There are 434 rooms in the hotel ranging from the standard Club rooms to deluxe rooms and suites. Most of the bedrooms can be interconnecting, ideal for families and without the room supplements charged by other tour operators such as Crystal and Neilson holidays for example. In some of their hotels the charges can be higher than £800 for interconnecting rooms simply because demand is so high and the availability so limited of family connecting rooms.

All rooms offer both shower and baths and many have balconies with spectacular views across the mountains and slopes of Les Arcs.
3 restaurants with family dining offer wide choices for all tastes.

There will be restaurants, which will include dining spaces exclusively for families, equipped with highchairs and facilities for families including lower chairs and tables to make even the youngest of guests feel welcome and special. In addition, the buffet style restaurants that have proved so popular with our clients and a speciality restaurant with waiter service offering local mountain dishes such as Fondue and Raclette dishes, typical of the region.
3 Bars serve drinks and snacks, night and day.
One of the benefits of a Club Med ski holiday is the free bar, if you're booked into a 5-trident room this includes unlimited Champaign too. We often forget the additional costs of a skiing holiday. Having a free bar saves many of our clients a lot. You can enjoy snacks and hot drinks too, throughout your stay.
Family skiing holidays with childcare included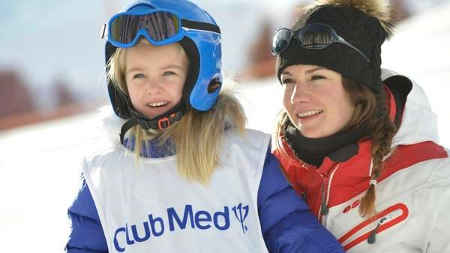 Club Med Panorama resort is the first resort in Paradiski area providing complete childcare:
We know this hotel will appeal to families.
Baby Club Med® (4 – 23 months)
Petit Club Med® (2 – 3 years)
Mini Club Med® (4 – 10 years)
Club Med Passworld® (11 – 17 years)
Your children will make new friends and enjoy a wide range of activities prepared by the experienced and qualified G.O's whos only job is to ensure you have the best holiday possible.
Ski and snowboard lessons with ESF ski instructors are included in your stay from 4 years old.
5 Trident space at Panorama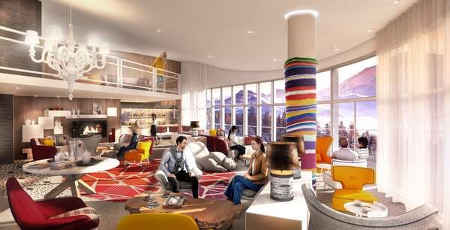 Upgrading to the 5* space brings a world of both luxury and serenity, there are 24 suites available and offers a private space for guests which include a 390m2 terrace overlooking Mont Blanc with a jacuzzi exclusively for guests of the 24 suites. In addition, there is a private lounge area for relaxing away from the main hotel area.
Relax in the Panorama spa
The spa area consists of two heated swimming pools, one indoors the other on the terrace. There is a wellness suite with sauna, Jacuzzis and treatment rooms offering a range of treatments from massages to beauty therapies. If skiing isn't enough exercise for you, there is a fully fitted out gym. Access to the spa and gym is included in the cost of your holiday.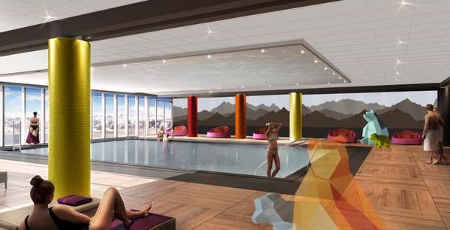 The Club Med formula for success is simple, build attractive modern hotels in perfect locations, provide the comforts that skiers want, spas, pools and places to party. Big comfy bedrooms with designer style and flair and wrap it up in an all-inclusive package price that are both affordable and desirable and the skiers will come!
Ski Holidays for the 2018/19 ski season to Les Arcs Panorama go on sale on the 24th January 2018 with savings of up to 15%.