Brexit Blamed For A Reduction In Catered Ski Chalet Nights For 2018/19
7th February 2018
I'm sure many skiers will be scratching their heads wondering why Brexit is having an impact on the UK's favourite ski holiday, the catered ski chalet. Since its conception, the chalet staff only ever had one night off. However, from 2019, Inghams, Ski World, Ski Total, Ski Esprit & Alpine Elements have announced that they will only provide catering on 5 nights a week. More ski chalet operators are expected to follow the larger companies lead. Some of the smaller chalet operators may well be thinking they can slip under the net but we think it's only a matter of time before all ski chalets change to 5 nights catering.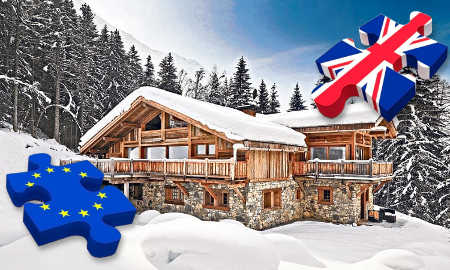 So why?
It's partly about employee welfare but more about the "European Posted Workers directive". After Brexit, which falls midway through the 2019 ski season, the European directive will no longer apply. The posted workers Directive isn't likely to be high on our Governments list of priority. It's also an area which the rest of Europe will not be moved. Europe is vehemently opposed to social dumping! (Drafting in cheap, workers from other parts of Europe).
It also comes down to the hours that chalet staff work, in the UK, we opted out of the Working Time Directive, which allows us Brits to work up to 48 hours a week, but in France, Austria, Italy and most of Europe, it's a 35-hour week. Lucky them!
On change over days, some chalet staff might work 15 hours in a day, if snow or aircraft delays effect arrivals, there might need to be working at 4:00am, if guests are departing early. By reducing the chalet staffs workload by 1/6 and giving them two days off a week, instead of the previous one day, a chalet worker will be able to work with the local laws.
Why isn't the loss of a night's catering reflected in the cost of my skiing holiday?
Brexit had a big impact on currency, the shift between the Pound and the Euro is now adding an additional 15% to tour operator costs, and so far, this hasn't been reflected by price increases. A catered ski chalet holiday represents excellent value for money, a similar standard of accommodation in a hotel would cost 50% more and not match the experience of sharing a chalet with your family or friends.
Why simply getting extra chalet staff isn't an option.
Chalet staff require a room, board and a season ski pass, after all that's the only reason workers take jobs in the Alps! The UK, where chalet staff are paid from, the Employers NI contributions are 13.8% of the salary, in France, it's between 25% to 45%.
The costs of doubling up on chalet staff, would make the cost of a chalet holiday beyond what the industry believe the market can stand.
The Upside is another opportunity to dine out and perhaps a less obvious one!
There is always a good variety of restaurants across the Alps, sadly for chalet guests, they often only get to sample them one night a week.
Vince, owner of the fabulous Del Falco Restaurant in Sauze d'Oulx, welcomed the news. " Its great news for our British guests, many of whom stay in chalet hotels here in Sauze, we often turn away guests on the chalet staffs night off as we simply don't have enough tables".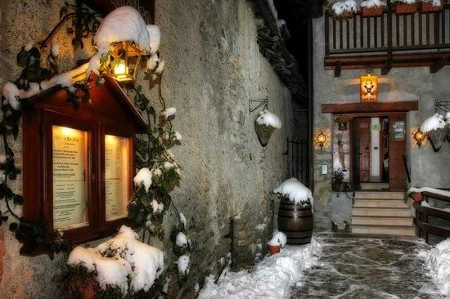 We have already started to put together a list of the best restaurants in all of our ski resorts, we will be providing our clients with a list of our recommended restaurant's and will be happy to make reservations for our clients. Advanced reservations will be essential over the peak weeks, especially if booking for a chalet group.
The Less obvious benefit is for both customers and tour operators. Recruiting overseas staff is an enormous headache for tour operators, there are CRB checks, references, training and the competition between tour operators to attract the best chalet staff is stiff. Cream as they say rises to the top, and its probably very obvious at the early interview stage, which "ski fanatic" chalet staff candidate will make the grade.
Things like an extra day off, will make all the difference to both prospective employee and employer looking for the best staff.