Another great end of season ski trip in 2018
24th April 2018
Our end of season ski trip was so popular that all 350 places sold out back in September 2017, some 8 months ahead of the trip, by November we'd added 150 people's names to the waitlist.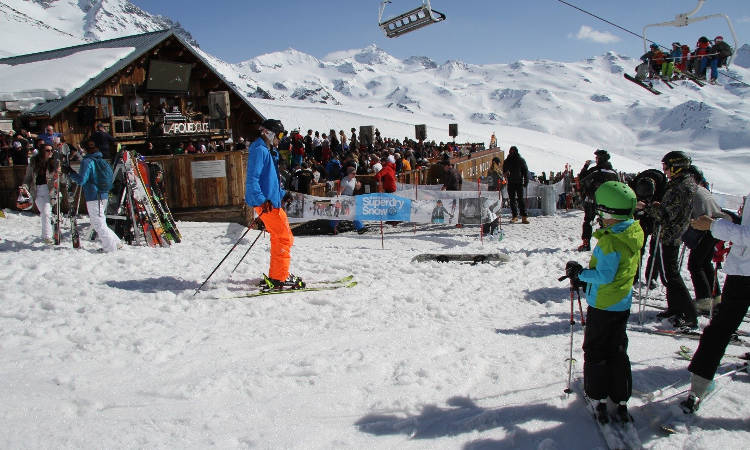 What makes 350 skiers and snowboarders go skiing so late in the ski season?
It could be the snow, although we didn't get any fresh snowfall during our stay, there was still over 3m of snow on top and over 2m in the village of Val Thorens. Conditions in the mornings at least couldn't have been better and although we all moaned about the softer snow skiing back from the Folie Douce each afternoon, I don't think many of us would have had it any other way. Because we love skiing in the sunshine!
It could also be the price, at £499 for 4 nights all-inclusive stay in one of the best hotels in Val Thorens, Club Med's Sensations. The price included the full area ski pass which on its own costs €240!
It could be the sunshine, skiing in the spring is a wonderful way to catch a sun tan…. Isn't it Dave Tipton? Sorry had to add that, Dave thought his face was tough enough to withstand the spring sunshine in Val Thorens. He knows better now, but its thanks to Dave that we will be including a small bottle of factor 50 in the guest's rooms next year.
It's most likely to the company of the wonderful clients who joined our trip, we watched as past guests arrived, many of whom hadn't seen each other since the previous year's trip, our end of season ski trip is a place to meet new friends!
Flights available from several regional airports to attend the end of season ski trip
This year we operated flights from several UK airports including Gatwick, Manchester, Bristol, Stanstead, Southampton and Edinburgh. Our clients had the outbound flights and both transfers included in the price but purchased separately their homeward flight, this meant that we had been able to include ski carriage in the cost.
So where is next year's end of season ski trip? Its still in the planning stage, but it could be back to one of the end of season's most popular ski resorts, Val d'Isere! We hope to announce the venue and date in the next few weeks, one thing is for sure, if you don't book early, you won't be coming!
Here are some of the photos taken last week on the Ski Line end of season ski trip.