Where To Go When The Snow Melts
27th February 2018
We love skiing, and, by virtue of you being on this site, we're pretty sure that you love skiing too. There's something exhilarating about being outdoors, the freedom to go wherever you want, the wind in your hair, and the adrenaline rush you can get from either doing things right, or picking up tremendous speed.
Given that combination of reasons to love skiing, it's probably no surprise that when the snow melts and the ski season ends, lots of people turn to sailing to get their kicks – switching a pair of skis to ride over the snow for a yacht or a catamaran to ride over the water.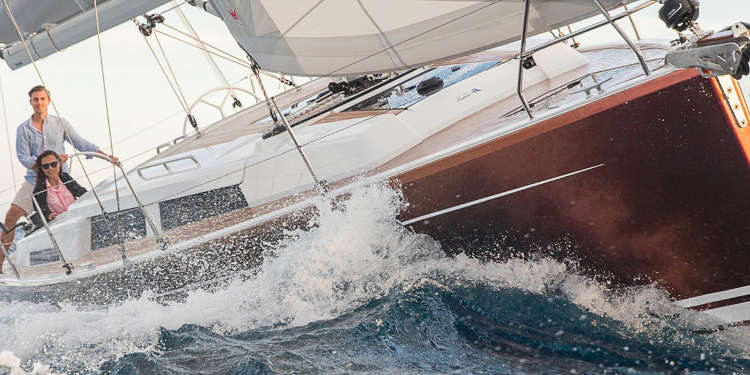 Of course, it also means swapping mountain views and chalets for marinas, secluded bays and cabins – different, but both delightful in their own ways. And even more so when there is sunshine.
With the season starting to draw to a close, we got our friends over at PlainSailing.com – award-winning experts in yachting holidays in Greece and Croatia – to give us the lowdown on how it all works, what and where to sail, and their top tips for planning an incredible sailing holiday!
What is a sailing holiday? How does it all work?
Imagine yourself stepping off a plane somewhere sunny and being whisked straight from the airport to your own private yacht or catamaran. This is your home for the week, and you can sail it from place to place discovering pretty islands, cute villages, unspoilt beaches, secluded bays, and quirky or unusual places to stay or eat.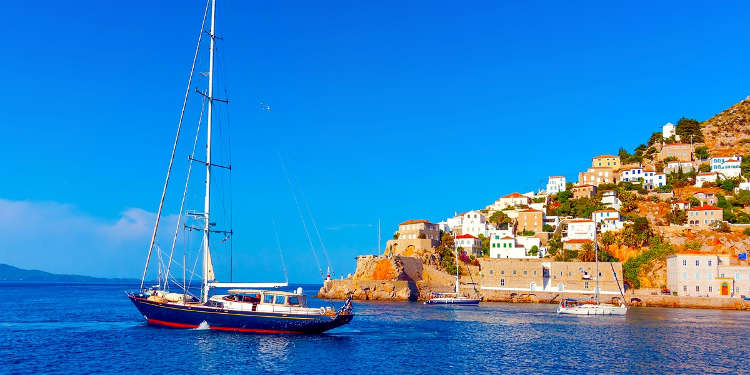 The yacht has cabins for sleeping in, toilets and showers, a kitchen to cook in, and space to relax and socialise in (both inside and out on deck) – a bit like a glorified caravan, but with so much more luxury and style.
You get to choose where you go in your yacht, and, once the wind is filling the sails it can be both an adrenaline-fuelled romp (seeing how fast you can make the thing go), or a sedate and gentle cruise, with the water gently lapping against the boat (and you can concentrate on important stuff like reading, sunbathing, or eating lunch).
Sounds idyllic? It is. And hugely relaxing!
Who are sailing holidays for?
A yacht or a catamaran can hold anything from one to twelve people, and sailing holidays are for anyone: small groups of friends (or big groups if you get more than one yacht), couples, and families. You can take the kids on a yacht – and they will love it! – and you can even take babies on a yacht.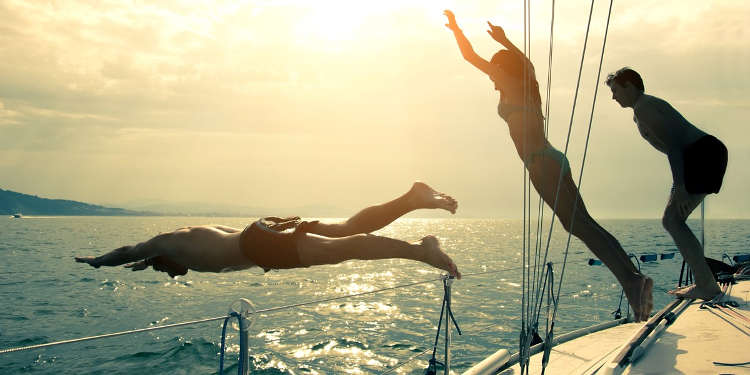 Sailing holidays are for people who love the great outdoors, love to explore, love to relax, love to socialise, love to learn a new skill, love to do something they can impress their friends with, or just love to have fun. They're for people who like to read maps and make plans, but also for people who like to be spontaneous and see where the wind takes them, quite literally.
And sailing in a place with the sunshine is the ultimate, and adds a whole new dimension of happiness to a holiday – so we'd recommend the two biggest sail-tourism destinations in Europe: Greece and Croatia.
So anyone can charter a yacht? Or I need to be qualified?
Well, yes and no. To charter a yacht 'bareboat' (i.e. just the boat) out in Greece and Croatia (and in the UK, for that matter), you'll need to be a qualified sailor (with an RYA DaySkipper qualification or an international equivalent). But that's not the only way to charter a yacht.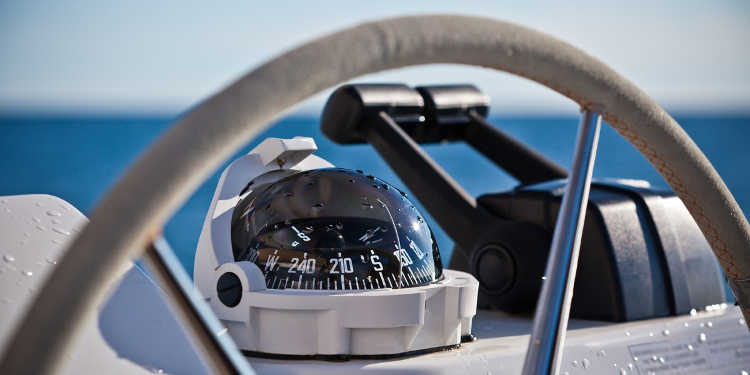 If you don't have the qualification yet, you can charter the boat with a 'skipper', or driver who will accompany you on your holiday. They'll do all the steering of the boat, getting it in and out of the marina, and helping to teach you as much as you want to know about how the sails work.
Chartering a skippered yacht in Greece or Croatia is more expensive than bareboat (as you have to pay for the skippers wages of about €1000 a week, as well as chartering a slightly bigger boat than you normally would, because the skipper also needs their own cabin.
However, the skipper does bring local knowledge of the best things to see and do, and helps to take out a big chunk of the stress – yachts cost upwards of £200k to buy, and the skipper is responsible for making sure it gets back home in one piece!
How safe is sailing? Won't I get sea-sick?
Sailing is actually three times safer than driving in a car. Whilst it might feel like you're flying when you're on deck, yachts are generally only capable of travelling at about ten miles per hour, so nothing happens too fast, and the whole boat won't blow up Hollywood-style if you accidentally end up crashing into dry land! Assuming you watch out for land and other boats, there's not too much else to worry about.
A lot of people think that they might end up getting sea-sick because they get sea-sick on ferries, but the motion of a yacht in the water is much, much different (and particularly in the gentle Mediterranean waters): the majority of people take to the water easily (and won't feel any sea-sickness), and almost everyone will have found their sea-legs after a few hours at sea.
What should I charter? A yacht or a Cat?
Most people will have seen at least a picture of a yacht. We're talking about sailing boats which are ten to twenty metres in length – as opposed to the sort of Superyacht that they like to splash about in the newspapers. The number of cabins the yacht has will vary depending upon the length of the boat (as does the price), but it's usually somewhere between two cabins and six, usually with double or bunked beds, though on some models there are small single-person rooms which are ideal for a skipper.
A yacht is a great starting point to learn the ropes and understand how sailing works. The main plus over a catamaran is that it gives a 'purer' form of sailing, and it will feel faster when you're out on deck, but they're also comparatively cheaper to charter, and a little cheaper for overnight fees at the marina (since they take up less space).
Have you ever seen a catamaran? They're pretty much two yachts which have been lashed together, with a bridge between the two. The main benefits of a catamaran are the sheer luxury of space there is on board. The bigger ones – say, a Lagoon 450 – can feel like you're driving around a five-a-side football pitch!
With so much space, the boat-designers can dedicate more space to comfortable areas for socialising and be more generous with swish-looking kitchens and seating areas, and cabins that are a bit bigger in general.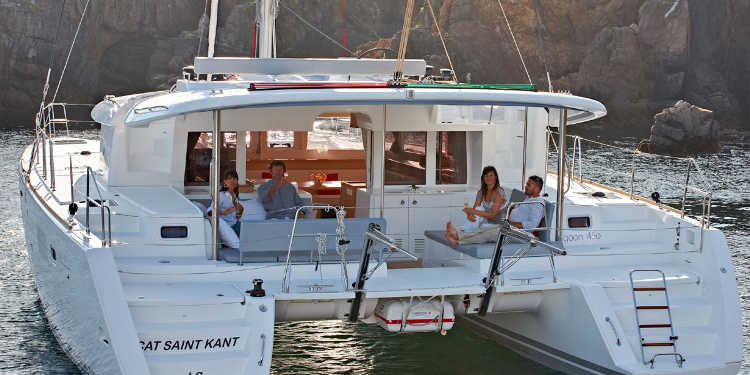 The main drawback of a Catamaran is that, because of it's size, it's a little harder to feel the impact of the wind (but it will go just as fast as a yacht, if not faster in the right conditions) – but for me, that's something I can live with for the sheer luxury that a cat brings. You can find yachts and cats with air conditioning, TV's, microwaves and wifi, and some can even have Jet Skis!
Where should I charter?
Greece and Croatia are the biggest destinations to charter from in Europe – and choosing between them is a bit like, say, choosing between Europe and the USA for skiing. Both countries are really well suited to sail-tourism as they have coastlines with literally thousands of islands nearby to explore. Being in the Mediterranean, they're also both pretty much non-tidal, which takes a whole load of calculations and pain out of the sailing equation.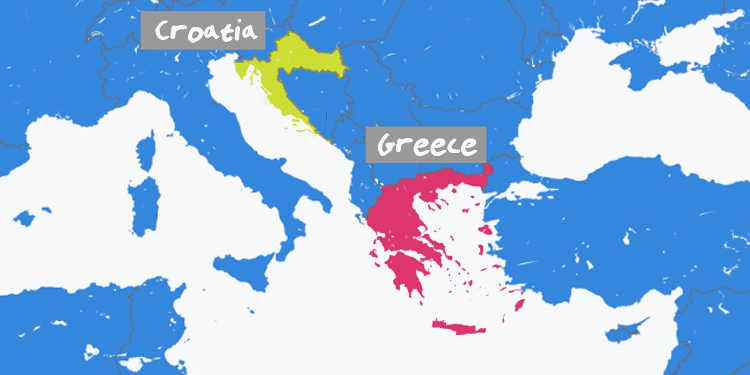 Both also have pretty dependable sunny weather and warm seas throughout the sailing season (April to September, traditionally), and brilliant Sail-tourism infrastructure, with well-established marinas and charter companies, and plenty of people who know how to look after yachts.
Yacht charters are typically booked in weeks, from Saturday to Saturday, a bit like ski holidays.
In Greece, Athens, Lefkas or Lavrio are the big places on the mainland to charter from, or you can fly directly to Corfu, Rhodes, Kos or Skiathos and pick up a yacht – with the added benefit that you're already on an island to explore!
In Croatia, the most popular places to charter from include Dubrovnik (also the home of Game of Thrones), Split or Trogir, and the ancient Roman settlements of Zadar and Pula.
As a starting point, you really can't go wrong with Croatia or Greece, but also, there are so many starting points and places to see that you could easily keep coming back year on year and find a new adventure every time.
How much does it cost?
The cost of chartering a yacht or catamaran varies through the year. The peak season is August, where you'll find the highest prices. The best time of year to sail in terms of value for money is May or September, when the prices aren't quite so high, the sun isn't quite a scorching hot (but still very pleasant), and when the marinas aren't completely jam-packed with holiday-makers.
Chartering a yacht is actually a lot cheaper than people think. Assuming you fill all your beds, you can charter a yacht in Croatia from about €125 a head for the week, or a catamaran from about €175. In Greece in May, you're looking at from €160 a head for a yacht, and from €280 a head for a catamaran.
This charter fee includes not just your accommodation for the week, but also your main activity (sailing), so it works out at ridiculous value. On top of the charter fee, there's usually an end-cleaning fee to be paid (about €100-150), and you'll need to pay fees to stay overnight in a marina (typically €50-90 a night) plus flights and transfers, food and drink.
In August, the prices a bit steeper, but still good value compared to other activities – you can charter a yacht in Croatia from €250 a head, or a catamaran from €500, whilst in Greece it's from €260 for a yacht, and from €600 for a catamaran.
In general, if you can fill all the spaces, it can be a cheap – but impressive and luxurious – holiday.
Where can I book?
PlainSailing.com offer award-winning customer service and can find you yachts or catamarans from ten bases in Greece and eight bases in Croatia.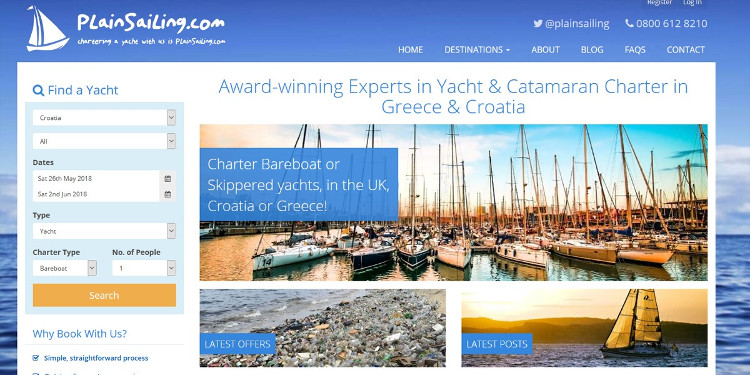 Their prices are competitive and they really do try to pull out all the stops to make sure you have a brilliant holiday – a bit like Ski Line!
You can book a yacht with just 30% deposit, with the rest due 6 weeks before the charter start date.