17th October 2017
New Austrian ski train (allows for 2 extra days skiing)
A new 3 stage train route to reach a whole host of Austrian ski resorts in the Ski Welt, Ski Juwel and the Zillertal Valley has just gone on sale. Prices start at just £215 return based on 6 people sharing a couchette.

Austria's night train service means 2 additional days skiing
Your journey begins with a late afternoon departure Eurostar service from London to Brussels, from here you change platforms to board either a Thalys or ICE train to Cologne. On this train, we'd suggest you book your evening meal before you change for the final time, before boarding the OBB Nightjet, ski train.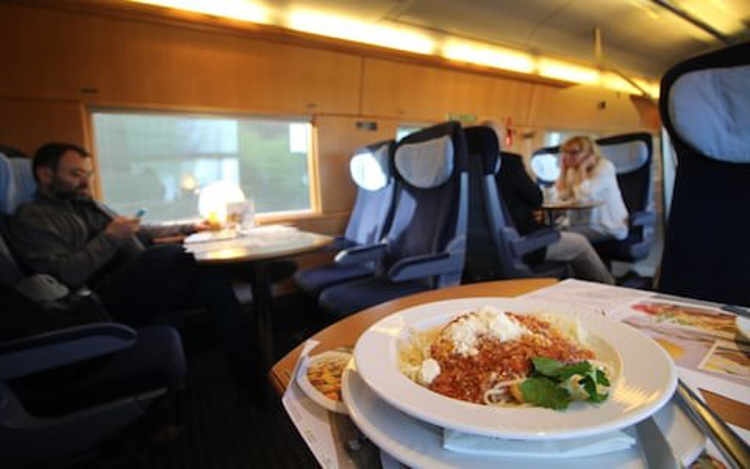 Enjoy a meal and make the journey part of the ski holiday
Your arrival will be early in the morning to one of 3 convenient destinations in the Austrian Alps.
You have the option to upgrade to either a sleeper carriage for either 4 person or 6 person couchettes, or a private 2-person couchette with a private WC and shower. Prices start at just £215 return based on 6 people sharing the largest couchette and this includes a good breakfast, which will be served in your couchette before your arrival at your final destination.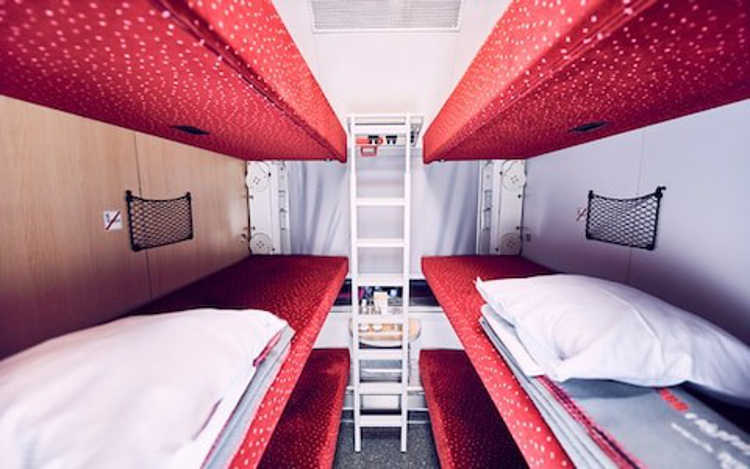 A 6- person Couchettes in sleeps mode
Considering that you can ski two additional days on a week's stay and your resort transfers from the station to resort will be less than 30 minutes, it's an option that keen skiers should definitely consider.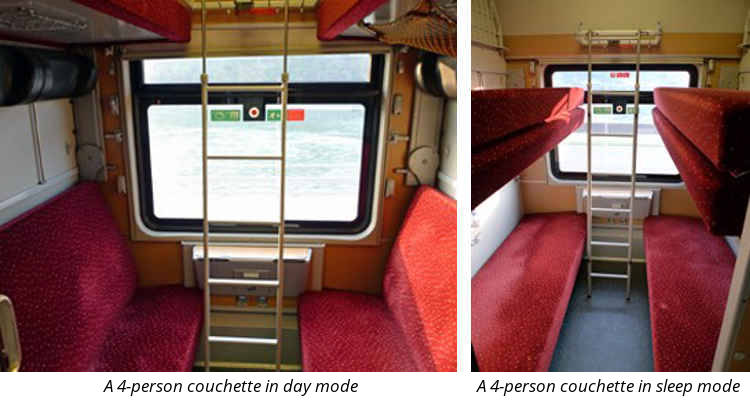 The Nightjet arrives at the first station of a Kufstein at around 8:30 am meaning you could be on the slopes of the Ski Welt ski resorts of Going, Soll, Scheffau or Ellmau within a 30 minutes taxi or bus ride.
At 08:40 the Nightjet train arrives at Wörgl where you depart for skiing holidays to Hopfgarten, Westendorf, Kitzbuhel, Kirchberg and St. Johann in Tirol.
At Kufstein station at 09:10, you can alight for the resorts of the Ski Juwel which include popular ski resorts such as Alpbach and Niederau as well as those in the Zillertal valley, which include Mayrhofen.
The train then continues to Innsbruck where you could alight for the popular ski resort of Kühtai and other ski resorts near Innsbruck.

Two extra days skiing and short transfer times.
One of the biggest benefits of skiing by an overnight rail service is you can ski on your first and last day and turn a 6-day ski trip into an 8-day ski holiday, something that's not possible if you fly.