How to avoid booking a fake skiing holiday and spot a fake ski holiday review
26th September 2016
Beware, this time of year that scammers and fakers will be after your cash!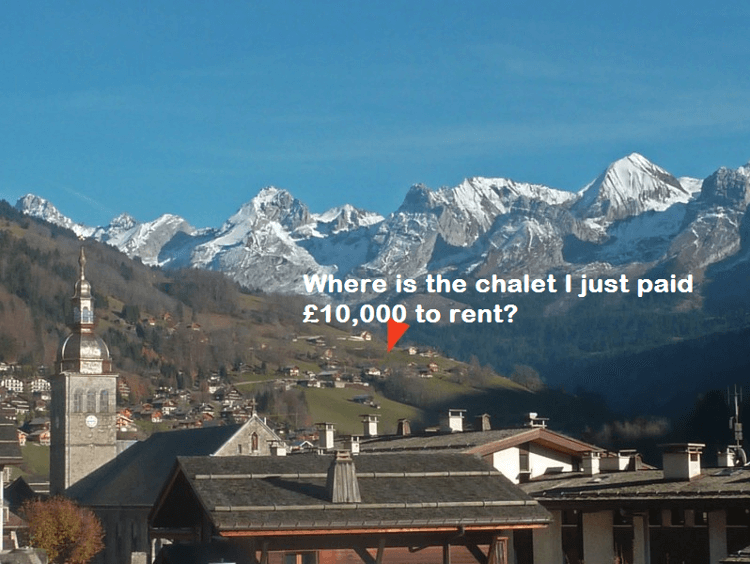 Last winter we heard from over 10 different groups who had been conned, one for over £10,000. This poor group didn't realise they'd been conned until he arrived, with children, luggage and a dog only to find the ski chalet he booked in Meribel didn't exist. They had made countless phone calls, many emails and paid in full by bank transfer.
The conman in this case added a fake post on Airbnb and seduced this poor group into booking by copying images from some of the best ski chalets in the Alps to rent, and then applying what to us was an unbelievably low price, further enhanced when they asked if they could bring their dog! As they paid by bank transfer, they lost all of their money! As the bank that received the cash was Swiss, we understand it wasn't a priority for the British police.
How can you prevent being conned?
REMEMBER: If it sounds too good to be true, it probably is! If it doesn't sound right, ask questions.
CAUTION: Check that the web address is legitimate and has not been altered by a slight change from co.uk to .org
THINK: Why am I being asked to pay by bank transfer? Use your credit card to pay and your purchase is protected.
INVESTIGATE: Do your research. Are there any reviews about the company or ski chalet?
WHAT'S THE FINANCIAL PROTECTION: Look for accreditation from organisations such as ABTA or ATOL and check on the relevant organisations websites. It's also a good idea to check Companies House records to check the company isn't about to go bust. The link at the bottom of this blog will help with this.
Check where the photos have been used before with a Google tool for free
Fraudsters need nice photos to trick you into booking that wonderful chalet that doesn't exist and Google has a useful tool that can help you to spot a fraud.



Copy and save the image URL from the suspected fraudulent website and go to Google images, click on the black camera icon as shown above. Then paste the image URL into the search box and search. This will show where else the image has been used. If the Fake website is calling the chalet a different name to all the others, don't book it. And please report it to the proper website that owns the chalet.
The ski industry is very good at policing these things. Last year Ski Line spotted a website that ticked nearly all the right boxes called Rightski.com, the site was registered in China which set off alarm bells and was reported to be owned by a legitimate ABTA agent in Harrogate who had no idea their good name was being used in a con. We spotted the con by using the Google image tool and reported it to the Police. We understand at least two groups lost money in that con. The biggest give away was a 40% discount offered on a range of luxury ski chalets, where every week was available! When a deal sounds too good to be true, it probably is!
Don't be conned by fake company reviews either
We are supposedly 60% more likely to buy a product after reading a positive review about a company. Scammers know this and will post what at first seem to be a real and believable review on websites such as Trustpilot.com and TripAdvisor.
It seems even some legitimate businesses have been encouraged to write reviews about their own businesses by reporting to be a "real client" simply to give you the confidence to place a booking.
The post below was seemingly written and posted by a director of one of our competitors and posted on Trustpilot.com, but Richard (I won't name his business) forgot that Trust Pilot grabbed his LinkedIn profile photo. (erased to avoid embarrassment) So an Easy fake review to spot Richard!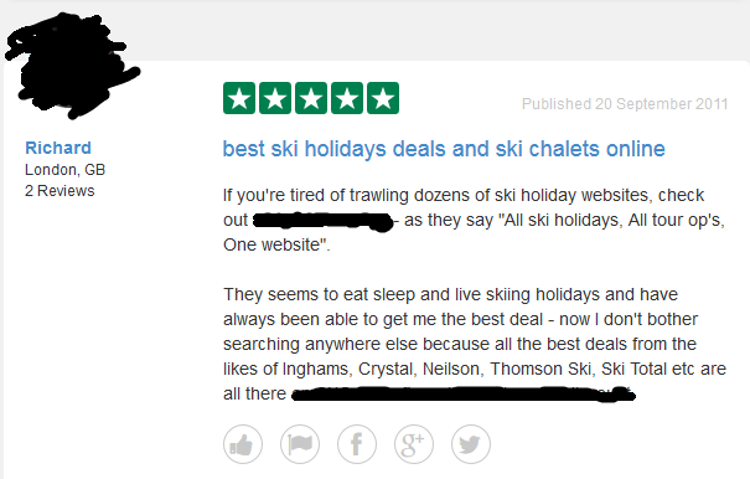 A Great review Richard but I'll pass, thank you
The three links below are free to use and only take a few minutes to do the basic checks to avoid being a victim of a fraud.
Check if a company is a member of ABTA here
Check if a company holds at ATOL licence here
Check if a British company is registered here
Related blogs to Holiday fraud
How financially secure is your ski holiday