Santa Breaks 2023/2024/2025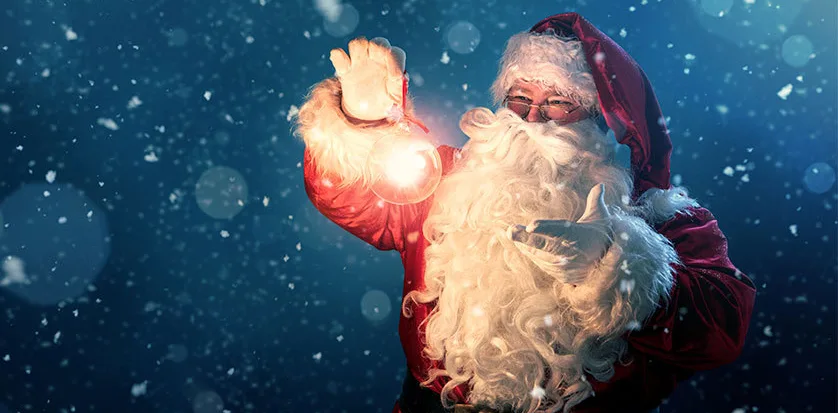 Experience the magic of Lapland this Christmas with our Santa Breaks. With options of 3-night and 4-night packages available in the stunning destinations of Levi or Ylläs, you will be able to immerse yourself in a winter wonderland like no other. Plus with our Snow Guarantee you're in safe hands with us.
What do our Santa Breaks include?
A visit to Santa's Elves Hideaway, an exclusive excursion plus private meeting with Santa
Arctic thermal Suits and Snow Boots for all adults & children (3yrs +)
Choice of 7 accommodations in Levi and Ylläs with the option of half board or self-cateredA special Festive Feast full of festivities including fun games and a disco
Santa Breaks optional extras
Add some extra magic to your Santa break with our exciting range of optional activities. Experience the thrill of husky, reindeer, and snowmobile safaris, or hit the slopes and try your hand at skiing or snowboarding.
Santa Breaks FAQs
Is Lapland suitable for infants and toddlers?

Santa Breaks are not recommended for very small infants under 2 years of age. Toddlers 2-3 years generally love the excitement and magic of it all including the Santa's Workshop.

Although children under 4 years old are not able to join any snowmobile safaris, they are welcome to join the husky & reindeer safari excursion free of charge. A small charge applies for the transportation to the excursion location, payable locally.
What happens if there's no snow in resort?

As we know that the weather is an important factor on our Santa Breaks holidays, we're always keeping an eye on the forecast and speaking with our local suppliers. If we have any cause for concern about the weather conditions, we will endeavour to contact you 7 days before your departure to let you know.

If we and our suppliers believe that there's not enough snow to run the activities included in your Santa Breaks package, we will contact you again 72 hours before travel with an update and advice on the options available to you, which may include cancellation.

Our Snow Guarantee – In the event that we decide that there is insufficient snow you will have the following choices: you can amend your travel dates to any of our other Santa Breaks dates that are available in the same season and at no cost, provided that the elements of the holiday (accommodation, room type, duration and party composition) remain the same. If you change any of the holiday elements, you'll need to pay the difference in price if it is more expensive, or if the new arrangements are cheaper, you will receive a refund of the difference. If you decide not to travel at all, you can cancel with a full refund of all monies paid to Santa Breaks for the trip.

Please note: Snow Guarantee is only valid on 3/4 night Santa Breaks.
When will I receive my tickets?

We aim to send out your pre-departure information pack 4-6 weeks before travel. Included in the information pack will be an informative "Santa Breaks" booklet with more information about Lapland and what will happen when you are in resort. The pack will also include luggage labels and blank letters for the children to write on, so they can hand them to Santa at the Santa's workshop activity morning / afternoon.

Your e-ticket will follow by email approx. 2 weeks before travel. Please ensure that the names on the travel documentation match your passports exactly and call us for advice if there are any differences. All times shown on your e-ticket are local.

If you have booked via a travel agent, all information will be sent via your agent. Please contact them if you have queries.

Further information including a more detailed itinerary will be provided on arrival at Kittilä Airport.
Are vouchers issued for Excursions?

As a trip to Santa's Workshop is included for all guests, there is no need for a voucher as all the information is passed directly on to the workshop helpers in advance. For guests who have pre-booked one of our other exciting activities – the Combined Husky & Reindeer Safari, Ski Taster (4-night holidays only) or a Snowmobiling Adventure – vouchers for these will be issued in your welcome information pack provided on arrival at Kittilä Airport.

Visit Santa Breaks for more information about our optional excursions. These activities are also available to book locally, subject to availability, but we recommend you pre-book in advance to guarantee your place.
When we get to our Santa Breaks holiday Lapland resort, when will we receive our thermal suits and boots?

Thermal suits and boots are included in our prices for all Inghams Santa Breaks holidays for guests aged 3yrs and over. In both Levi and Ylläs, guests will be asked to collect their thermal suits and boots from our partner shop in the resort centre on arrival. For guests staying in the Ylläs Log Cabins, we usually make a stop on the way from the airport before dropping you off at your cabin, depending on how far your cabin is from the resort centre.

We can cater for all sizes, but please mention if you need an extra-large thermal suit or boots when you book so we can advise our partner shop in advance to make sure they have a suit available for you on arrival.

For children under 0-2yrs, parents must bring their own thermal clothing as this is not included in the holiday price and availability locally cannot be guaranteed.
What is the best thing to pack for our Lapland holiday?

Both Levi and Ylläs are above the Arctic Circle, so it is essential to bring the right clothing to make sure that you and your children are kept warm and happy throughout your visit. All guests will receive thermal suits and boots free of charge, but please make sure you bring cosy woollen socks, gloves, thermal underclothes, hats and a scarf or balaclava to cover your face if necessary with you!

We also recommend you also bring some additional mittens or gloves (ideally waterproof ones for children's snow play) to be worn next to the skin.

Layers are the key to keeping warm here and are far more effective than one or two thick items, so the thermals, a shirt or roll-neck fleece and a jacket/anorak under your suit when outdoors is recommended.