Mont Blanc: Glacier In Danger Of Collapse, Roads Closed And Evacuations Underway
25th September 2019
Mont Blanc: Glacier in danger of collapse, roads closed and evacuations underway
Italian authorities from Courmayeur have closed roads and started evacuating mountain huts after experts warned that part of a glacier on Mont Blanc was about to collapse.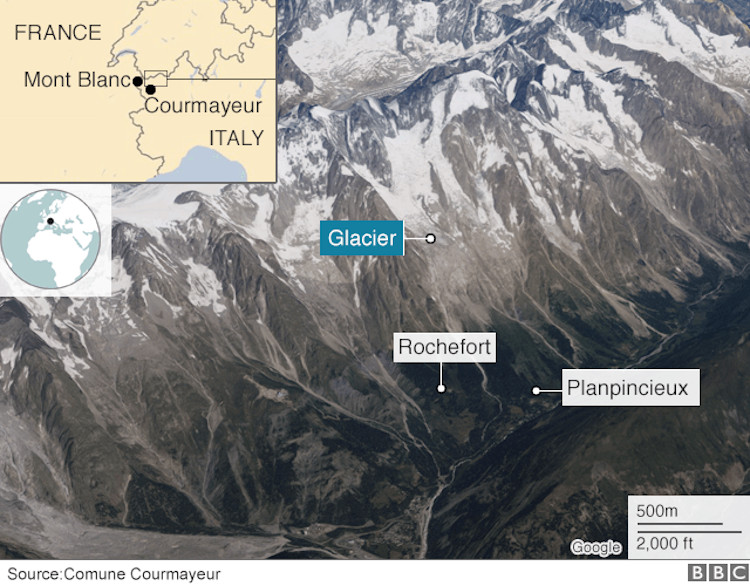 Its possible that up to 250,000 cubic metres of Glacial ice are in real danger of breaking away from the Planpincieux glacier.
The mayor of the nearby town of Courmayeur said global warming was changing the mountain.
The area most at danger of collapsing is marked in yellow in the image above, thanks for the Courmayeur commune for allowing us to use the image.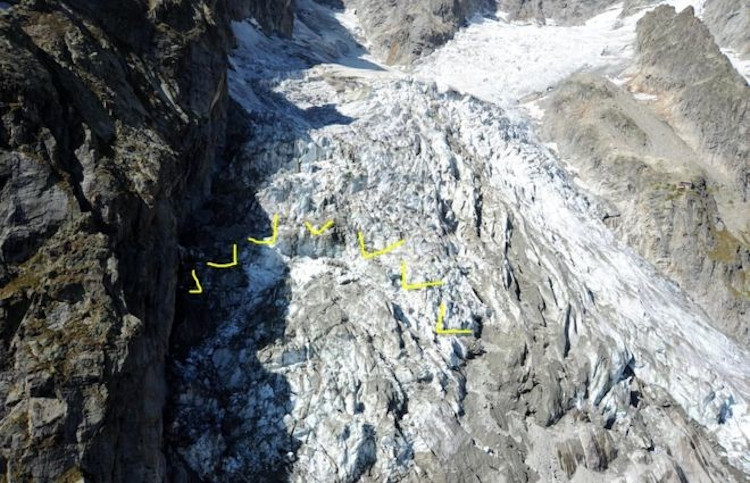 The Mont Blanc massif is Western Europe's highest mountain range.
It has 11 peaks above 4,000m in France and Italy and attracts hundreds of thousands of tourists every year.
On Tuesday, Courmayeur Mayor Stefano Miserocchi ordered the closure of roads in the Val Ferret on the Italian side of Mont Blanc, after experts warned that a section of the glacier was sliding at speeds of up to 60cm (24in) per day.
The Mont Blanc mountain, the biggest in Europe attracts 1000's of visitors each winter in search of some of the best off-piste skiing to be found.
We understand the closures aren't expected to still be in place when the 2019/20 ski season kicks off in early December.