There are many benefits to taking a self-drive skiing holiday. You can travel at your own pace, stopping en-route in attractive towns for a lunch a meal or even an overnight stop over. You will avoid airport queues, delays and security checks. Your luggage is only restricted by the size of your car, not the 20KG limit set by most airlines. You can bring your food from home or stop off at one of the bargain French Hyper markets to stock up. Finally, your carbon footprint is reduced.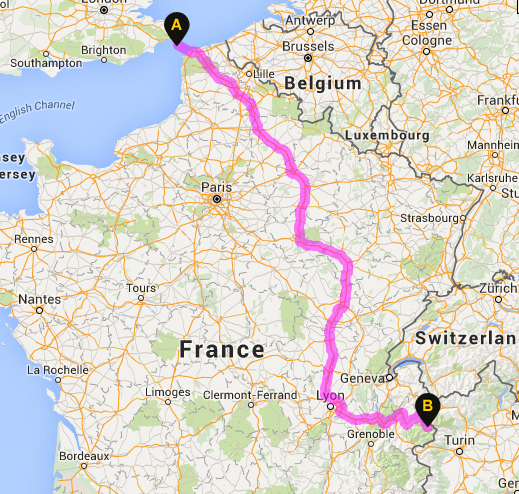 Skiing in a sustainable way
Driving to the Alps with a car full of skiers is an environmentally greener way to go skiing, this is becoming an increasingly important consideration for many skiers. See more about our Eco Friendly ski holidays here.
A Petrol car driving from London to Tignes with 5 passengers produces 80KG of CO2e, this compares to a whopping 207 KG of emission for just one person flying from LGW and a taxi from Geneva.
The best way to Cross the channel
There's no contest in the winter months when skiers head to the Alps, The Euro Tunnel wins' hands down. The winter Ferries get delayed by bad weather and therefore the Tunnel is much quicker and not weather dependant.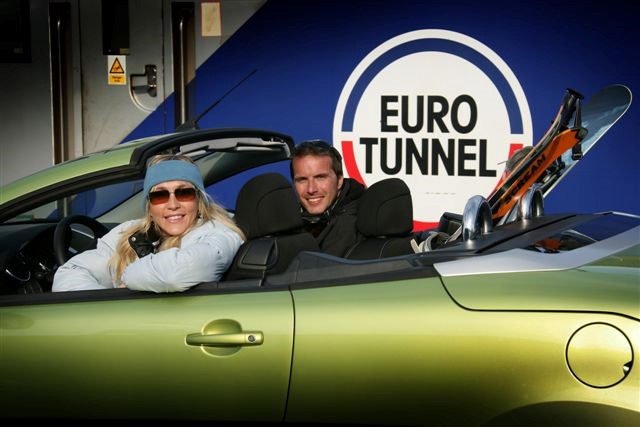 We package all of our self-drive holidays with the Euro Tunnel Flexi plus ticket which means that you just turn up and board the next available crossing. There are no problems if you missed your scheduled departure time or arrive too early, you just turn up and go on the next available crossing.
The most popular ski holidays with self-drivers is a self-catered apartment
Driving and self-catered skiing holidays go hand in hand at Ski Line, we have 1000's of apartments, in fact we are one of the few agents in the UK that offer the entire range of Pierre & Vacances ski apartments. All of our apartments include a Euro Tunnel Flexi plus crossing, so you needn't worry about picking up a speeding ticket to get to your crossing on time.
Rules and Regulations for Driving on the continent
It's unlikely that your car insurance will cover you fully comprehensively unless you notify your insurance company that you are travelling abroad, so check your policy and always take all your legal documents including driving licence, insurance documents and car logbook with you.
In the last few years you are required by law to have two breathalyser test kits in your car and every passenger should have a high-vis vests in the event that the car breaks down all passengers are required to leave the vehicle and wear their vest. You'll also need a warning triangle too and a set of spare car light bulbs and don't forget to fit head light reflectors so you don't blind oncoming traffic. If you are stopped by the police, they always ask British drivers to produce these and the fines are heavy if you ignore the regulations.
Many British Cars now have the European style number plate showing GB on the number plate, if your car has one showing the Union Flag, this must be now covered by a white GB sticker.
It's the law where roads can be effected by snowfall that you carry snow chains or a snow sock in the car and although ski resorts are very good at clearing roads after snow fall, it's vital that you have them. The cost of buying snow chains in the UK is very high, it's best to buy them in France as you approach the mountains it's much cheaper.
In Austria is the law that your car must be fitted with winter tyres so bear this in mind if you are driving to an Austrian ski resort.
What to pack for the journey
French motorways are very good and generally fast moving. However, the motorways are tolled and you can expect the tolls to cost around €70 each way. Tolls can be avoided by using the A roads instead, however this will add hours to your journey.
It's always best to plan for the worst, so make sure you have some blankets, food and drink in the car, the final stage of your journey is on mountain roads leading to ski resorts which can sometimes be closed for clearing avalanches and the final part of your journey could be delayed.
Satnav problems when driving to the Alps
Not having to read a map prevents many family arguments but take care when you are within reach of the Alps. Many Satnav's will try and take you over a quick 'mountain pass' but these are normally closed due to snow fall between November and Early June. This can be very frustrating and can add hours to your journey time.
What to do with your car when you arrive
In some European ski resorts having a car can be a distinct advantage, this particularly so in some Austrian resorts such as in the Ski Welt area which has many smaller ski areas to visit. In others it can be a problem parking, so it's best to pre-book car parking. We recommend a covered car park if there is one available, in the mountains' it can snow at any time and you could have some digging to do to get your car ready for the drive home.
See the British Governments advice on Driving in the EU here.