On this page, you will see the latest prices and availability for our full range of ski holidays suitable for skiers who like to drive to the Alps.
Many of our clients prefer to drive to the Alps for their skiing holiday, most of the ski resorts in France, Austria, Italy and Switzerland can be reached within about 9 to 12 hours from Calais. Some make the journey in one go, others prefer to stop overnight half way down. The motorways in France are often traffic-free you can expect to pay around €160 in motorway tolls for the return journey, credit cards are normally the fastest method to pay.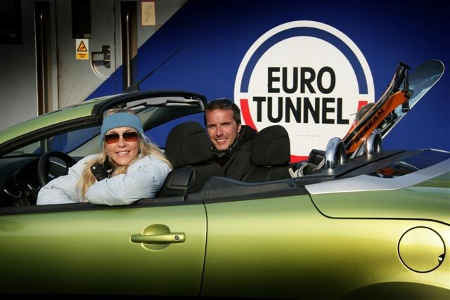 The Eurotunnel is the most popular method in the winter months as delays caused by bad weather aren't an issue as they could be if you opt for the ferry crossing. You can add a return Flexi Plus Euro Tunnel crossing for as little as £10 per person when booking one of our catered ski chalets or £99 to our self-catered apartment prices.
Don't forget that you are required to have snow chains as you head up the mountain roads and in Austria, your car must be fitted with snow tyres. Another top tip is, don't follow your satnav if it suggests taking any minor routes up the mountains, as these roads are often only accessible in the summer months.
French law requires that every driver and passenger has a high vis vest, which must be worn if your car breaks down or is involved in a minor accident. It's also law that you carry at least 3 self-breathalyser kits. You will also have to change the side your main lights point, this can in many modern cars be done via the cars own control management system or reflectors, these items are readerly available at the British ports. If you require snow chains buy the when you are closer to the mountains, there are cheaper here and readily available at most petrol stations, garages and supermarkets, it's a good idea to make sure you know how to fit them before they are needed!

The benefit of self-driving is that you won't have any luggage restrictions, nor will you pay for taking your own ski's etc. The journey can become part of the holiday, especially if you plan a stopover and you have in resort transport. If you are booking a self-catered apartment buy your food in the valley hypermarkets, it's a lot cheaper than in the ski resorts.
Our team are available to answer any questions you may have, we have visited many of the chalets and apartments and can offer first-hand advice on the most suitable options for the perfect skiing holiday.
... Read more
Loading holidays ...