There isn't anything that you could tell Frank Finch about "perfectly fitted ski boots" Its been Franks business for nearly 40 years. Husband and wife team Frank and Angela Finches are legends in and around south London among skiers and snowboarders where they run one of the biggest ski equipment shops you will ever visit.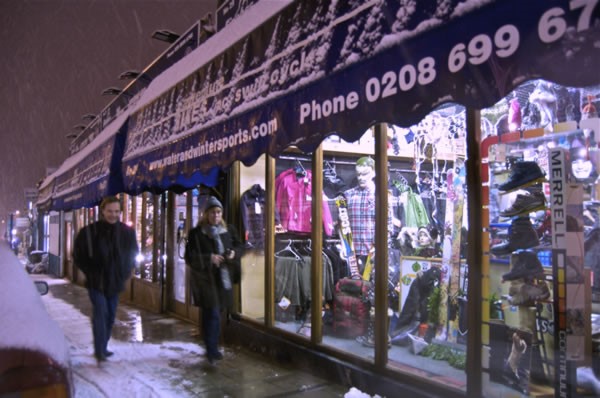 Finches ski emporia in Forrest Hill in South London makes even some of the mega ski shops in Europe look rather pathetic. With over 20,000 ski and snowboard items on sales, it's little wonder why winter sports enthusiasts beat a path to this leading South London ski shop.
The man who knows Ski Boots
Like all good family run business Angela and Frank have a well thought out division of labour, Frank handles skis and snowboards and the businesses biggest sellers, the ski boots. Angela deals with everything else.
Franks been fitting ski boots as a man and boy, he reckons he only has to see your feet to know what make of ski boot is going to fit. Frank said 'everyone has different feet, high foot arches, low foot arches, bunions, knobbly bits, big toes and flat feet'. Finding the perfect fitting ski boot isn't a 10-minute job, many of Franks clients will spend 2 to 3 hours buying boots, once you have chosen the boot that works with your feet, carves or ankles.

Finches are offering this seasons ski boots with prices starting at just £169 for properly fitted ski boots, or last year's models are now on sale from as little as £150.
Although Franks website offers ski boots available to buy online, he always recommends ski boot buying clients to visit the shop, but to set aside a few hours just to make sure your ski boots are a perfect fit.
Finches Ski Emporia
25-27 Perry Vale, Forest Hill, London SE23 2NE
Phone: 0208 699 6768