Ski Holidays in Drei Zinnen
Dubbed the Three Peaks Dolomites, the realm of Drei Zinnen unfurls as a tapestry woven from interconnected hamlets and towns linked by the thread of free bus services. A sprawling canvas of 115km of ski slopes stretches before you, shared amongst these clusters of life. Whether your abode nestles in any corner, a beginner's haven beckons at every base, assuring swift access to skiing wisdom. The landscape unfurls in gentle ripples of blues and reds, a playground for intermediate skiers to embrace the dance of the slopes. Yet, for those chasing a more daring tryst with the mountains, the siren call of the 34km Giro delle Cime circuit or the challenge of Italy's steepest ebony descent, the Holzriese, stands ready.
Tucked near the Austrian border, Drei Zinnen unfolds as a mosaic of cultures, where tongues and tastes intertwine in harmony. In this grand selection of sanctuaries to rest, Sesto emerges as a gem, cradling a ski-in, ski-out haven in its tranquil embrace. Alternatively, for those enamoured by the symphony of a pedestrian market town, adorned with avant-garde taverns and gourmet emporiums, the name San Candido holds enchantment.
Yet, skiing is just one note in the symphony of experiences here. Traverse beyond, and a tapestry of pursuits unfurls curling and ice climbing, or the art of piloting a piste basher. Families are drenched in delight at the Acquafun sanctuary in San Candido, where pools glisten, slides curve, and a languid river beckons. And for the seekers of nature's secrets, cast your gaze upon the Croda Rossa's heights, where Italy's sole reindeer clan graces the stage.
Language


Italian/German

Currency


Euro
ski holidays found in Drei Zinnen
Loading holidays ...
Why Ski in Drei Zinnen?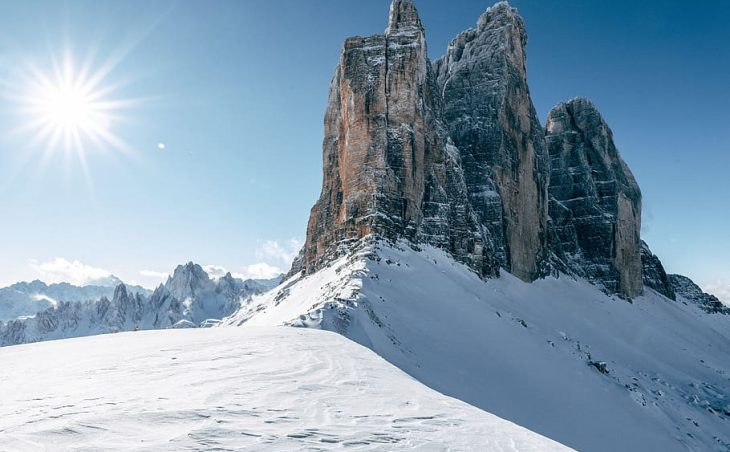 Pistes
Altitudes
Resort Altitude


1130m

Highest Piste


2200m
Expert Ratings
Accommodation in Drei Zinnen
We have 1 properties available in Drei Zinnen. If you're hunting for your accommodation by name, then you'll find it here, or for availability and prices select 'Search Holidays'.