Catered by Huski is a great upgrade to any self-catered holiday in the French Alps.
Ski Line have teamed up with Huski, a delicious food delivery service covering the whole of the French Alps. So, you can enjoy great home-cooked food, without any of the preparation or shopping needed on a self-catered holiday. Meaning more time to ski and snowboard.
Let's face it, local spa supermarkets in the Alps are eye-wateringly expensive, so a Huski menu plan is not only delicious but excellent value for money too.
Huski are partners with the premium frozen food specialist in the UK called "Cook" all Cooks menus are available now to be delivered directly to your ski apartment or chalet to any of Ski Line's ski resorts in the French Alps. We can testify as to the high quality of the catering when our team had a tasting session this summer, we and the invited journalists all agreed, Huski catering is superb and probably a lot better than what's prepared in many catered ski chalets.
Typically, Huski dishes take between 30 minutes to our hour to cook, in either a conventional oven or microwave a lot quicker.

Huski aim to have your meal plans delivered to your chalet or apartment before you arrive so it's waiting in the fridge or freezer for you. If the fridge/freezer is too small, they will arrange a second delivery midway through the week. We have made the ordering process simple, all you need to know is how hungry you are going to be!
About a week before you arrive on your holiday, the Huski team will contact you to discuss your likes and dislikes so you get the dishes you enjoy such as the old mountain favourites like tartiflette.
Sample Menus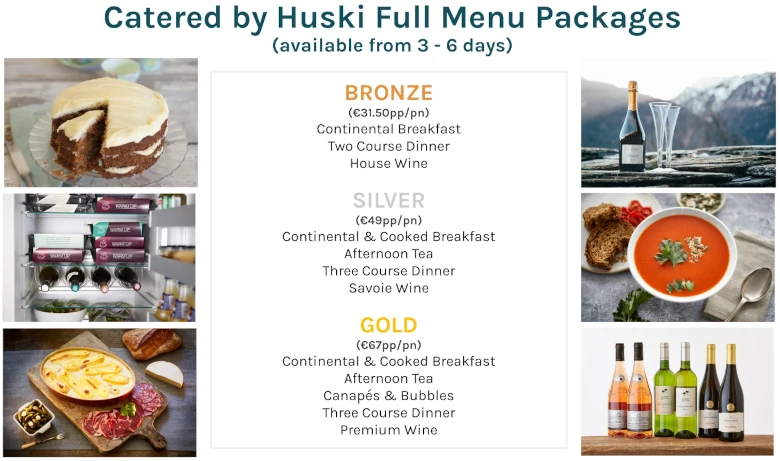 Interested? Speak to a member of our sales team for more information on 020 8313 3999.
BOOK YOUR HUSKI CATERING PACKAGE
... Read more
Loading holidays ...