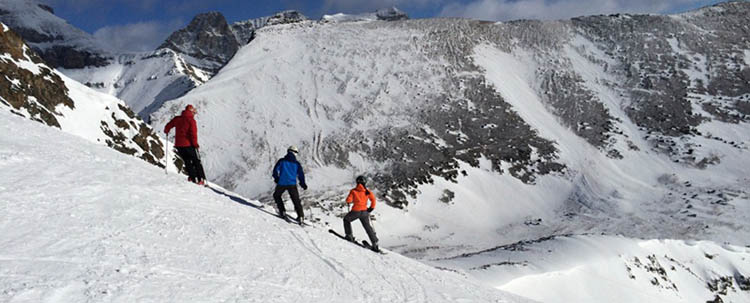 Many of our clients choose to add on a city break to their skiing holiday, either at the beginning or end of the holiday, 10 days skiing in Whistler followed by a 4 day city break in Vancouver is a great idea as it's a wonderful town.
Most popular ski areas in Canada
We feature 12 ski resorts in Canada, the big 12! All are spectacular ski resorts and their names probably feature on many skiers and snowboarders bucket lists. Resorts such as Whistler, Banff and Lake Louise; Fernie and Jasper; have held a special place in the hearts of skiers who are lucky enough to have skied here. Other new comers include Big White, Silver Star and Sun Peaks, three resorts which make for a great 3 centre skiing holiday in Canada.
In Canada you can ski within patrolled areas that are checked for avalanche dangers, much of this skiing away from the pistes can be done between the trees, which in powder can be great fun. For even more powder runs, try heli-skiing or snowcat-skiing, all ski resorts in Canada offer it!
Ski passes in Canada are expensive and it's recommended that you buy yours in advance or through the tour operator where discounted tickets are usually available.
Après ski in Canadian ski resorts
The lifts often close earlier in Canada, some close from 3pm therefore the après ski starts early in lots of ski resorts. To buy alcohol in British Columbia you must be over 19, in the rest of Canada its 18, these regulations are strictly enforced so carry ID at all times if you are under 30. The après ski in Canada varies from resort to resort, Whistler for example is very busy.
Canada for families
The problem for families is the travel distance and the time difference, families with young children often wait for the children to be a little older before booking a Canadian skiing holiday. However if you can't wait, the ski schools are excellent and accommodation is good for families. Many hotels will offer larger suites with interconnecting rooms and spacious condos which are perfect for family groups.
Canadian ski resort's hotels & condos
Catered chalets are now a rare beast in Canada. At one time we had a good choice of excellent ski chalets run on European lines with a chalet host who cooked and cleaned, but these are now mainly a thing of the past. Most visitors to Canada stay in hotels and condos. Canadian service levels are every bit as high as in the USA although it's delivered with more sincerity.