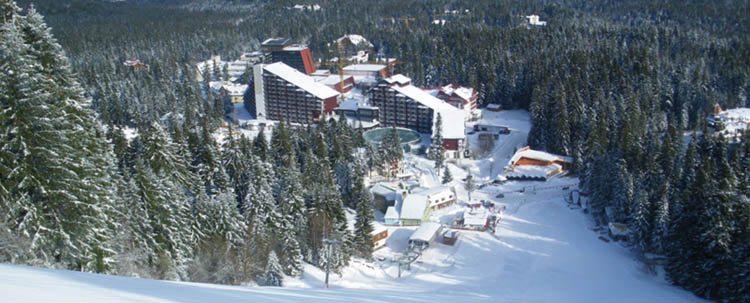 When you first take up skiing or even when you have been doing it for a while, costs are an important factor, there is no point to booking a 5* chalet in Swiss mountains until you know for sure that skiing is for you or you have at least conquered the basics.
Most popular ski areas in Bulgaria
We offer the most popular three ski resorts in Bulgaria, Bansko, Borovets and Pamporovo all three offer great value for money.
Most popular ski resorts in Bulgaria
Bansko burst on the ski market about 10 years ago, it's our number 1 selling ski resort in Bulgaria. Lot of fast modern ski lifts on the mountain, friendly locals and an attractive town centre although the outer bits are less so. There have been lots of new hotels opening, some of which are ski in and ski out. Bansko is an ideal choice for first time skiers, the ski schools are highly recommended by our clients. Queues can be a problem only leaving the village in the morning, once on the mountain this is less of a problem. The other ski resort that's good for beginners is Pamporovo with tree line skiing its great place to learn to ski.
Borovets is a good choice for intermediate skiing but so good for complete beginners. Its village is lively with a big choice of small bars, the main strip which is just 300m long has around 26 bars. The location within a wooded valley give the resort a pleasant alpine feel.
Best places to stay in ski resorts in Bulgaria
The holiday accommodation in Bulgaria is generally very good, there have been plenty of new hotels open in the past few years, many right on the slopes for easy access to skiing. In Borovets the new Hotel Winter Palace and the Hotel Rila are both popular. We have a couple of catered ski chalets in Bansko, the chalet Jora is one of the best and is exceptional value. If you are looking for more luxury try the Hotel Premier Mountain resort this 5* hotel gets great reviews from our clients.
Pamporovo has a wide selection of the hotels, the most popular are the ones closest to the skiing such as Hotel Perelik.